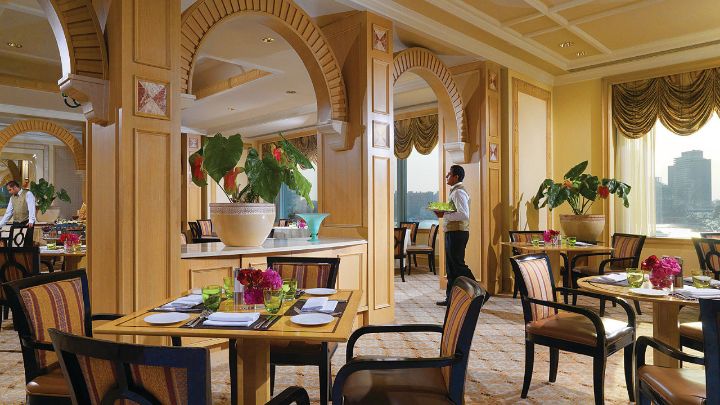 Specialties
Choose from a wide range of authentic specialties, including breads, hot and cold mezzes and grilled dishes, prepared by a team of gourmet chefs.
Seafood Thursdays
Discover a wide range of seafood dishes and an authentic Egyptian 'Seafood Thursdays' buffet. Choose from a fresh fish display and have your selections cooked to your personal preference every Thursday at Zitouni from 1:00 pm to 12:00 midnight.
Friday Brunch

Friday brunch features a variety of favourites, with an Egyptian lamb carving station and a dessert corner bursting with a dazzling array of cakes, mousses and tarts. A special kids buffet also includes book colouring.
Hours
Breakfast
Every day
6:00 am – 11:30 am
Lunch
Every day
12:30 pm – 5:30 pm
Brunch Buffet
Friday
1:00 pm – 12:00 am

Dinner
Every day
6:30 pm – 12:00 am

Seafood Thursdays
Every Thursday
1:00 pm – 12:00 am
Authentic Egyptian food at 3:00 am? It's possible at Zitouni, our 24-hour-a-day restaurant, where you can order up shish barak and finish it off with homemade keshta ice cream in the wee hours of the morning. Take a seat in the main dining area and enjoy stunning views of the Nile, or settle into one of the contemporary wood alcoves for a more intimate option. An extensive buffet display situated near the open kitchen offers breakfast, lunch (for salad, soup and dessert) and dinner in addition to an impressive brunch.

Quick Reference
Cuisine
Egyptian
Location
Third floor

Indoor seating
116
Attire
Casual
Reservations
Recommended