Dining
Events and Promotions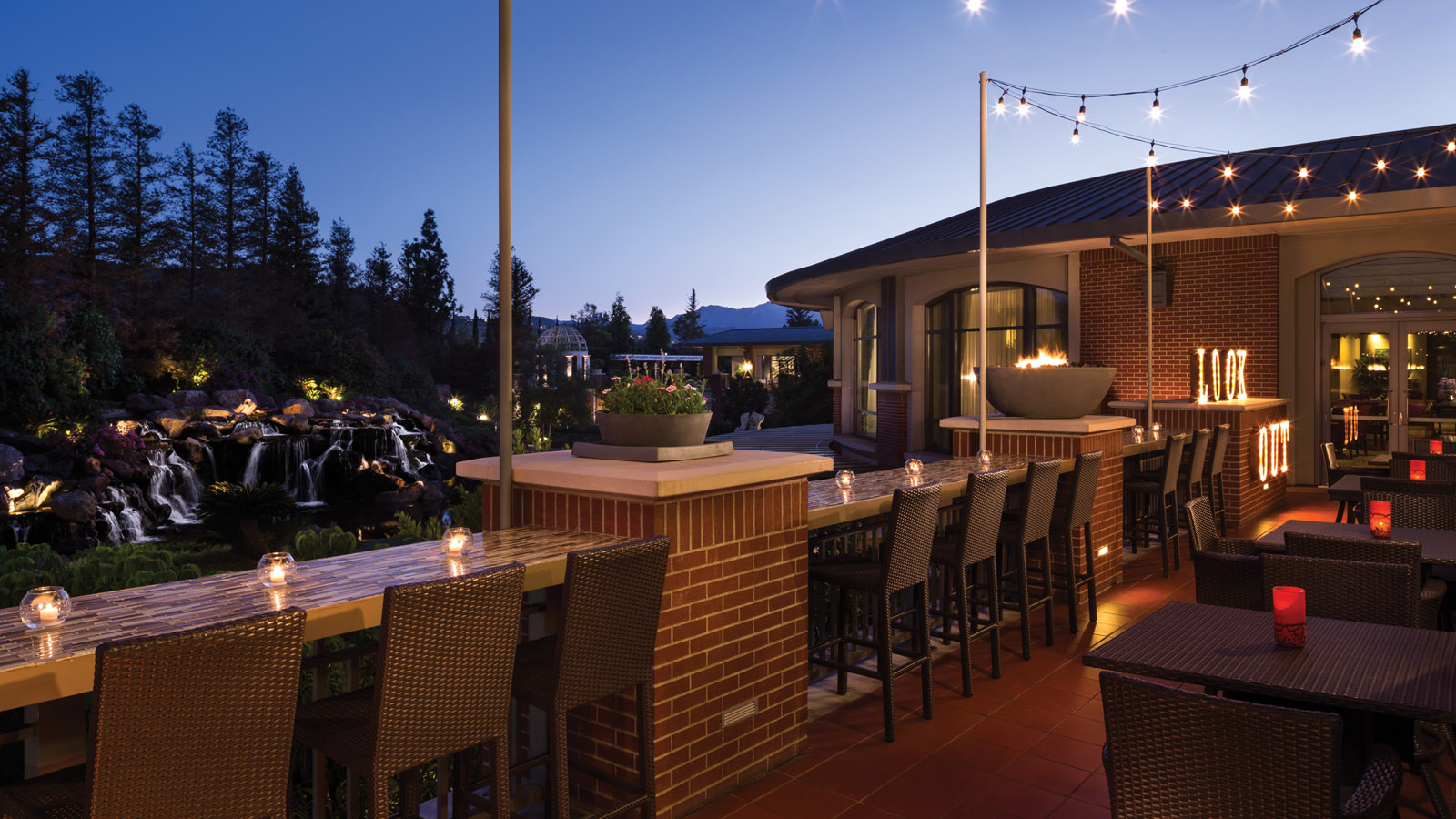 Holiday & Dining Events
Farm-to-Fork Fridays at the Wellness Kitchen

November 20, 2015 – Thanksgiving Dishes with Executive Chef Jesse Hansen
January 29, 2016 – Kitchen Curry Master
February 26, 2016 – Fresh Fish Fanatics
March 11, 2016 – Aroha New Zealand Cuisine

Join us for fresh farm-to-fork dishes that are local, healthy and sustainable. A cooking demo will be followed by a communal dining experience filled with flavorful food and fun conversation. Cost is USD 95 per person and includes cooking demo, dinner, recipes and one glass of wine (inclusive of tax and gratuities).
Wine Wednesdays at the Wellness Kitchen

November 11, 2015 – Vino al Lago
December 2, 2015 – The Tasting Room
January 20, 2016 – Sunland Vintage Winery
February 10, 2016 – Navarro Vineyards
March 23, 2016 – Coquelicot Estate Vineyard

See how healthy eating can be fun and flavourful with fabulous recipes, nutritious ingredients and the perfect wine pairings. Cost is USD 60 per person and includes cooking demo, dinner, recipes and wine (inclusive of tax and gratuities). Open to guests age 21 and older.
Wellness Kitchen Garden Series

January 30, 2016 – Tower Garden
February 13, 2016 – Herb and Vegetable Gardens
March 19, 2016 – Luna Gardens


This series includes a demonstration with a local gardener and flower shop owners. Light, healthy lunch will be prepared by the Wellness Kitchen team. Demonstrations take place from 11:30 am to 1:30 pm and cost USD 65 per person.

Let it Snow

From ice skating to Holiday Express train rides, plus some very special appearances by popular characters, children and adults alike will delight in this whimsical, wintery setting. A range of complimentary festive activities, such as Menorah lightings in the lobby, Elf Story Time and our Holiday Character Breakfast enhance the experience.

Please note: Let it Snow will be a closed event, therefore General Admission tickets will not sold at the door. A limited supply of tickets will be available for purchase beginning Thursday, November 19, via our partners, Conejo Deals.
Holiday Character Breakfast

Saturdays and Sundays from December 5-20, 2015 l Seatings available at 7:00 am, 7:15 am or 7:30 am
Four Seasons gets "frozen" over with our holiday character breakfast buffet in the Lobby Lounge. Children will delight in meeting the beautiful Ice Queen, Ice Princess, their silly snowman friend and other holiday favourites, while decorating a special Christmas ornament to take home.

USD 49 per adult
USD 25 per child (age 12 and under)
Christmas Dining

Friday, December 24 l Seatings at 4:30 pm and 7:30 pm
Saturday, December 25 l Seatings from 12:00 noon to 6:00 pm
Spend Christmas with loved ones in the casual elegance of our Hampton's dining room. Our annual Christmas feast features a menu of traditional holiday favourites and signature dishes, along with fresh seafood, hot entrées, a carving station, and an array of salads and desserts.

USD 129 per adult (includes sparkling wine, juice, coffee and tea)
USD 64 per child (age 12 and under)
New Year's Eve Dining

Ring in 2016 with an exquisite dining experience in one of our Hotel restaurants.

Four-Course Dinner at ONYX
Seatings at 6:00 pm, 6:15 pm and 6:30 pm; USD 85 (excludes beverages)
Five-Course Dinner at ONYX
Seatings at 8:30 pm, 8:45 pm and 9:00 pm; USD 105 (excludes beverages)
Steak and Seafood Buffet in the Lobby Lounge
5:30 pm – 9:30 pm; USD 110 adults, USD 55 children, age 12 and under (excludes beverages)
New Year's Eve Celebration at The Bar
9:30 pm to 12:30 am; USD 60 cover charge (complimentary for Hotel guests or guests with dinner reservations that evening). Reserved seating with bottle service available
Westlake Village Concours D' Elegance Celebrates "Downton Abbey"

Sunday, February 21, 2016 l 10:00 am to 2:00 pm

The Westlake Village Concours D'Elegance returns to Four Seasons to celebrate the final season of the beloved television series, Downton Abbey. Featuring vintage automobiles from various prominent museums and collectors, historic and celebrity cars and Pebble Beach Concours D'Elegance winners, enjoy live jazz performed by Grammy-winner Russell Ferrante, while enjoying afternoon tea and strolling through our gardens. Come dressed to impress in your best vintage apparel (circa
1912-1927) during this annual event. Event admission is USD 150 per person and includes complimentary parking. For tickets and more information, visit the website.
Gelato Happy Hour at Stir

Because, let's face it…gelato is always a good idea! Join us at Stir every Saturday and Sunday from 4:00 pm – 5:00 pm for buy-one-get-one-complimentary gelato! With a rotating menu of flavors including salted caramel, chocolate chip and more, it's our way of sweetening your weekend.
Paint and Wine Night at The Tasting Room

Even the most novice artists can create masterpieces with the guidance of our experienced painting teacher Gail Dadoune in a two hour class at The Tasting Room each Sunday from 4:00 pm to 6:00 pm. Cost is USD 40 (per person age 21 and older) and includes the class and a glass of wine.
LOVE (Leave Office Very Early) for Wine at The Tasting Room

Fridays from 5:00 pm to 7:00 pm

Sip, swirl and socialize, and show some LOVE (Leave Office Very Early) for wine, as we kick off the weekend in style! Join us at The Tasting Room to enjoy our "wine o'clock" specials, with music and outdoor seating to get your weekend started. Savour and save on small bites and wines by the glass, or belly up to the bar to enjoy one of our signature wine flights.

Gather with friends around the communal table, or cuddle up to someone special in one of our cosy banquettes.

Cost: Beginning at USD 15
Note: Reservations are strongly recommended for all holiday dining events as space is limited. Please call +1 (818) 575-3000 for more information and reservations.