Dining
Events and Promotions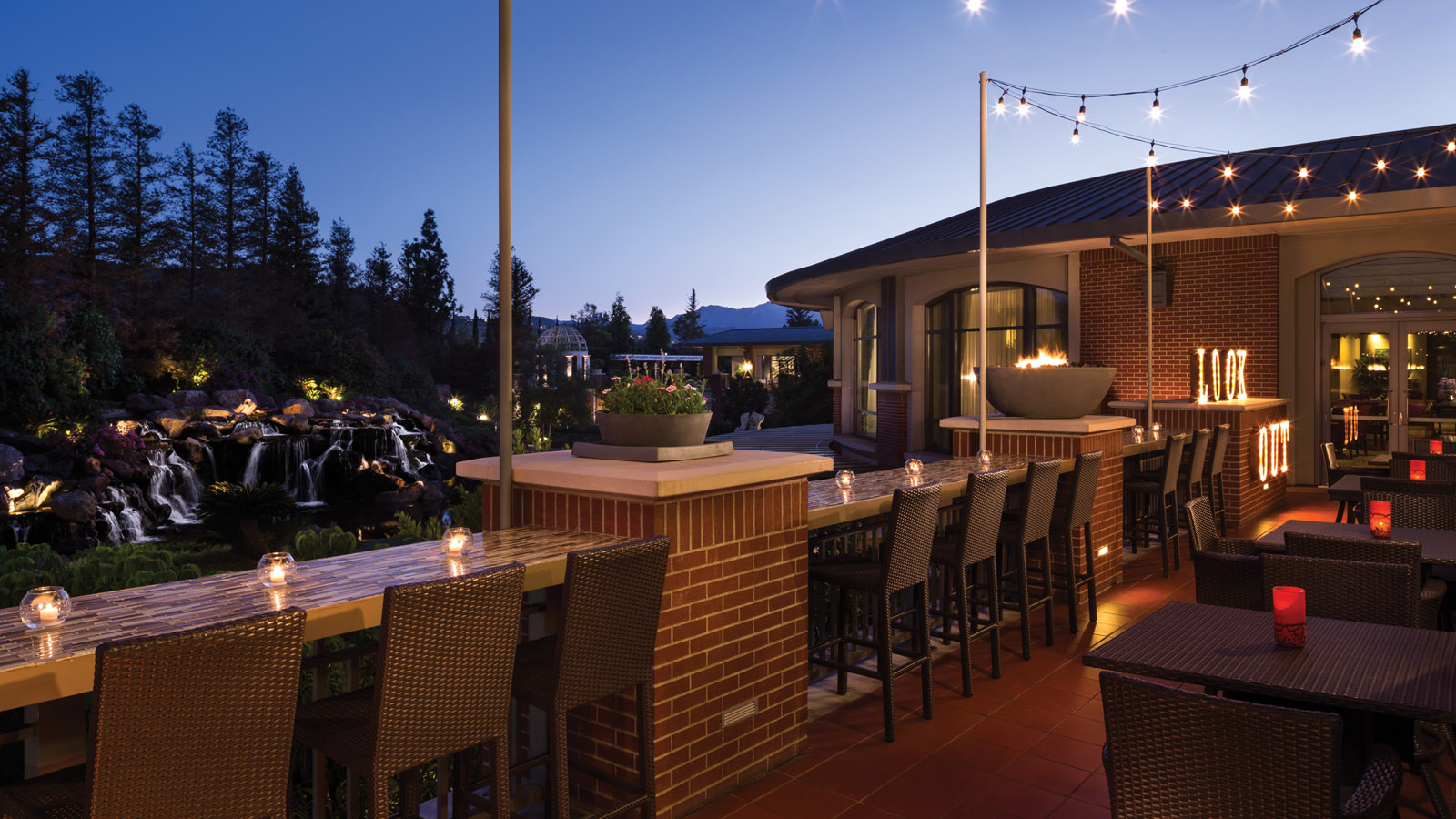 Holiday & Dining Events
Farm-to-Fork Fridays at the Wellness Kitchen

January 29, 2016 – Kitchen Curry Master
February 26, 2016 – Fresh Fish Fanatics
March 11, 2016 – Aroha New Zealand Cuisine

Join us for fresh farm-to-fork dishes that are local, healthy and sustainable. A cooking demo will be followed by a communal dining experience filled with flavorful food and fun conversation. Cost is USD 95 per person and includes cooking demo, dinner, recipes and one glass of wine (inclusive of tax and gratuities).
Wine Wednesdays at the Wellness Kitchen

January 20, 2016 – Sunland Vintage Winery
February 10, 2016 – Navarro Vineyards
March 23, 2016 – Coquelicot Estate Vineyard

See how healthy eating can be fun and flavourful with fabulous recipes, nutritious ingredients and the perfect wine pairings. Cost is USD 60 per person and includes cooking demo, dinner, recipes and wine (inclusive of tax and gratuities). Open to guests age 21 and older.
Wellness Kitchen Garden Series

January 30, 2016 – Tower Garden
February 13, 2016 – Herb and Vegetable Gardens
March 19, 2016 – Luna Gardens


This series includes a demonstration with a local gardener and flower shop owners. Light, healthy lunch will be prepared by the Wellness Kitchen team. Demonstrations take place from 11:30 am to 1:30 pm and cost USD 65 per person.

Valentine's Dinner in ONYX

Savour modern Japanese cuisine and sushi in the intimate atmosphere of ONYX restaurant. Indulge in a five-course Valentine's Day dinner featuring a selection of signature and seasonal dishes from Chef Restaurateur Masa Shimakawa's prix fixe menu. Featured dishes include Miso Black Cod and Pan-Roasted Duck, along with sushi specials such as the Hawaiian Volcano and White Dragon rolls. Dinner is USD 75 per person and excludes beverages, tax and gratuities. Reservations are recommended.
Westlake Village Concours D' Elegance Celebrates "Downton Abbey"

Sunday, February 21, 2016 l 10:00 am to 2:00 pm

The Westlake Village Concours D'Elegance returns to Four Seasons to celebrate the final season of the beloved television series, Downton Abbey. Featuring vintage automobiles from various prominent museums and collectors, historic and celebrity cars and Pebble Beach Concours D'Elegance winners, enjoy live jazz performed by Grammy-winner Russell Ferrante, while enjoying afternoon tea and strolling through our gardens. Come dressed to impress in your best vintage apparel (circa
1912-1927) during this annual event. Event admission is USD 150 per person and includes complimentary parking. For tickets and more information, visit the website.
Gelato Happy Hour at Stir

Because, let's face it…gelato is always a good idea! Join us at Stir every Saturday and Sunday from 4:00 pm – 5:00 pm for buy-one-get-one-complimentary gelato! With a rotating menu of flavors including salted caramel, chocolate chip and more, it's our way of sweetening your weekend.
Paint and Wine at The Tasting Room

Even the most novice artists can create masterpieces with the guidance of our experienced painting teacher Gail Dadoune in a class at The Tasting Room each Sunday at 4:00 pm. Cost is USD 40 (per person age 21 and older) and includes the class and a glass of wine.
LOVE (Leave Office Very Early) for Wine at The Tasting Room

Fridays from 5:00 pm to 7:00 pm

Sip, swirl and socialize, and show some LOVE (Leave Office Very Early) for wine, as we kick off the weekend in style! Join us at The Tasting Room to enjoy our "wine o'clock" specials, with music and outdoor seating to get your weekend started. Savour and save on small bites and wines by the glass, or belly up to the bar to enjoy one of our signature wine flights.

Gather with friends around the communal table, or cuddle up to someone special in one of our cosy banquettes.

Cost: Beginning at USD 15
Sunday Family Fun Day

January 10 - Fit Family Yoga, special guest Ivviva
Inspired by active girls and created by Lululemon Athletica, Ivviva designs beautiful and inspired activewear for girls. Join representatives from the local Ivviva Westlake Village location for an afternoon of yoga and shopping.

January 17 - Wellness Kitchen, special guest Chef Mark of Dole
Our Director of Nutrition Paulette Lambert, R.D., CDE joins special guest Dole Chef Mark Allison for a healthy cooking demonstration in our Wellness Kitchen! Learn how eating healthy can be easy and fun, with delicious and nutritious ingredients and recipes to please even the pickiest eaters, and enjoy a healthy snack afterwards.

January 24 - Life Balance and Vision Board Crafting, special guest Ilana Kukoff, PhD
Start the new year off on the right foot with a refreshing discussion with the Hotel's Life Balance expert Dr Ilana Kukoff. Learn to manage stress and live a more balanced life. Dr. Kukoff will also lead kids and parents through a fun, interactive vision board creating workshop to generate inspiration and motivation for the year to come.

January 31 - Spa Party, special guests Spoiled Rotten Events and Yamaguchi Salon
Look great, feel even better! A day of pampering is the perfect parent-child bonding activity with mini-treatments for kids from Spoiled Rotten Events and Feng Shui beauty consultations from Yamaguchi salon. Events are from 12:30 pm to 2:00 pm and are held in the Wellness Center at Four Seasons Hotel Westlake Village. Admission is $20 per adult and $10 per child age 5 and up. Prepayment will be taken at time of reservations as space is limited.
Note: Reservations are strongly recommended for all holiday dining events as space is limited. Please call +1 (818) 575-3000 for more information and reservations.