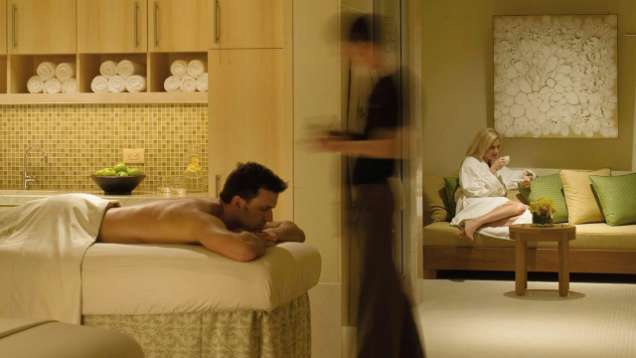 Reduce tension, improve flexibility, recover faster from sports-related soreness or simply unwind with a massage that meets your unique needs at the Spa at Four Seasons Hotel St. Louis.
Four Seasons Signature Massage
This luxurious treatment takes your senses through all of the four seasons. Your service starts with an invigorating foot exfoliation, then enjoy the warmth of a thermal back exfoliation and a volcanic heat pack. Next, achieve deep relaxation during a massage using cinnamon and clove oil, and finally, experience a tingling awakening of your senses during a crystal facial massage.
80 Minutes - 220 USD
80 Minutes
USD 220
Call 1 (314) 881-5800
Royal Celebration of Love
This package includes:
Warm foot bath
Massage with your choice of pressure

Private use of steam and shower in the Couples' Suite
Champagne and special gift
105 Minutes - 495 USD
105 Minutes
USD 495
Call 1 (314) 881-5800
Chakrassage®
A beautiful treatment that brings harmony and relaxation by using ancient healing techniques of Chakra balancing to open emotional and mental clarity and a full body massages to deeply relax and restore both body and mind.
80 Minutes - 195 USD
80 Minutes
USD 195
Call 1 (314) 881-5800
Total Body Relaxation and Sleep Massage
The benefits of sleep impact nearly every area of a healthy lifestyle and the lack of proper rest can affect your heart, weight, stress hormones and cognitive abilities. Our Total Body Relaxation and Sleep Massage combines sleep tools, a 50-minute relaxation massage followed by a 20-minute nap to restore peaceful rest and promote well-being.
80 Minutes - 160 USD
80 Minutes
USD 160
Call 1 (314) 881-5800
Rhythm of the River Massage
A deeply relaxing massage that uses long flowing strokes along the entire length of your body. The gliding rhythmical massage techniques and light pressure from warm stones provide therapeutic benefits and bring a sense of well being. For modesty purposes, one side of the body will remain draped at all times
80 Minutes - 200 USD
80 Minutes
USD 200
Call 1 (314) 881-5800
River rock massage
Feel stress melt away with the healing properties of heated stones. Your treatment therapist will apply scented oils and then use gentle pressure to guide the stones to targeted areas, bringing instant relief to tense muscles and sore joints.
50 Minutes - 160 USD
80 Minutes - 205 USD
50 - 80 Minutes
USD 160 - 205
Call 1 (314) 881-5800
Men's Therapeutic Massage
This deep tissue full-body massage is designed to eliminate stress and relax over-exerted muscles. It's perfect for those who play sports or lead a physically active life. Tension melts away as the back is treated to exfoliation followed by a therapeutic heat pack.
80 Minutes - 195 USD
80 Minutes
USD 195
Call 1 (314) 881-5800
Aromatherapy Massage
Let go, unwind and leave stress behind with carefully chosen aromatherapy oils take you on a journey of well-being and chosen for your body's specific needs.
50 Minutes - 140 USD
80 Minutes - 195 USD
50 - 80 Minutes
USD 140 - 195
Call 1 (314) 881-5800
Your Choice Pressure Massage
Our experienced therapists will adjust the pressure to meet your specific needs and personalize your massage service just for you.
50 Minutes - 135 USD
80 Minutes - 190 USD
50 - 80 Minutes
USD 135 - 190
Call 1 (314) 881-5800
Mother's Bliss Massage
This massage is designed to address the special needs of pregnant women using products created for your special needs. Massage services are available after the completion of the first trimester only.
50 Minutes - 150 USD
50 Minutes
USD 150
Call 1 (314) 881-5800
Reflexology Foot Massage
Reflexology is the ancient technique of foot massage that focuses on pressure points corresponding to the body's vital organs. This invigorating treatment promotes an overall sense of well-being and increased energy while providing the ultimate comforting experience for the feet.
25 Minutes - 75 USD
25 Minutes
USD 75
Call 1 (314) 881-5800
In-Room Massage
In-room massages are available to Hotel guests in the privacy of their rooms for an additional fee. Please contact the Spa for availability and to learn about additional options. In-room couple's massages may only be performed in a one-bedroom or larger suite to accommodate two massages tables.
Note: Prices and treatments are subject to change without notice.