Specializing in innovative, locally sourced seasonal cuisine, our menus evolve regularly to feature the best seafood and products complemented by the region's bounty of fresh, sustainable and organic produce. A comprehensive wine program showcases Santa Barbara County's own winemaking talent, as well as outstanding wines from around the world.

Each Meal Is a Masterpiece
Spacious outdoor oceanfront seating, fireplaces and an outdoor firepit make every meal magical.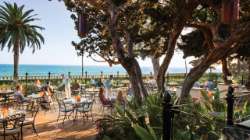 Bella Vista
Dine on organic, Italian-inspired California coastal cuisine, courtesy of Executive Chef Marco Fossati.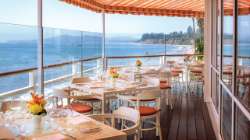 Tydes
Experience intimate indoor and outdoor oceanfront dining at its finest, complete with panoramic views of the Pacific Ocean. Menu includes salads, seafood and other seasonal, fresh California fare.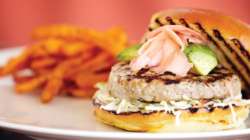 Coral Cafe and Bar
Dive into casual poolside dining and an all-day menu featuring burgers, salads and sandwiches.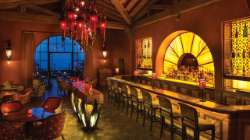 Ty Lounge
Unwind with friends and a cocktail in this lively, stylish setting complete with a fireplace and an outdoor oceanfront terrace.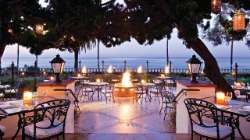 EVENTS & HOLIDAYS
Check back regularly for upcoming wine dinners, epicurean events and holiday menus.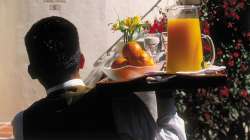 In-Room Dining
Choose from an extensive menu in the comfort of your room, day or night – ideal for time-zone-hopping travellers, impromptu meetings or quiet, private dining.
Resort guests are invited to go beyond dining with these fully customized, all-inclusive epicurean experiences:
moveable feast picnic
Sailing or golf, horseback riding, the beach, sightseeing or wine country – no matter where your day takes you, take along a delicious gourmet picnic to enjoy along the way. Your customized picnic basket includes all the provisions you'll need for a memorable lunch or dinner in any setting. We've thought of everything – even a bottle of wine of your preferred varietal and two engraved wine glasses to keep.
romance on the riviera dinner
Seasonal – Let us sweep you off your feet with the romantic dinner date of a lifetime. A dedicated staff member serves as planner, server, sommelier and personal concierge for your unforgettable evening, greeting you at your guest room with champagne and escorting you to the Resort's most exclusive and captivating setting. After a sunset welcome by the chef, proceed to the kitchen to meet the culinary team. Finally, savour a relaxed four-course candlelight dinner with music and fine local wines, all perfectly tailored to your tastes. Back on your doorstep, you'll find romantic amenities ready to inspire.
Ocean Trio
Begin with cocktails and panoramic views of the Pacific Ocean in your own private enclave at the exclusive Coral Casino Beach and Cabana Club. Watch the sunset over Butterfly Beach with appetizers at Tydes, then continue to Bella Vista for dinner under the stars. End the evening at Ty Lounge with a decadent personalised dessert for two. Each course includes a glass of wine.