Executive Chef
Tory Martindale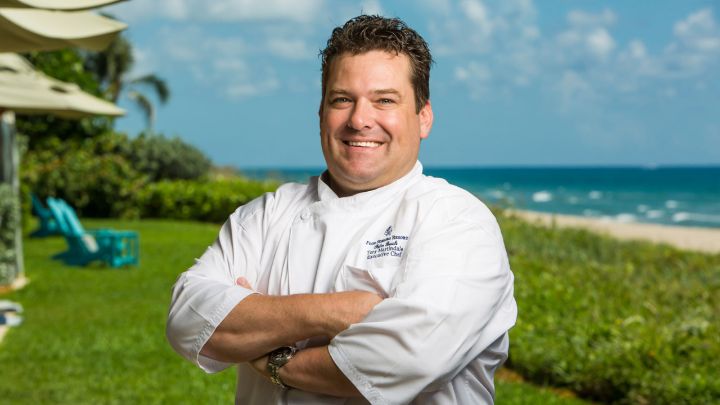 Smiling, enthusiastic and high-energy come to mind when thinking of Four Seasons Resort Palm Beach Executive Chef Tory Martindale. Though his boyish good looks wouldn't reveal it, he is a twenty year veteran of Four Seasons Hotels and Resorts. Chef Tory has spent time working in Four Seasons kitchens in Dublin, Nevis, Santa Barbara and Vancouver, and most recently Four Seasons Resort Whistler.
When asked about his love of the restaurant business Chef Tory paints a very visual picture of the demanding industry: "Working in a restaurant is like playing a fast-paced sport while also conducting a ballet in a battle zone. There are so many moving parts but I love it. It is very personally rewarding."
Chef Tory's food philosophy is based on two key elements – top-notch technique and thoughtful, interesting flavour combinations. He sees food as an art form that relies on all of the senses for full appreciation; he continually strives to create memorable dining experiences for his guests.
"I love to create dishes by mixing different cultural pinpoints of flavor and style. A chef's mind is a giant library of flavors, combinations, techniques and plating concepts. Whenever I build a dish, it's like flipping through a massive directory and finding the nuances that may connect one item to another and then synergizing it all into what you are creating at the moment."
Tory's Caribbean experience and playful nature lend perfectly to the culinary offerings at Four Seasons Resort Palm Beach's three distinct restaurants including the poolside Graze eatery, the beachfront AB&G and the happy hour and dinner modern Italian hot spot, Jové Kitchen & Bar. "We like to have fun with our restaurants," says Martindale. "I think all the great things of a fine dining experience can be delivered without the formalities. I feel menus and food should be fun and sometimes whimsical."
Tory cites a creative, talented, and well-experienced team as the secrets to success and credits his kitchen's culture of encouraging ideas, open communication and positive attitudes for making his job so enjoyable.
Tory enjoys tending his own garden and cooking for his friends and family, including his wife and teenage daughter, especially lamb curry or fresh pasta. His creative talent doesn't stop at the stove – he also enjoys lamp work glass blowing as a hobby.
Chef Tory reveals that he loves traditional sushi, noodle hot pots such as Pho or Udon, Chinese Dim Sum and never gets tired of enjoying well-done traditional Italian Napolitano style pizza.