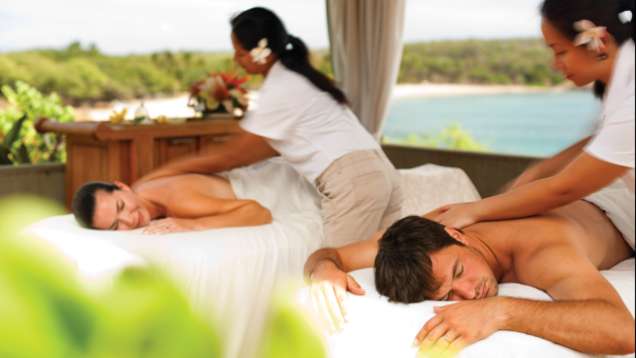 Signature Makala
Pure bliss awaits with our signature Makala (meaning "to loosen") massage, designed to relax tight muscles and increase circulation. This customized experience is recommended for soothing the aches and pains commonly associated with travel.

Lanai Lomi
Like the islands of its birth, this uniquely Hawaiian massage is powerful yet gentle. With its flowing rhythm, it refreshes body and spirit using long strokes over the entire body. Your therapist uses hands, forearms and elbows to maintain constant contact and long, flowing motions.

Pohaku Lomi
This treatment incorporates traditional Hawaiian Lomi Lomi and hot stone therapy, using a blend of tropical essential oils. The oils are used throughout the massage to stimulate the circulatory system, ridding the body of tension and stress.

Ke Koa deep sports massage
Ke Koa, meaning "warrior," is a fusion of Swedish, compression, trigger-point and stretching techniques that work together to reduce the soreness associated with overexertion and demanding physical activities.

Mea'ala Aromatherapy
A Swedish-style massage enhanced by the purest and most potent essential oils from around the world to stimulate the body's self-healing abilities.

Reflexology
This deeply relaxing foot massage relieves stress and tension and increases blood circulation by stimulating pressure points on the feet.
Massage Enhancements
Oceanside massage
Set overlooking pristine Hulopo'e Bay, enjoy your treatment of choice in the Oceanside Hale. As nature intended, the outdoor ambience allows for a heavenly journey to relaxation and pure bliss.
Foot Scrub (softening and moisturizing)
Hand Mask (softening and moisturizing)
Coconut Oil Hair and Scalp Conditioning Treatment
Couples' Treatments – Aloha Kaua
Makai Ritual
Set in the Oceanside Hale overlooking Hulopo`e Bay, this journey begins with the Hehi Lani foot treatment, followed by our signature Makala massage and scalp conditioning massage.
Price displayed is per person.
Makai Couple's Massage
Experience heavenly bliss together with our signature massage, set in the intimate Oceanside Hale. The rhythmic sounds of the ocean and fragrant air create an idyllic ambience for romance and rejuvenation.
Price displayed is per person.

Note: Prices and treatments are subject to change without notice. Prices are subject to 4.166% tax.