An array of unexpected options from around the world are presented by Executive Chef Eren Guryel and his culinary team at Four Seasons Resort Lanai, The Lodge at Koele. From an elegant setting in the Dining Room, to local favourites at the Terrace, pupus and cocktails in the The Bar, or afternoon tea and hot chocolate in the Great Hall, no matter your taste – the freshest and finest local and imported ingredients are fused with great care and enthusiasm by Chef Guryel. Guests also have privileges at all dining venues of Four Seasons Resort Lanai at Manele Bay, which can be signed directly to their room.
Manele Bay Dining
Showcasing the diversity of Lanai, Four Seasons offers a remarkable range of restaurants and lounges – within The Lodge at Koele, at Manele Bay and at the golf clubhouses. Delicious cuisine and attentive service make every occasion a memory to treasure.
The Sports Bar
Come for drinks or to shoot some pool at this open-air sports bar overlooking the ocean at Manele Bay.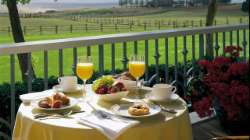 In-room Dining
Day or night, choose from our extensive menu and experience fine dining from the comfort and convenience of your room.