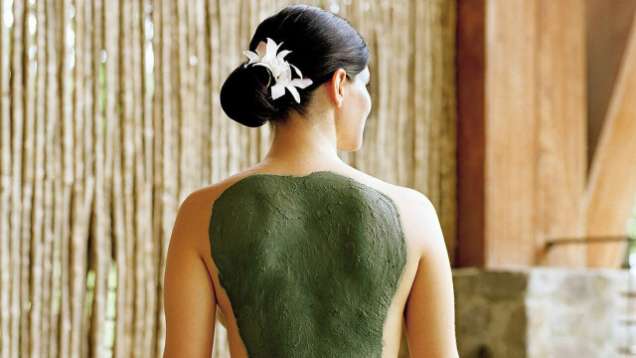 Since the opening of the Resort in 2004, our spa has continued to win awards for its outstanding treatments and quality of service. Most recently, we were recognized by Condé Nast Traveler's 2013 readers' poll as one of the Top 25 spas in Mexico and Central America. At the Spa, we invite you to enhance your physical and emotional well-being by relishing the restorative powers of nature through holistic experiences centered on your individual needs.
Rainforest aromatherapy Massage
Ideal for the first time spa go-er, this full-body massage allows you to specifically choose from blends of aromatic essential oils with fragrances that respond to your mind, body and spiritual needs. The massage combines light to medium pressure and long, gliding strokes to reduce tension, soothe sore muscles and increase circulation.

Hydrating and healing Facial
This facial features propolis, a natural ingredient collected by bees from poplar trees in the Jura Mountains of France. Rich in natural antibiotics, propolis is decongesting, desensitizing and very healing. Your facial begins with cleansing, toning, exfoliation and extractions (if necessary), before the specialty mask is applied.

Organic Costa Rican coffee scrub
This coffee lover's dream come true features a scrub of freshly ground organic Arabica coffee from the central region of Costa Rica, combined with rich natural oils. This treatment helps to increase circulation and reduce the appearance of cellulite. Rich moisturizer is applied as a finishing touch.

Therapeutic deep tissue massage
Focusing on specific areas, your skilled spa therapist will use his or her elbows and forearms and a variety of targeted techniques to deliver deeper pressure, promoting the recovery of injured and strained muscles, increasing flexibility and improving range of limb motion. This massage is ideal after a vigorous workout or for guests who frequently receive massage.
Volcanic mud wrap
Volcanic clay has been used for centuries in Costa Rica for therapeutic mud treatments. For this wrap, we have selected a pure, mineral-rich clay, extracted from deep within the earth near the remote Península de Osa region of Costa Rica. This treatment is an excellent way to increase energy and aids in the absorption of much-needed minerals and vitamins. The skin feels toned and restored to its natural glow.

Note: Prices and treatments are subject to change without notice. Prices are subject to a 10% service charge.