Couples' Experiences
Adventurous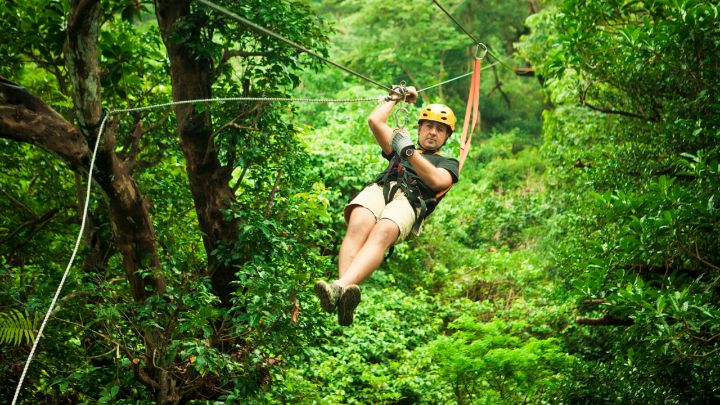 Costa Rica is a dream destination for adventurous travellers. Zip-line through the treetops, hike around an active volcano, explore the jungle shoreline from our catamaran, and much more – all within a short radius of your relaxing hideaway at the Resort. Need help planning the perfect adventure vacation to Costa Rica? Ask our Concierge team to customize an authentic Costa Rican experience just for you.
Yours to Explore
This year, an adventure awaits. Get ready to create memories that will last a lifetime.
Horseback riding at El Aromal

A riding excursion at El Aromal promises a memorable way to explore the backcountry landscape. The tour begins at the sabaneros cattle herding station, where visitors don the hats and kerchiefs of the Pampas of the past, and ends at the Hacienda with a cool drink and typical Costa Rican snack.


Note: Driving time is approximately 2 hours each way.
Witch's Rock

The Witch's Rock canopy tour is an exhilarating experience. Guests harness up and slide along a series of zip lines suspended above valleys and amid treetops. Wildlife along the route includes tree frogs, vine snakes, howler monkeys and hundreds of bird species.


Note: Driving time is approximately 20 minutes each way. Guests aged seven and older are welcome to enjoy the tour. The tour is not suitable for pregnant women or people who have back or shoulder problems.
Spend a day at Arenal Volcano

Arenal Volcano is one of the 10 most active volcanoes in the world. On an almost-daily basis, red-hot rocks crash down its steep slopes and volcanic grumbles from within produce huge ash columns above the crater. Enjoy one or more of the activities in the Arenal area – rafting, hiking trails, horseback riding, mountain biking, waterfall rappelling, hot springs, hanging bridges, canopy tours, zip lines, wildlife viewing and even cave tours.

Note: Driving time is approximately 3.5 hours each way.