Destination
Directions & Maps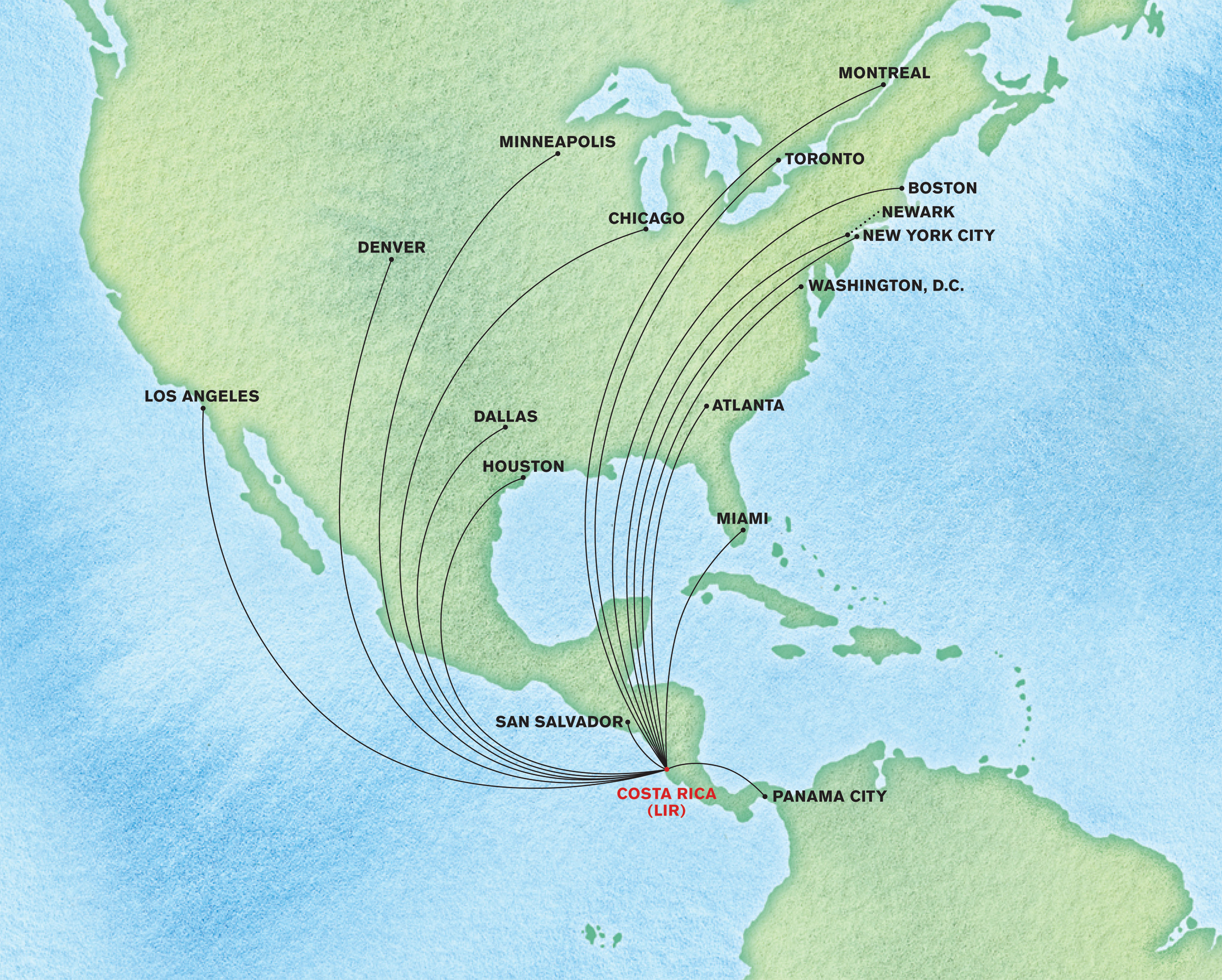 Transportation
Flight times from international hubs:
Atlanta, Georgia - Hartsfield-Jackson (ATL) l 1,590 miles (3 hours, 58 minutes)

Charlotte, NC - Douglas (CLT) l 1,721 miles (4 hours, 7 minutes)

Chicago, IL - O'Hare International (ORD) l 2,170 miles (5 hours, 15 minutes)

Dallas, TX - Dallas/Ft. Worth & other airports (DFW) l 1,705 miles (4 hours, 10 minutes)

Denver, CO - Denver International (DEN) l 2,336 miles (5 hours, 8 minutes)

Houston, Texas - George Bush International (IAH) l 1,480 Miles (3 hours, 40 minutes)

Miami, Florida - Miami International (MIA) l 1,100 Miles (2 hours, 54 minutes)

Newark, NJ - Newark (EWR) l 2,186 miles (5 hours, 15 minutes)

New York, NY - John F. Kennedy International (JFK) l 2,190 miles (5 hours, 17 minutes)

London, UK - London (GAT) l 5,448 miles (10 hours)

Los Angeles, CA - Los Angeles (LAX) l 2,630 miles (5 hours, 59 minutes)

Panama City, Panama - Panama Tocumen (PTY) l 2,929 miles (1 hour, 42 minutes)

San Jose Costa Rica - Juan Santamaria Intl (SJO) l 94 Miles (54 minutes)

San Salvador, El Salvador International (SAL) l 456 miles (1 hour, 35 minutes)

Toronto, ON, Canada - Pearson International (YYZ) l 2,309 miles (5 hours, 20 minutes)
Costa Rica is readily accessible from all major points in the United States, Canada, Europe, Latin America and Asia. Arrive at a state-of-the-art airport terminal at Daniel Oduber Quirós International Airport (LIR), Liberia via your choice of eight major airlines, including United, Delta, U.S. Airways, Air Canada, Alaska, JetBlue, WestJet, Frontier, Copa Airlines and Southwest Airlines.

Please note: All visitors to Costa Rica must possess a passport that's valid for at least six months after their date of arrival. Those travelling from Europe who decide to pass through Colombia, Venezuela or any other South American country on their way to Costa Rica must also have been vaccinated against yellow fever.

Services provided by the Hotel
All guests are met upon arrival at Liberia International Airport. Once at the Resort, they are greeted with a refreshing welcome beverage and a chilled towel.
Four Seasons is positioned on Costa Rica's northwest Pacific coast within the province of Guanacaste. Though it's the country's second-largest province by area, Guanacaste is the least populated, offering a calm, peaceful ambience. The pampas or prairie landscape is an unusual mix of grassy savannahs, immense cattle ranches and tropical dry forest, backed by volcanic mountain ranges.
For a hassle-free check-in experience, guests can book our private transfer from the airport via a taxi, shuttle service, or booking a private transfer. The transfer time from Daniel Quiros International Airport Liberia (LIR) to the Resort is an estimated 35 minutes. This service involves a fee.
Private transfer service includes:
Air-conditioned private vehicle that can accommodate up to five guests and their luggage

Free wireless Internet access


The option to use our new mobile video check-in to avoid waiting (curbside check-in)

Your room or suite ready on arrival, or an alternative room available for rest if your arrival is earlier than standard check-in time

The option to order meals and beverages through In-Room Dining, which will be ready when you arrive

Guaranteed dinner or spa reservations before arrival




Our private transfer service is available for USD 195 each way (total fee for up to five passengers). If you would like to book a transfer, please provide us with your flight details at least 24 hours prior to your arrival. Please be aware that there is a 24-hour cancellation fee for arrival and departing transportation.

Please note: Only private transfers will be available for flights within Costa Rica.

Shuttle Service:
We offer an air-conditioned shared Four Seasons shuttle bus for a one-way rate of USD 45 per person. Children five years of age and under are complimentary. Groups must enquire separately.

Quick Reference
Time and distance to city centre
Liberia: 1 hour/47 kilometres/29 miles
Time and distance to shopping
Liberia: 1 hour/47 kilometres/29 miles
Time and distance to financial district
Liberia: 1 hour/47 kilometres/29 miles