| | |
| --- | --- |
| 32 | km (19.88 mi) length of the Bosphorus Strait |
| 48,000 | vessels per year pass through its waters |
| 620 | historic homes line its shores |
| 2 | suspension bridges |
| 2 | medieval fortresses |
| 6 | Ottoman palaces |
| 5 | minute walk from the Hotel to boat cruise launchpoint |
| 1 | Only city that stands between two continents |
| 3 | Empire capitals |
From Europe to the Hills of Asia
The banks of the Bosphorus give rise to a coastal enclave of shimmering natural beauty and centuries-old architecture perched alongside a vibrant mosiac of cafés, clubs, restaurants, galleries, and shopping.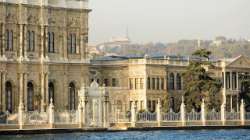 A View from Up Top
Go outside and take in the vistas. The second busiest strait in the world, the Bosphorus never yields the same view twice. Ferries and yachts cruise alongside enormous barges hauling cargo. Sharp eyes could spot porpoises by day and fireworks by night.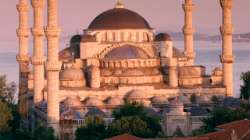 Colourful Grandeur
The 17th-century Sultanahmet Mosque – commonly known as the Blue Mosque because of its 20,000 some cobalt-coloured tiles – is the last of the city's imperial mosques. A visit from the Hotel is about a 20 minute drive.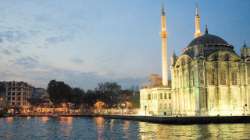 Take to the Water
One of the best ways to experience Istanbul Bosphorus is to board a boat cruise that enter from the Black Sea and stops at various fishing villages. Cruises happen three times daily during the summer and once a day during the winter.
Experience "A Taste of Istanbul"
Get an insider's view of Istanbul's rich architectural heritage and delicious local flavours with our "A Taste of Istanbul" package, which includes a private, full-day tour and lunch for two at our sister property in Istanbul.

Istanbul Museum of Modern Art
Symbolic of the city's progressive and creative evolution, Turkey's first modern art museum occupies a converted warehouse at Karaköy.