Four Seasons now welcomes UnionPay credit cards for reservations and payment.
Close
Travel by private jet to legendary destinations at every corner of the globe, with Four Seasons as your guide.
Learn more about the exclusive experience of flying around the world with Four Seasons. Below, discover all the remarkable places we're going next. Begin your journey today.
Join John Legend on an exclusive Private Jet Adventure
Napa | New York | Paris | London | Milan | Lake Como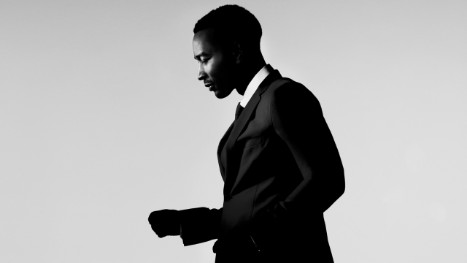 An exclusive journey designed to nourish the mind, body and soul
Join musical icon John Legend on an incredible journey aboard the Four Seasons Private Jet. This is your opportunity to access the insider world of John Legend—connect with innovators, share inspiration with artists and exchange ideas with the minds shaping our world.
September 15 - 25, 2015
This all-inclusive trip is limited to 50 inspired individuals.
USD 120,000 per person based on double occupancy
MEET LEADERS IN TECHNOLOGY & EDUCATION AND ENJOY A PRIVATE CONCERT AT A WORLD-CLASS VINEYARD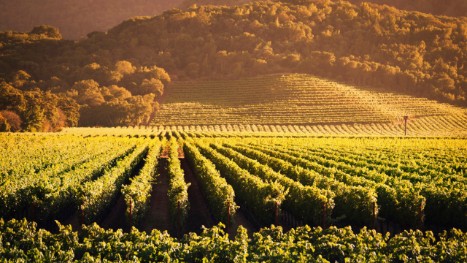 Our journey begins in beautiful Napa Valley. Here we'll experience the best California has to offer, from lush vineyards to intriguing thought leadership.
You'll enjoy exclusive access to Silicon Valley's leading entrepreneurs and the most innovative thinkers in the fields of taste, business and education.
Enjoy an intimate John Legend concert held in an iconic Napa Valley vineyard.
EXCHANGE VIEWS WITH ARTISTIC VISIONARIES AND BUSINESS LEADERS IN THIS GLOBAL EPICENTER OF INDUSTRY
Talk with some of the world's most influential leaders in business and the arts, learn about the future of education and indulge in meals prepared by celebrated chefs.
Enjoy a private tour of Harlem's artistic center and discover cutting-edge theater in this insider's view of the Big Apple.
Sotheby's experts in contemporary art and global wine will lead us on a journey of the senses, pairing a private collection of paintings with distinguished vintages.
ENJOY EXCLUSIVE ENTRÉE TO FASHION INNOVATORS AS YOU INDULGE YOUR SENSES IN EUROPE'S MOST SEDUCTIVE CITY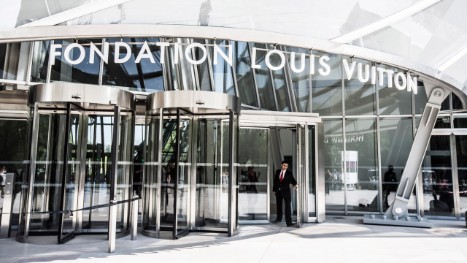 Just a few steps from the Champs-Elysées stands the world-class Four Seasons Hotel George V. Built in 1928, this luxury hotel is famous for unmatched service and for its spectacular and historic wine cellar where you will enjoy a private tasting.
The experience continues with an exclusive visit to L'Ecole Van Cleef and Arpels where you will design and create your own unique piece of art.
Take in a private tour of the Louis Vuitton Foundation and a very rare visit to the house of Valentino.
TAKE A RARE LOOK AT THIS GLOBAL CULTURAL CENTER THROUGH THE LENS OF FASHION AND DESIGN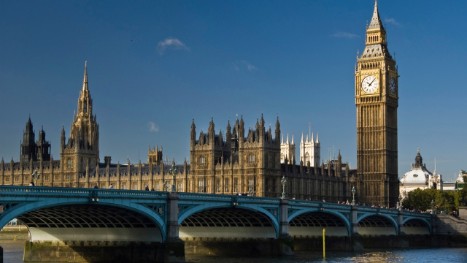 London offers us access to some of the most exciting thinkers, designers and architects of our time. You'll visit the studio of the iconic architect Norman Foster then explore the world of fashion at Condé Nast College.
Our stay in London includes an exclusive design tour with Marek Reichman, head designer at Aston Martin.
Located alongside the finest jewelers, designer stores and auction houses, Four Seasons at Park Lane is an ideal base for your exploration of the city.
LAND IN MILAN AT THE HEIGHT OF FASHION WEEK THEN SPEED TO LAKE COMO, THE CELEBRITIES' ITALIAN PARADISE
Experience the feverish energy of Milan at its peak. We will enjoy an exclusive tour of the new Armani Museum and visit Giampiero Bodino, the city's master jeweler.
Then decompress as you travel through the Italian countryside to picturesque Lake Como.
Here we will spend the final days of the journey touring the lake in Ferretti Riva yachts with champagne glasses in hand.
For more information CLICK HERE or call 206-805-8209
Around the World - August 2015

Enjoy an array of epic experiences on this 24-day global expedition. Go on safari through the Serengeti, dive with a marine biologist in the Maldives and learn to make sushi in Tokyo.

August 16-September 8, 2015

USD 119,000 per person

See below for details

Four Seasons Hotel Seattle


Arrive in Seattle to meet your journey's dedicated support team and fellow travellers during a welcome dinner at Four Seasons Hotel Seattle. The next morning, board the private jet and fly across the Pacific, crossing the International Date Line.


August 16–17, 2015



Four Seasons Hotel Tokyo at Marunouchi


Salute the city's storied past on a tour of Tokyo's oldest temple before shopping for the latest fashions and wares in the modern Ginza neighbourhood. Gourmands may gravitate to the world's largest fish market and a sushi-making lesson.


August 18–21, 2015


Four Seasons Hotel Beijing


See the Great Wall of China, Tiananmen Square and the Forbidden City through the eyes of our expert guides, who provide exclusive access along the way. Contemporary art connoisseurs and fashion insiders are also on hand to help navigate Beijing's modern cityscape.


August 21–24, 2015



Four Seasons Resort Maldives at Kuda Huraa


Join a marine biologist–led cruise or snorkel safari and observe the 700 species of fish, sharks and spinner dolphins that occupy the waters around the island. To relax, take a short sail to the Resort's Island Spa.


August 24–27, 2015



Four Seasons Safari Lodge Serengeti


The moment you land in the bush, embark on a game drive that winds through the Serengeti National Park en route to the secluded, ultra-comfortable Safari Lodge. Continue your quest for wildlife on a full- or half-day safari, by jeep or hot-air balloon.


August 27–30, 2015


Four Seasons Hotel Istanbul at the Sultanahmet


Shop this transcontinental city's expansive Grand Bazaar and tour the opulent Topkapi Palace before unwinding at a Turkish bath. At sunset, take a cocktail cruise down the Bosphorus, which flows between the European and Asian sides of Turkey.


August 30–September 2, 2015



Four Seasons Hotel Lion Palace St. Petersburg


Cruise the canals for the best views of the palaces and brightly hued buildings that decorate Russia's cultural capital. Browse art and artefacts at the State Hermitage Museum, and enjoy a private concert by members of the Mariinsky Theatre Opera Company.


September 2–5, 2015



Four Seasons Resort Marrakech


Spend an afternoon in the heart of the Red City, taking in the sights, sounds and flavours of the medina. Immerse yourself in the beauty of Majorelle Garden or travel into the Atlas Mountains to visit a traditional Berber village.



September 5–7, 2015

Four Seasons Hotel New York


The private jet makes its final stop in New York City, where you'll toast to this extraordinary journey over a celebratory dinner and bid farewell to your fellow travellers. Then, after breakfast the next morning, connect with your flight home.


September 7-8, 2015


Pricing:
USD 119,000 per person based on double occupancy
USD 11,000 single supplement
Toast your travels with Dom Pérignon, the icon of luxury champagne. Dom Pérignon is always vintage only, made only with the very best grapes of the most exceptional years. As the exclusive Champagne provider aboard the Private Jet, passengers will enjoy the latest vintage from one of the world's finest wine makers.
Follow Four Seasons Around The World

As our team of on-board journalists and concierges fly the globe, they chronicle their experiences on FourSeasonsMagazine.com. Get inspired to plan your dream escape by viewing stories, photos and videos of past trips, and plan to follow along in real time as we journey from the beaches of Bali to the hills of Thailand in 2014.

Timeless Discoveries: An Around the World Journey
LA | Kona | Bora Bora | Sydney | Bali | Chiang Mai | Taj Mahal & Mumbai | Prague | London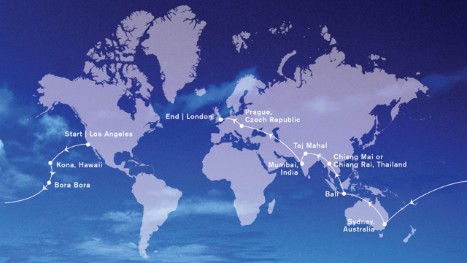 9 celebrated places, 1 remarkable journey
An ever-popular journey, our signature Around the World trip features some of the world's most iconic destinations. From the beaches of Bora Bora to the Taj Mahal, this is a 24-day itinerary that touches down in sophisticated cities and island paradises. See Sydney by seaplane, explore a 14th-century castle in Prague and go on an elephant trek through the jungles of Chiang Mai.
January 26 - February 18, 2016
USD 132,000 per person based on double occupancy
International Intrigue: An Around the World Journey
Seattle | Tokyo | Beijing | The Maldives | Serengeti | Istanbul | St Petersburg | Marrakech | Boston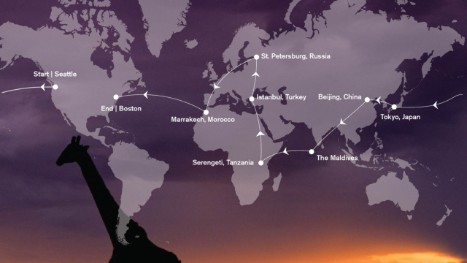 Explore intriguing cities and exotic settings.
Discover some of the world's most intriguing cities and beautiful landscapes. This itinerary includes some of Four Seasons newest properties. From the thrilling game drives in the Serengeti to the lavish palaces of St. Petersburg to a private dinner on The Great Wall, this Around the World journey is a 24-day experience of legendary places spanning the globe.
April 14 - May 7, 2016
USD 132,000 per person based on double occupancy
Extraordinary Adventures: An Around the World Journey
Austin | Costa Rica | Lana'i | Sydney | Langkawi | Mauritius | Serengeti | Petra or the Dead Sea | Lisbon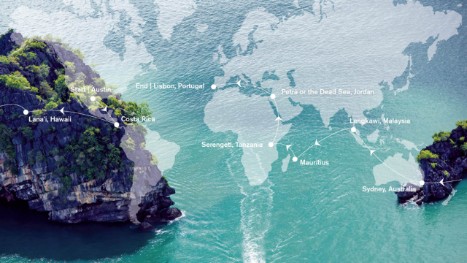 Experience adventure Four Seasons style.
This brand new itinerary caters to the adventurous spirit. Enjoy a 25-day journey filled with incredible adventures that deliver one memorable moment after the next. Soar by zip line across the rain forest canopy of Costa Rica, hike Australia's Jenolan Caves, kayak through Malaysian mangroves and experience the "Big Five" on a Serengeti game drive.
September 17 - October 11, 2016
USD 137,000 per person based on double occupancy
Cultural Escape: Europe, Middle East & Africa
London | Petra and the Dead Sea | Dubai | Seychelles | Serengeti | Florence | London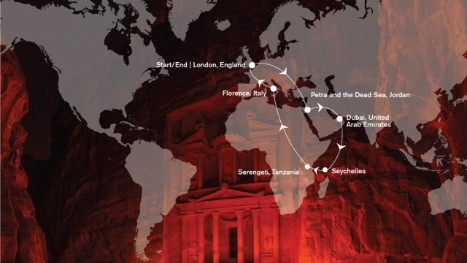 Explore six incredible global highlights.
Immerse yourself in 19 days of distinct cultures as you journey to an incredibly fascinating area of the world. See Dubai from the top of the world's tallest building, marvel at marine life while snorkeling in the Seychelles, and discover the art and architecture of Florence, the cradle of the Renaissance. Travel to the lost city of Petra, imposing in its grandeur, then visit the lowest point on earth and experience the healing properties of the magnificent Dead Sea.
November 4 - November 22, 2016
USD 106,000 per person based on double occupancy
Note: 2016 itineraries may be subject to change.