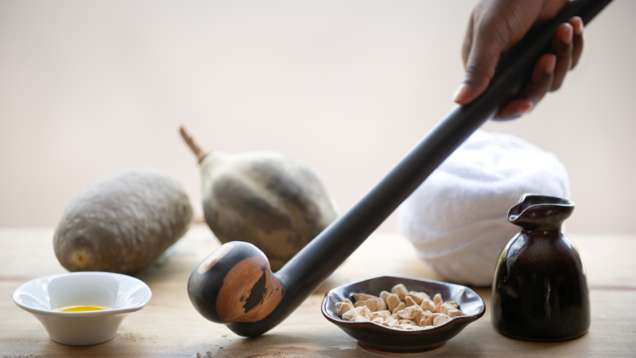 Hand-selected treatments and products combine to create a holistic spa experience. All rituals include a complimentary fragrant milk bath on your private spa terrace overlooking the Serengeti.
Safari Balance
The perfect way to unwind and rejuvenate after a long day of rugged, action-packed adventure in the bush. Buff away dead skin cells and cocoon your body in an intensely hydrating, nutrient rich body masque. Soak in an anti-oxidant rich rooibos milk bath. This chemical free Africology experience would not be complete without a purifying mini facial and a full body relaxation massage.
Walnut, Marula and Shea Butter Body Scrub
Hypoxis, honey and rosehip body masque with mini facial
Rooibos-infused milk bath
Full-body massage of choice with R=relaxing oils of lavender, chamomile, geranium and lemon

150 minutes
Tanzanian Energizer
This treatment is designed to re-energize, revitalize and detoxify. Africology's pure and potent ingredients of coffee, mint and black pepper will boost your circulation, eliminate toxins and gently restore your body to an optimum state of well-being, so you are ready to seize the day!
Invigorating Sugar and Shea Butter Scrub
Peppermint-infused Milk Bath
African Coffee and Kaolin Body Masque
Herbal detox steam
Full-body massage of choice with energising oils of black pepper, ginger, neroli and rosemary

150 minutes
Kifaa Massage
Our signature Kifaa massage (Swahili for implement or tool) is an adaptation of a full-body holistic massage that incorporates the use of a rungu, a wooden baton that represents the warrior status for the Masai culture in East Africa. The rungu is combined with a deep pressure massage using traditional Tanzanian baobab oil.

90 minutes
African Detox
Begin with a full body scrub made from the Msasa plant, handpicked here in Serengeti and used in traditional African medicine. Our detoxifying mud masque is enriched with a potent blend of seaweed, ivy and guarana extract, which is heat-activated with an herbal steam to create a slimming and firming effect, while converting fat into energy for weight loss. Africology's cellulite detox massage oil treats fatty deposits and eliminates toxins.

Green tea & salt scrub
African Slimming Detox Mud Masque
Herbal detox steam
Full-body circulatory & lymph drainage massage with cellulite detox oils
Oils of lemongrass, cypress, geranium and grapefruit
120 minutes
Note: Prices and treatments are subject to change without notice.