SPA
Five-Star Signature Treatments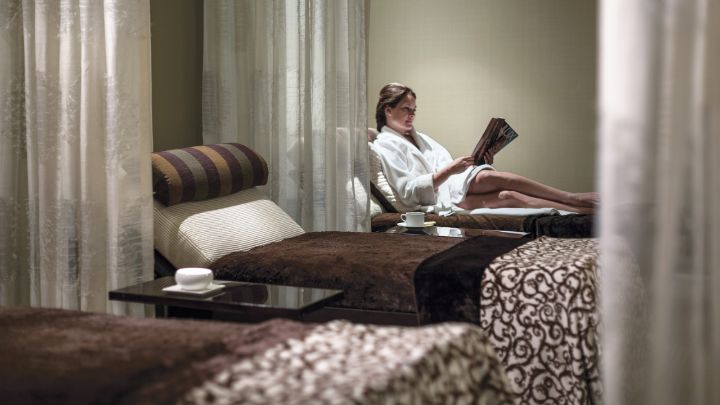 With Rodeo Drive right outside the door, you never know when you might need to hit the Red Carpet. These invigorating treatments will leave the body refreshed, relaxed and ready to hit your Red Carpet parties.
Signature Beverly Wilshire Facial
Exclusively at the Beverly Wilshire Spa, this treatment includes our favorite technologies and Natura Bisse Diamond Luxury Line specifically targeted to ensure you are red carpet ready. This treatment begins with HydraFacial®, combining soothing and invigorating spa therapies infused with antioxidants and peptides. This advanced medical hydradermabrasion technology achieves instant hydration and lasting results with no discomfort or downtime. Elemis Biotec Microcurrent is used for firming and lifting. Galvanic technology propels high-potent actives deep into the skin, minimizing lines, wrinkles, hyper-pigmentation and sensitivity. Oxygen infusion drives high-potent actives to restore elasticity, stimulate tissue repair, heal and rebalance the skin. This treatment is completed with our Knesko Luxury Diamond face, neck and décolleté mask leaving the skin ready for your close up.
Targeted Toning Treatment
Rediscover the architecture of your face with this groundbreaking blend of sculpting technology using the ELEMIS Biotec machine. Wrinkles and fine lines are reduced to leave complexion softer, smoother, and brighter. A powerful blend of salts, minerals and seaweeds work together to target cellulite and skin tone on arms. A cooling rubberized mask, rich in super-detoxing caffeine and green clay, is applied to this problem area and clinically proven red algae redefines areas prone to sagging.
Diamond Rose Body Treatment
This exquisite ritual includes a Damask Rose Absolute oil and Diamond Dust exfoliation. The skin regains all its beauty from the rich lotion with essential oils, which includes powerful nourishing active ingredients. A finishing product that provides a subtle velvety touch is applied to reveal skin that is softer and smoother than ever.
Note: Prices and treatments are subject to change without notice.