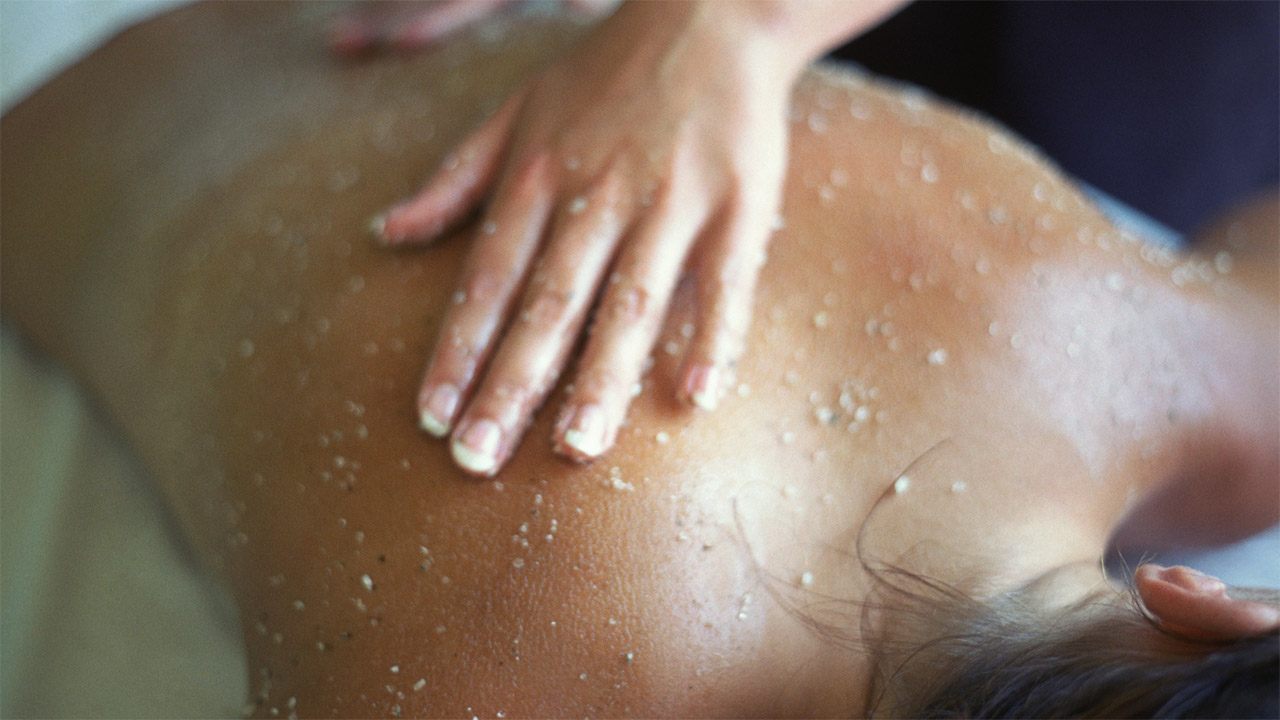 Diamond Rose Body Treatment
This exquisite ritual begins with a Damask Rose Absolute oil and Diamond Dust gel exfoliation. The skin regains all its beauty from the rich lotion with essential oils, which includes powerful nourishing active ingredients. After a thorough exfoliation, a luxurious lotion application is applied, revealing skin that is softer and smoother than ever.
Hydrating Citrus Soufflé
The Natura Bissé citrus scrub and whipped Vitamin C soufflé mask work together to purify, tone and firm the skin. Leave feeling revitalized and lifted from this brightening body treatment.
Sculpted Beauty Wrap
This customized Natura Bissé sculpting treatment incorporates a citrus scrub and soufflé mask to restore elasticity, hydrate, tighten and firm the skin. Its innovative antioxidant serum restores density and contours while leaving your skin radiant and evenly toned.
The Scrub bar
A full-body exfoliation with your choice of a hydrating Natura Bissé Vitamin C Scrub, invigorating Sugar Peppermint Scrub or unscented organic sugar scrub. This treatment concludes with an application of a rich, firming body lotion, leaving the skin soft, silky and glowing.
Sugar Peppermint Scrub and Wrap
This cooling treatment begins with a stimulating whipped sugar peppermint scrub, followed by a hydrating peppermint butter wrap. While you are enjoying your warm hydrating wrap, you will receive a luxurious scalp massage. The treatment concludes with an application of a rich, firming body lotion, leaving the skin soft and silky.
Superfood Detox Wrap
The ELEMIS Superfood Detox treatment is a nutrient-rich wrap that provides powerful detoxification, helping stimulate the elimination process and restore equilibrium. Omega-rich Green Tea seed oil is massaged into the skin, followed by the thousand flower wrap, packed with vitamins including Chia to help the body eliminate toxins. A nourishing Green Tea balm, rich in minerals, proteins and omegas – the superfoods of the skin – is the final touch applied with a little extra massage, leaving you feeling completely reinvigorated.
Travel Recovery Treatment
The ultimate jet-lag recovery treatment, ELEMIS Musclease seaweed wrap detoxifies and de-stresses the body, inside and out, easing the mind and lifting the spirit. We combine the richness of sea plants with a warming blend of Juniper and Pine essential oils to reduce aches and pains, muscle tension and fatigue. A warm seaweed mask is applied to the body as you relax with a calming Thai facial and eye massage. A stress-relieving scalp treatment leaves you fully restored.
AromaTouch Technique
The Aromatouch Technique is a clinical approach to essential oil application. Focused on the healing qualities of eight certified pure and therapeutic essential oils, this treatment creates an environment for optimal health in your body by reducing stress, boosting immunity, addressing inflammation and stimulating lymphatic movement. This is a specific unique technique performed on the back, neck and scalp.
Note: Prices and treatments are subject to change without notice.