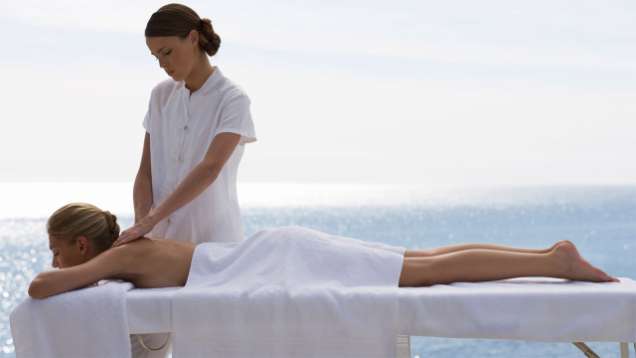 Massage is one of the oldest forms of health care. A true antidote to stress, it creates an overall sense of well-being. It is an ideal way to unwind in our fast-paced world, helps strengthen the immune system and restores balance in the body. Oils used in our massages include patchouli, jasmine, rose, jojoba and sweet almond.
Pharaonic
This luxuriously strong yet peaceful massage was once reserved for Egyptian royalty. Aromatic poultices filled with fresh chamomile and mint are dipped into warm sweet almond oil and then applied. The treatment soothes tired muscles, nourishes the skin and induces relaxation.
Thai
In this oil-free massage, the therapist listens to the body, sensing its needs and energy patterns, and then works with pressure point techniques and a series of stretches. Invigorating, relaxing and healing, the treatment promotes blood flow and releases toxins from tired muscles.
Aroma
The treatment offers a choice of essential oils and uses gentle, sedative massage strokes for a pleasant sensory indulgence.
Swedish
Considered the foundation of massage treatments, Swedish massage is designed to alleviate pain and improve health. It enhances the body's ability to absorb oxygen, creating a sense of rejuvenation.
Sport and fitness
This strong massage focuses on problem areas of the body. Deep tissue and cross-fibre friction techniques leave the muscles feeling more relaxed and at ease. This is a perfect treatment for the sports enthusiast.
Head, neck and back
After any kind of stress, such as a long flight, tension can build up in the head, neck and shoulders. This treatment focuses on problem areas using Swedish massage and pressure point techniques, promoting release and a sense of well-being.
Oriental head massage
This traditional massage helps increase joint mobility and flexibility in the neck and shoulders, improves blood circulation and lymphatic flow and releases knots of muscular tension. It is particularly good for reducing the effects of stress.
Reflexology
Reflex points on the feet and hands correspond to every part of the body. Applying pressure to these points stimulates them, enhancing circulation and promoting specific bodily and muscular functions.
Balinese
This massage works deeply to soothe damaged tissue and relieve strained muscles and joint pain. The boost to your circulation will help reduce stress and rebalance your body.
Egyptian Classic Massage
This ancient Egyptian massage is a therapeutic treatment in which tension is treated with kneading, stroking and vibrating movement using oil made from aromatic plants.

Ancient Healing Stone
This aged healing massage provides the body ultra-deep relaxation and a renewed sense of vitality. The experience begins with a sensory blend of essential oils, and the strategic application of smooth, heated stones provides an extraordinarily relaxing and stimulating massage treatment.

Note: Prices and treatments are subject to change without notice. Prices are subject to a 12% service charge and applicable taxes.