SPA
Tailored Spa Journeys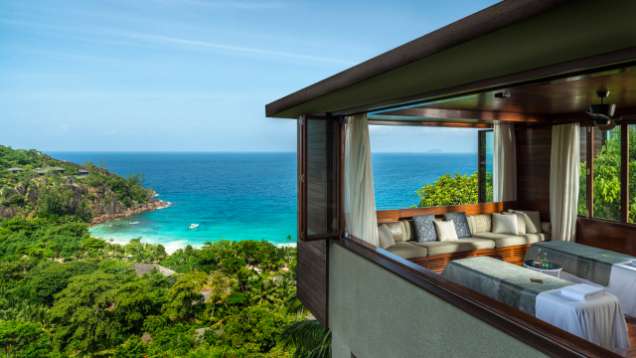 For a truly personalised relaxation experience, savour your time in Seychelles with a tailored programme of spa and wellness experiences. Our multi-day Spa Journeys offer complete flexibility and are designed to address specific lifestyle needs. From local inspirations, an ocean breeze experience or a spiritual journey, to beauty pampering or a romantic escape for two, join us in our holistic haven for the ultimate in self-renewal. Each programme can be further customised to meet individual needs and treatments can be booked across several days or in a series of back to back sessions. Our expert Spa team will guide you in the planning of your chosen Spa journey.
Our Spa Journeys
Seychelles' Favourites
High above the beach, brushed by gentle breezes at the summit of the hill, relax in your own private spa pavilion with heavenly views of Petite Anse. Experience pampering inspired by blends of local herbs and spices. In this hideaway of soaring beauty, feel the serenity of this magical paradise unfold as it revives you through its energy.
Treatments included:
Coco de Mer Ritual
Mahe Massage
Hilltop Fusion Massage
Rainforest Facial
Ocean Connection
Life can be stressful for both the body and the mind. Let these everyday distractions vanish from your thoughts as you decompress into a pampered state of being. Awaken to feel recharged by the essences and touches of water, with natural treatments specifically chosen to return you to tranquil relaxation.
Treatments included:
Private Yoga at the beach
Detoxifying Marine Wrap
Shell Serenity Massage
Marine Mineral Facial
Spiritual Journey
Release your inner energy from its dormant state. When revived through Kundalini, the body and
mind will experience a sense of enlightenment and vitality by balancing your chakras. Just focus
on your breath as we practice a variety of ancient techniques to provide a sense of connective
energy between you and the earth.
Treatments included:
Private Mountain Meditation
Private Yoga in Foumba (the ruins of an historic Creole house)
Bio Energy Mud Wrap
Kundalini Massage
Ananda Facial
ILA Night Spa
In Villa Bath Ritual
Grace and Beauty
Escape with this beauty journey, combining a variety of spa treatments to create a multidimensional experience. From head to toe, you will feel pampered, energized and rejuvenated, after this very unique beauty journey.
Treatments included:
Ultimate Anti-Aging Samadara Facial
Refining Body Toner
Signature Earth Massage
Coconut Oil Hair Treatment
Manicure and Pedicure
For Lovers
Enjoy this unforgettable journey together with the person you love. Designed for couples to experience together, these sensual rituals help calm the nervous system and promote reconnection on a physical, emotional and spiritual level. A beautiful and memorable way to celebrate your honeymoon, your anniversary or any special occasion.
Treatments included:
Blissful Connection
Romantic Massage under the Stars
In Villa Bath Ritual
All Spa Journeys offer a minimum of a 10% saving and are sold per person.