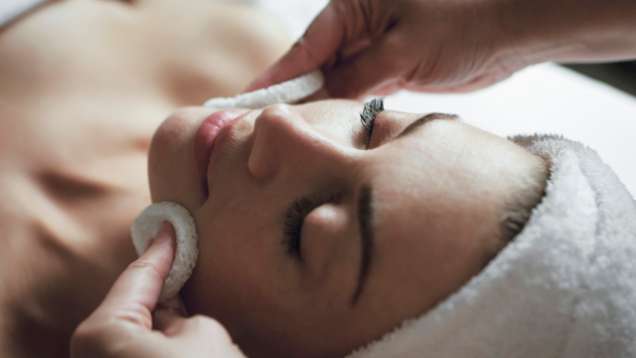 The Driftwood Signature Facial
Give your skin the ultimate pampering it is craving and allow your esthetician to perform a thorough skin analysis and customize the perfect signature facial for your skin type and skin care concerns. Our antioxidant facial is a customized treatment which combines active cosmeceuticals, natural fruit acids, antioxidants, vitamins, and a wide variety of potent botanical extracts to nourish skin.
DNA 3-IN-1 SUPER FACIAL
The Oxy Geneo Facial with DNAEGF is a non-invasive facial treatment that isn't your ordinary facial. State-of-the-art technology OxyGeneo uses an innovative exfoliating technique and oxygenation that helps push the exclusive DNA products into the skin for immediate results. The regeneration serum tightens and thickens skin, minimizing the appearance of pores, and the intensive renewal serum hydrates and plumps while fighting UV damage. This process will leave your skin feeling renewed and regenerated.
SWIFT LIFT PEPTIDE FIRMING FACIAL
Actively address the visible signs of aging with this facial. This treatment includes a thorough facial analysis, natural fruit acid exfoliation, cutting-edge algae-based peptides, apple stem cells, hyaluronic acid, and a variety of plant extracts to noticeably firm and help diminish the appearance of fine lines and wrinkles. It leaves skin with a hydrated and radiant glow.
DIAMOND RADIANCE FACIAL
Our Diamond Radiance Facial intensely nourishes dull skin and under eyes, revealing a noticeably brighter and more radiant skin. Its natural formula strategically combats aging skin by using a dynamic blend of diamond powder, which powerfully exfoliates and brightens, jojoba oil, marine collagen, hyaluronic acid, ubiquinone (CoQ10) and other therapeutic elements. Activated by your body heat, its unique collagen formulation continuously delivers its profoundly benefical ingredients to restore your youthful glow.
NANOGOLD FACIAL
Our Nanogold Repair Facial intensely nourishes even the most dehydrated skin in a matter of minutes. Fusing the active ingredients of nanogold, marine collagen, elastin, hyaluronic acid and aloe vera, our nanogold repair mask instantly firms, brightens and hydrates the skin. In addition, the calming properties of rose essential oil alleviate stress to soothe your inner well-being. Our uniquely formulated mask is activated by your body heat to continuously deliver its restorative effects.
CALMING CORRECTIVE ACNE FACIAL
This results-driven facial is designed to treat excess oil, dead skin cells, acne, bacteria and inflammation. During the treatment, our esthetician will recommend a home-care regimen that will address problem areas.
GENTLEMAN'S FACIAL
Designed specifically for our male spa-goers who want to look their best at all times, this facial reinforces the skin's natural defense system with a deep cleansing, customized mask and rich moisturizers.
Enhancements
Enhance any of your skin care experiences with the following upgrades for USD 40 each
Oxygeneo 3-in-1
Swift life peptide firming mask
Hydrating eye treatment
Collagen decollete hydrating mask
Please note: Prices and treatments are subject to change without notice.