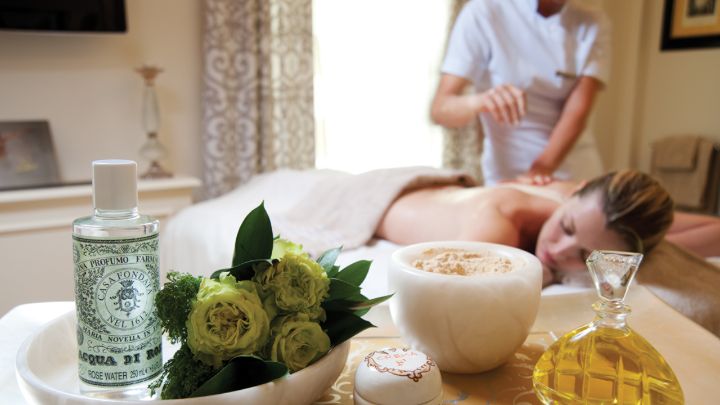 Santa Maria Novella Massages
Drops of Light – Candle Massage
Savour the warmth and aroma as buttery drops of specialized candle oil are gently poured onto your body and massaged into your skin to induce deep relaxation. This unforgettable treatment is designed to reduce stress while boosting energy.
Relaxing treatment with organic lavender
In this exclusive treatment, the relaxing properties of lavender are enhanced by heat and special massage techniques to bring body and mind to a state of absolute harmony.

Chianti
Exclusive to Four Seasons, this massage is inspired by the beauty of the Tuscan hills. Relax as the warm, relaxing fragrance of Chianti wine envelops your senses.
Deep tissue massage
This deep tissue massage relieves muscle tension, improves circulation and eliminates the lactic acid produced during sporting activities.
Jet "leg" massage
A rewakening for your body's wellbeing with a leg and foot massage.
Head
This head massage is designed to relieve tension through gentle movements, light pressure and balancing manoeuvres.

Back and Neck
This massage is specifically designed to work on problem areas where our bodies commonly hold stress and tension.

Trigger Point Treatment
A muscle-relaxant treatment that releases the body from incorrect posture and pain by applying pressure to trigger points.
Il Giardino by Arangara Massages
MEDITERRANEAN MASSAGE
A swedish massage with your favourite Mediterrean aromas.
Lux Holistic Massage
Whole body and facial massage that releases tensions. With this beautiful Experience revive your body and face.
Note: Prices and treatments are subject to change without notice. Reservations are recommended.