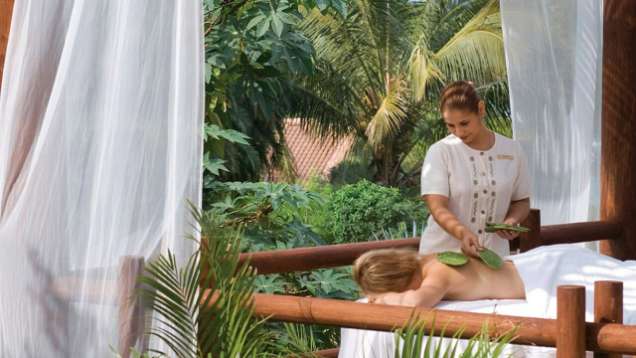 Signature Massages
TRANQUILITY
Through moderate and firm pressure, this Swedish-style full body massage will reduce stress, soothing the nervous system and relaxing every muscle in your body
SALT-SERENITY
Enjoy a greater sense of tranquility and well-being with this unique combination of western techniques. Swedish massage and thermal salt therapy will help your body absorb more than 84 minerals. Appreciate the effects of improved blood flow, reducing skin and muscle inflammation and activate your natural healing mechanisms
THERAPEUTIC RELIEF
This deep tissue treatment offers a wide range of massage modalities that focus on all stress points, helping you to release accumulated lactic acid and resulting in better muscle function
AROMATHERAPY FROM OUR GARDEN
Through a first consultation, we identify your emotional and physical needs. Aromatherapy releases tension in every part of the body, leaving you feeling relaxed and recharged. Carefully applied pressures stimulate the nervous system and relieve muscular tension while lymphatic drainage helps encourage a healthy circulation.
THAI MASSAGE
By stretching each of the muscle groups, this massage will stimulate energy flow, making you feel completely revitalized. It focuses on pressure points, energy lines and breathing to improve elasticity and range of motion.
SHIATSU
By trigger points, this renowned Japanese technique releases and balances blocked energy channels, helping to restore overall well-being and release muscle tension and stiffness.
AYURVEDIC-REFLEXOLOGY
This millennial technique focuses on pressure points of hands and feet that are directly linked to muscles and vital organs in your body. This experience is enhanced with the application of essential oils that help your body regain its balance and become full of energy.
LULLABY
This massage is ideal for coping with what the body needs during pregnancy. A gentle therapy that reduces tension in the legs and back. Please note that this treatment can only be performed during the second and third trimester
Note: Prices and treatments are subject to change without notice. Prices already include 10% service charge and 16% Mexican tax.