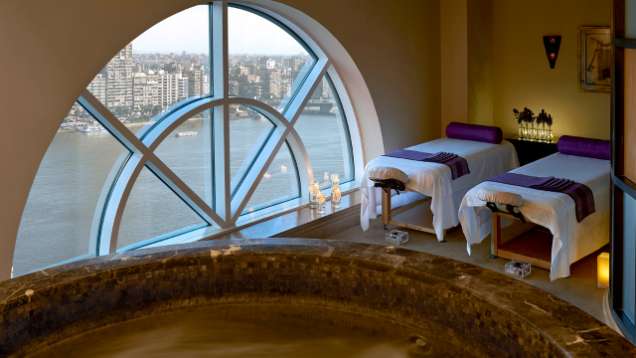 Pharaonic
Once reserved for Egyptian royalty, the lingering scent of aromatic elixirs will cleanse your body, mind and soul. This body massage uses Egyptian aromatic oils to release the tension in your body, and an application of heated poultices filled with chamomile and aromatic herbs.
Thai
Performed on a floor mat. This is an oil-free massage with different techniques using thumbs, elbows, palms, forearms, feet and knees. It includes a series of yoga positions and stretching to release energy blockages, improve well-being and increase flexibility.
Deep tissue
Using a variety of techniques, this massage affects the deeper muscle fibres of the body, improving flexibility and enhancing muscle recovery after exercise. Mild soreness may result.
Balinese
Beginning with acupressure performed on points of the back, this massage uses traditional techniques handed down through generations for releasing tension in the body. Special Balinese santi oil – coconut oil blended with essential oils from ginger, together with almond – is used in this treatment.
Swedish
Our Swedish massage uses a variety of techniques specially designed to relax the body by applying deep pressure to muscles and bones.The blood flow is enhanced and helps to increase the circulation, release toxins, reduce tension, improve relaxation and soothe sore muscles.
Hot Stone
This hot stone treatment is an ancient healing art that has been around for thousands of years. The heated lava stones combined with various massage techniques including acupressure and Swedish massage bring an incredible release of muscle tension, improving blood circulation to a greater degree than with Swedish massage alone.
The Aroma Magic
Using a combination of massage techniques to manipulate the muscles with 100% Argan oil with a touch of lavender customized for your desired results, this therapeutic treatment is both relaxing and invigorating, and can assist the circulatory, lymphatic and nervous systems and balance the body.
Imperial Massage
Two therapists working in harmony use carefully selected techniques of shiatsu, Thai, Swedish, Balinese and lomilomi to ease away tension and leave you feeling deeply relaxed.
Reflexology
Reflexology is a natural healing art that stimulates all of the body's organs. Reflex points on the feet and hands correspond to every part of the body. Applying pressure to these points stimulates them, enhancing circulation and promoting specific bodily and muscular functions.
After Sport Massage
With Eucalyptus and Black Pepper oil, this treatment is designed to target specific areas deep within the muscle tissues, assisting in the removal of lactic acids and allowing the system to work more effectively.
Chill Out for women
This treatment uses a variety of gentle flowing movements to relax your body, reduce tension and improve circulation. An aromatherapeutic blend of Lavender and Mandarain has been designed to meet the specific needs of women.
Chill Out for men
This treatment uses a variety of gentle flowing movements to relax your body, reduce tension and improve circulation. An aromatherapeutic blend of Vetiver and Rosemary oil has been designed to meet the specific needs of men.
Silhouette
The benefits of this massage are gained from the body absorbing the rich oils and the therapeutic techniques, which consequently helps to detoxify in a slimming or anti-cellulite program.
Main essential oils: Orange, Lemon, Black pepper.
Floral Revive
Using gentle techniques along the body's seven chakras, this holistic massage is deeply soothing, relaxing and balancing to the whole nervous system.
Main essential oils: Ylang-ylang, Geranium.
Notes:
For guests requesting an in-room massage, an additional 50 USD charge will apply.
Prices and treatments are subject to change without notice. All prices are subject to 27.56% tax and service charge.