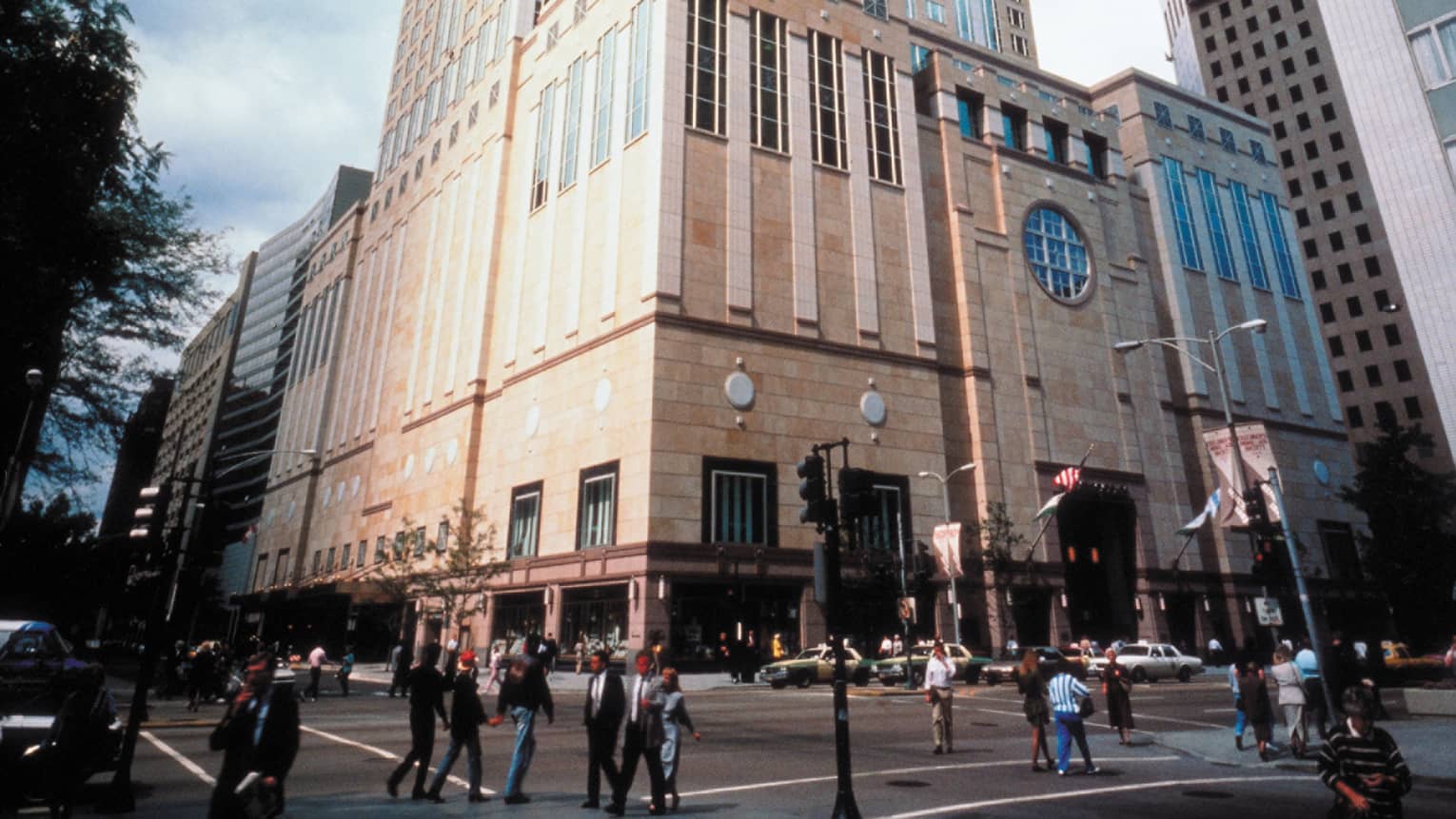 1980–1989
The 1980s unveiled flagship hotels in a dozen US cities, including Philadelphia, Boston, Dallas, Los Angeles and Chicago. Four Seasons as a distinct brand name was coming into its own. Divesting less-strategic properties, the company began to transform itself from a hotel owner-operator into a management company. It also started to manage hotels in mixed-use developments – a new concept at the time – allowing it to extend its expertise into high-quality residential environments.
1980

The third of the four strategic decisions that formed the business platform was about culture. Four Seasons had always had an implicit operating philosophy. As the company expanded, Issy Sharp decided to make it explicit. He knew that shared values were essential to the service culture he wanted to create. Therefore, he and his team developed a formal credo, founded on the Golden Rule: We treat others – all others: customers, employees, partners, suppliers – as one would wish to be treated. This became the cornerstone of Four Seasons culture. Today, embraced by all employees from Nevis to Cairo, the company's goals, beliefs and principles embody what the world thinks of as Four Seasons service.

1981

Issy Sharp was one of the first corporate sponsors when Terry Fox began his courageous Marathon of Hope in 1980. Despite having lost a leg to cancer, Terry was proposing to run across Canada, from coast to coast, to raise money for cancer research. Long before Terry's run captured the imagination of the country, Sharp pledged $10,000 to Terry's cause, and personally wrote to another 999 Canadian corporations to urge them to do the same. However, after 143 days – with Terry running a marathon a day – Terry's cancer returned and he was forced to stop before completing his challenge. Sharp immediately sent a telegram to the Fox family to promise that an annual run would be held in Terry's name. Terry pinned Issy's telegram to his hospital bed – and had its message read out to Canadians on national television. Four Seasons then worked closely with the Canadian Cancer Society and other sponsors to plan the first Terry Fox Fun Run in 1981. It drew more than 300,000 Canadian participants and raised $3.2 million. To date, Four Seasons employees have raised millions of dollars for cancer research in Toronto and in markets around the globe where it operates. Held each September in more than 50 countries, the Terry Fox Run is now the world's largest one-day fundraiser for cancer research, and has raised over CAD $750 million worldwide.

1985

Branded Private Residences were introduced in 1985 at Four Seasons Hotel Boston. Since then, more and more people have been able to make the Four Seasons lifestyle part of their everyday life, with more than 40 residential projects around the globe. Today, nearly all Four Seasons projects under development include a residential component.

1986

In 1986, Four Seasons did something that was unheard of in North America: it opened a hotel with a full-service spa. Introducing travellers to attentive, round-the-clock Four Seasons service in a leisure setting, Four Seasons Resort and Club Dallas was a first, for both the company and the industry. Also in Dallas, golf was another first for Four Seasons in 1986. Four Seasons has gone on to create some of the top spas and golf courses in the world.

1986

In 1986, Four Seasons went public with a listing on the Toronto Stock Exchange.

1986

In 1986, Four Seasons launched its custom mattress – one of the underpinnings of the acclaimed Four Seasons sleep experience.

1989

In 1989, Four Seasons reached the milestone of 10,000 employees.