Infuse your meeting or event with the fresh, local flavours of Southern California and the creativity of our culinary team. Speciality banquet menus, food trucks and cooking classes are just a few of the ways we seamlessly integrate California cuisine, and our variety of private and outdoor dining options elevate the experience.
EVERYTHING YOU NEED
The Tasting Room – our contemporary wine-tasting space – provides a great opportunity for an intimate, private wine pairing, while the hip ambience and impressive cocktails at Prosperous Penny make it the perfect place to host a welcome reception or after-hours speakeasy. Additionally, Onyx presents a unique private-dining experience with fresh sushi and seating on the terrace overlooking the waterfall.

Intimate and Interactive Dining Venues

Treat your guests to a group cooking class or wine pairing in the Living Room and Demonstration Kitchen, located in the heart of the on-site California Health & Longevity Institute, or invite everyone to Avalon for an intimate dinner. Adjacent to our signature restaurant, Coin & Candor, Avalon boasts natural light, seating for up to 24 and private-dining menus.

Authentic California Cuisine

Specialty banquet menus and interactive experiences are designed to embrace the Southern California lifestyle. Choose from a Pacific Coast Clambake, Game Day Tailgate Party, Beach Bash BBQ or LA Food Truck Street Party.

Refreshing Outdoor Dining

With over 100,000 square feet of outdoor space spanning seven venues, and 330 days of sunshine annually, groups love to celebrate under the Southern California sky with menus featuring ingredients from local farms and our on-site gardens. Host an intimate welcome reception on the Waterfall Terrace or a large celebratory party on the Pagoda Lawn, always with an unforgettable menu at the epicenter.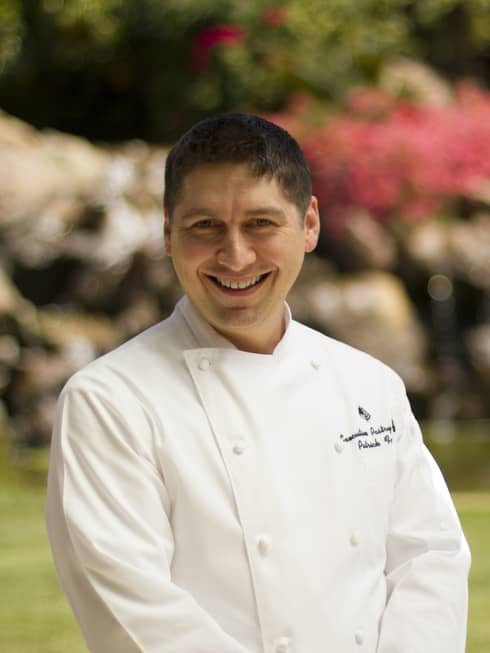 Patrick Fahy
Executive Pastry Chef
Executive Chef Patrick Fahy's master pastries can be found at food and beverage outlets throughout the Hotel. From creating unique and intricate desserts to reimagining parties and meeting breaks, Chef Fahy brings his years of expertise and attention to detail to each creation.
"Our creativity knows no limits here at Four Seasons Hotel Westlake Village, allowing us to create with you."