Embark on a well-being migration that taps into the energy of the Serengeti: the vitality of the land, vigour of its people, might of its indigenous ingredients, strength of its traditions, and its pure healing power. Inspired by the Serengeti's incredible ecology, nourish your inner ecosystem with our bespoke rituals and treatments that celebrate Africa's magic and mystique.
Hours
Every Day

10:00 am – 8:00 pm
Favourites
Baobab – Africa's Tree of Life – can live a thousand years or more. Journey with us into its nutrient-rich, anti-ageing glory during this revitalizing boost to your physical and emotional well-being.

Earth Energies Exfoliations

Cleansing body scrubs weave a message of new life and renewal. Made with a natural blend of plant botanicals, they gently and effectively eliminate dead skin cells and leave skin soft and reborn.
Spa Services
Wellness Services
Mini Maasai is introduction to the wonders of well-being for children under age 12.
Nature-inspired poses take on a whole new meaning in our beautiful bushland haven.
Tap into the energy of the Serengeti with our fitness classes and 24-hour Fitness Centre, complete with inspiring views.
Meet the team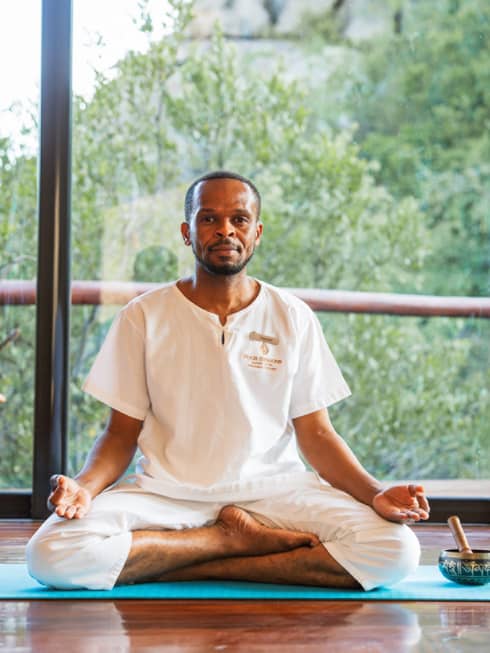 Hassan Mkanje
Yogi
With a deep understanding of the art of relaxation, Hassan Mkanje assists guests in de-stressing and reconnecting with their inner selves in the tranquility that is found in the heart of nature. His advanced training in meditation with Path Society Tanzania and Yoga Poravida Foundation in Spain has provided a deep understanding of the human mind and body, which is then used to create customized yoga and meditation practices tailored to the individual needs of the guests.
"I am dedicated to helping guests find the inner peace and balance that they deserve aided by reengaging with nature in the most celebrated wildlife park in the world."
Battle tension with our medium to deep pressure signature massage: a heated Rungu – a Maasai warrior's wooden baton – and Tanzanian baobab oil combine for champion rejuvenation.

Immerse yourself in nature with a bath drawn for you on your pavilion's private terrace, where views of the Serengeti are as vast as they are peaceful.