Truly experience a Santa Fe state of mind. Lose (and find) yourself in the beauty, history and culture of New Mexico. Whether you want to trek high into the Jemez Mountains, climb into the caves of Bandelier, ski down the Sangre de Cristo Mountains, soak in natural hot springs, dive into local traditions, hear the drums of Indigenous Cultural Dances or visit world-class art galleries with the country's first Art Concierge Program, our expert guides are delighted to take you on this journey. Four Seasons Resort Rancho Encantado offers exclusive curated activities and tours that we customize so you can revel in all Santa Fe offers.
Resort Highlights
Meet us in the Adventure Center for a complimentary guided hike along the Camino Encantado Trail, where you'll hear the history of Rancho Encantado and the surrounding landscape.

Hop aboard our state-of-the-art Orbea mountain bikes for a private guided tour tailored to your level of ability and interests, from thrilling downhill rides through aspen and alpine forests to more mellow, meandering trails.
Year-Round Activities
Soar high above the Land of Enchantment at sunrise in a private hot-air balloon flight. Each tour is tailored to your time commitment and interests.

Ride through breathtaking countryside on full- or partial-day trips, suitable for beginner or experienced riders.

Play a round amid dramatic, sandstone ridges at Black Mesa Golf Course in Mesilla or at the top-rated Paa'ko Ridge, home to fantastic high-desert views, native vegetation and arroyos.

Whether you're an experienced angler or have never heard of a tippet, we'll send you out with a highly experienced guide.

Ride the world-famous rapids of the Rio Grande. Known as the Racecourse, this 4-mile (6.4-kilometre) series of Class II and III rapids is the most popular in New Mexico and promises an exhilarating ride.

A beautiful and rugged Jeep ride through the alpine Santa Fe back country offering grand vistas and a scenic environment.

Santa Fe's clear skies and serene evenings make it an ideal stargazing destination. Capture up-close images of the moon, planets, star clusters and galaxies through a high-tech telescope.
Excursion Amenities
Expert Guides
Private Tours
Orbea and Santa Cruz state-of-the-art mountain bikes
Jeep Tours
Ski Rental Concierge
Gourmet Boxed Lunches
High Mountain Ramble

Start your adventure with a scenic drive into the Sangre de Cristo Mountains, up to 10,350 feet (3,155 metres). From the Santa Fe Ski Basin, our guide will lead you on a moderate hike along mountain streams and verdant meadows to views of distant peaks. Ambitious hikers can climb above the tree line and visit crystal-clear mountain lakes. (Half-Day and Full-Day)

Rio en Medio

Just a short, 10-minute drive to the trailhead, this moderate hike meanders through a lush mountain canyon, home to a variety of vegetation – oak trees, chokecherries, wild hops, prickly-pear cactus, cholla cactus, rose bushes, ponderosa pines and even towering Douglas fir trees – and culminating at a pool-and-water cascade. (Three-Hour and Half-Day)

Abiquiu

The "Valley of Shining Stone" offers hikers a variety of hidden canyons and vistas, each filled with history, geology, ethereal rock formations and quiet wonder. Spend a day with our knowledgeable guides who will transport you to the gems of this area, which have inspired artists, adventurers and dreamers since the 1900s. (Half-Day and Full-Day)
HISTORICAL & CULTURAL EXCURSIONS
Santa Fe City Tour

Soak up the vibrant mix of cultures that abound in the nation's oldest and highest capital city, at 7,000 feet (2,134 metres) above sea level. With an itinerary tailored to your interests, your private guide will show you the historical neighbourhoods, buildings, architecture, churches, folklore, galleries, museums and shops of this great American Southwest crossroads. (Three-Hour and Half-Day)

Native American Cultural Tours

Experience a private, guided tour of nearby Bandelier National Monument with historical exhibits and ancient cliff dwellings of the Pueblo Native Americans. A tour of the less-travelled areas follows ancient footpaths and kiva ladders into 800-year-old cliff dwellings with remarkable petroglyphs. Modern-day Pueblo life also can be explored with our knowledgeable guides. (Three-Hour to Full-Day)

Georgia O'Keeffe/Abiquiu

The Abiquiu (Valley of Shining Stone) area has inspired artists and adventurers for more than a century, offering a window into New Mexico's past and present, influenced by Native American and Spanish cultures and traditions. Marvel at red-rock mesas, surreal formations at Plaza Blanca, the hidden Copper Canyon and, towering above it all, Georgia O'Keeffe's beloved Cerro Pedernal. (Half-Day and Full-Day)
High-Road Cultural Pilgrimage

Take a private guided excursion along the back roads of northern New Mexico, once the northernmost territory of the Spanish Kingdom. Visit traditional villages and sacred holy places such as the Santuario de Chimayo, stopping along the way to meet local artists, historians and gallery owners. (Half-Day and Full-Day)

Timeless Taos

Join us on a magical tour to Taos where art, nature and history meet. Visit Rancho de Taos, St Francis de Assisi Church, the home of Kit Carson and Hacienda de Los Martinez, and the World Heritage Site of Taos Pueblo. Walk the Plaza and explore art museums featuring works by Ernest L. Blumenschein, Nicolai Fechin, Millicent Rogers and R.C. Gorman. Then soak up the natural beauty during a scenic return drive via the Rio Grande Gorge Bridge and along the Rio Grande Valley. (Full-Day)

Ghost Ranch

A variety of explorations abound at this magical property made famous by artist Georgia O'Keeffe and her expressive depictions of the classic, Colorado Plateau red-rock geology, including hiking, museums, archaeology, paleontology and horseback riding. (Half- and Full-Day Tours)
Custom Cultural Tours

Our custom tours offer a look at northern New Mexico's little-known hidden gems. Explore Georgia O'Keeffe's artistic retreat, Ghost Ranch, or a sensitive, fiercely protected, unexcavated Tewa Village (access is seasonal and by permit only). Please contact the Adventure Center or the Four Seasons Experience Assistants Desk for more details and availability.

Wine & Culture of New Mexico

Follow the fascinating migration of winemaking through northern New Mexico with your knowledgeable guide, tasting fine local wines along the way. Each winery and tasting room have their unique flavour and charm. The tour is tailored specifically for you, stopping at quaint and friendly tasting rooms and historic cultural attractions. (Three-hour, four-hour or half-day tours available)

Boots and Bubbles

This curated experience begins with a private-guided exploration of the highlights of the "City Different." Followed by a visit to the iconic luxury boot boutique, "Back At The Ranch," for an exclusive shopping experience and meeting with founder & famed boot designer Wendy Henry. Then, head to the local tasting room of Gruet Winery, one of the top sparkling wine producers in the country, specializing in Méthode Champenoise sparkling wines. Enjoy a special tasting flight of four different premium wines & select vintages. To complete the experience, receive a gift half bottle of Gruet's Doux NV to take home.
Santa Fe City E-Bike Tour

Experience "The City Different" on two wheels with a private guided e-bike tour. Begin your journey with a scenic overlook of the city before gliding down hillside streets to discover Santa Fe. Ride past storied monuments, with stops along the way to learn about the historic plaza and Eastside, and explore popular spots in newly redeveloped neighborhoods like The Railyard district. (Three hours)

La Tierra Trails

This trail system boasts 25 miles (40 kilometres) of single track, ranging from technical switchbacks to easy-flowing rides and all offering beautiful views of the Jemez and Sangre de Cristo mountain ranges. The hilly, cross-country aspect of these trails gives the rider a healthy workout in a picturesque environment. (Three Hours)

Pacheco Canyon Descent

Embark on an exhilarating, easy to moderate, downhill ride from the Santa Fe Ski Basin at 10,350 feet (3,155 metres) through a canyon full of pine, aspen groves, mountain streams, meadows and wild flowers. The descent ends in a piñon- and juniper-dotted landscape, just a few pedal strokes from Rancho Encantado. This is one of our most popular family rides. (Three Hours)
Galisteo Basin Trails

Explore the newest single-track trails in the Santa Fe area. This basin contains 20 miles (32 kilometres) of trails perfect for moderate riders looking to elevate their heart rates. Vibrant yellow- and red-rock formations make up the colour scheme with the nearby Ortiz and Sandia mountains as a backdrop. (Three Hours)

Pacheco Canyon E-Bike Tour

Enjoy an uphill e-bike tour that climbs a few thousand feet into the foothills of the Sangre de Cristo Mountains before soaring back down, leaving the alpine wonderland for the high desert floor. Experience the cool air, pine forests and the rush of mountain streams. Cruise at your own pace, stopping to take in the sights of the stunning northern New Mexico wilderness. (Three hours)

Country Roads E-Bike Tour

Explore the local roads, either into the city or backcountry areas. This private e-bike tour is customized to your areas of interest and fitness level. Get an up-close look at sculpture gardens and galleries, ride through neighbourhoods and soak in the Southwestern architecture, including the world-famous Santa Fe Opera venue revered for its outdoor theater. (Three hours)
Valles Caldera E-Bike Tour

Pedal into the past as you ascend into the sharp and dramatic peaks of the Jemez Mountains and Valles Caldera, a 13.7-mile (22-kilometre) volcanic crater formed over one million years ago. The crater is defined by jagged peaks, a resurgent dome and other geologic formations from early volcanic activity. Featuring lush mountain meadows and streams, this e-bike tour is underscored by both adventure and history. (Four-to-five hours)
Skiing and Snowboarding

Nestled in the foothills of the Sangre de Cristo Mountains, our Resort is a short distance from the exhilarating slopes and pristine powder of Ski Santa Fe.

Snowshoeing

Explore snow-covered forest trails in the foothills of the Sangre de Cristo Mountains or venture up high into the Santa Fe Ski Basin.
Meet The Team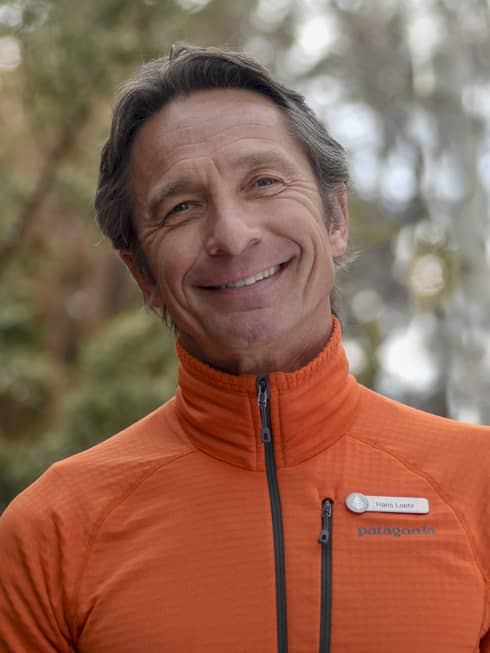 Hans Loehr
Adventure Architect
Hans uses his first-hand knowledge of the guiding program to customize each adventure. He can often be found researching new experiences, visiting with local tourism partners, and forging bonds with the local artisans who share their stories with Four Seasons guests.
"My passion is sharing this magical destination with guests who are visiting for the first time. There is no better reward than watching someone experience the stories, culture and physical beauty of northern New Mexico through our curated adventure programs, and then begin planning their return trip!"
Looking for other activities to enjoy during your stay? We can arrange virtually anything.
+1 (505) 946-5700
Email