Float above the city in our relaxing sanctuary on the 39th floor. After a few laps in our 20-metre (66-foot) indoor heated pool, enjoy a soak in the warm waters of our adjacent vitality pool, or simply lie back on one of our poolside chairs or sofas and lose yourself in total relaxation.

Enhance your journey of well-being with our water and heat facilities. Steam rooms and ofuro (Japanese baths) are available in both the men's and women's locker rooms.

INSTRUCTOR-LED WELLNESS CLASS

From pilates to yoga sessions, immerse yourself in these diverse wellness practices.

Our 24-hour gym looks out to sweeping views of the Imperial Garden and the Tokyo skyline. There's no better backdrop for a workout – be it a heart-pumping run or your favourite yoga asanas.
Hours
Spa

Monday to Thursday, 10:00 am – 8:30 pm (last entry at 7:30 pm)

Friday to Sunday and holidays, 10:00 am – 9:30 pm (last entry at 8:30 pm)

Pool & Ofuro

6:30 am – 9:30 pm

Fitness Centre

24 hours
Meet the Team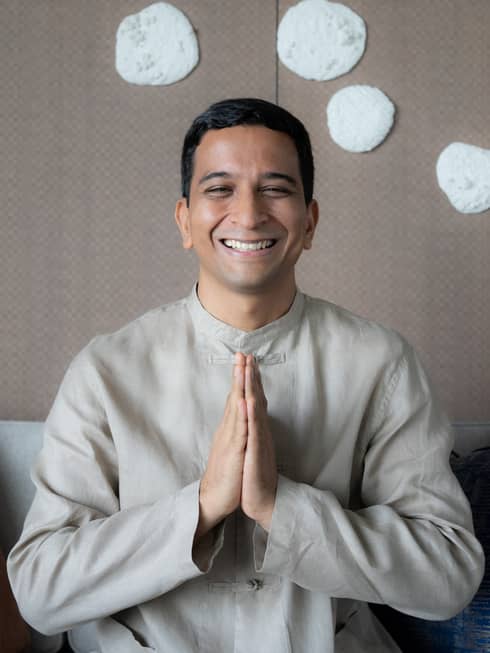 FARAAZ TANVEER
Senior Director of Spa
With over a decade of experience in luxury wellness, Faraaz Tanveer's approach is complemented by a sustained and genuine interest in how we can become our best selves. Inspired to delve more deeply into yogic disciplines, he spent several months training in the Indian city of Rishikesh (the birthplace of yoga) and went on to facilitate workshops around yogic healing, meditation and breathwork. Along the way, he also trained in alternative knowledge systems like Qi Gong, Reiki and Vipassana. Anchored by a vision of integrated wellness, Faraaz also has a keen interest in creating new avenues to relaxation and renewal.
"Life is a balance of attention and intention. With focused attention and conscious intention, life flows smoothly and allows you to achieve so much more."
KAZUMI KIKUMOTO
YOGA INSTRUCTOR AND SPA THERAPIST
Kazumi Kikumoto became interested in yoga because of some health challenges she faced early in life. Yoga helped restore her health, and she decided to explore it more deeply. She travelled to the Indian city of Rishikesh (the yoga capital of the world) and completed her teacher training with Flow Arts Yoga in 2012. She also studied clinical aromatherapy at the Holistic Care Professional School in Tokyo. She has taught at hospitals, nursing homes and corporate settings, and has held many private sessions in person and online, with her efforts helping people be their best selves and shine in their personal and professional lives.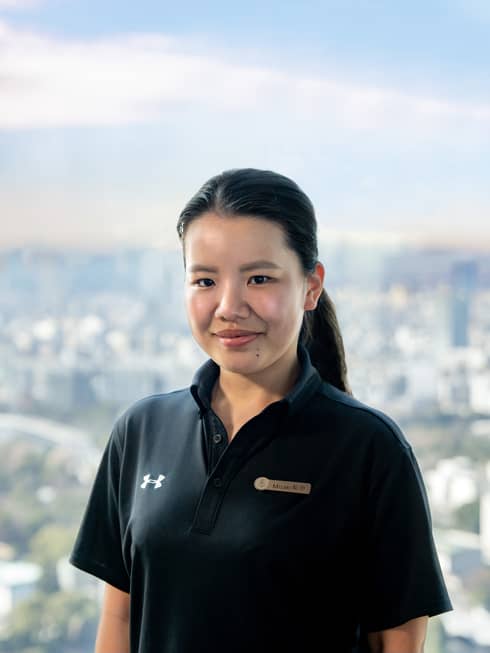 MISAKI KIKUCHI
RESIDENT SENIOR FITNESS TRAINER
Misaki Kikuchi graduated from Nippon Sports Science University's department of physical education with a major in sports coaching in 2016. Subsequently, Kikuchi received her fitness instructor qualifications and her license to teach health and physical education at the high school level. She has seven years of experience in one-on-one personal training sessions at various luxury spas and gyms. After playing water polo in school for seven years, she became a qualified aqua fitness instructor and swimming coach. She specializes in sports conditioning and kids swimming lessons.
GIUSEPPE CASTELLI
RESIDENT FITNESS TRAINER
Giuseppe Castelli is a National Academy of Sports Medicine certified personal instructor. He specializes in weight training, kettlebell training and core focus. He has been an avid sports person since his childhood. Beginning at age 12, Castelli trained in Muay Thai, kickboxing and tae kwon do for 10 years. He believes gradual progress with weights while using proper form is the key to success and long-lasting results.
Favourites
Enjoy fabulous shopping right here at THE SPA Boutique by Four Seasons, offering original apparel, exclusive accessories for men and women, and everything from children's toys to on-the-go necessities.

Details

Embark on a luxurious journey of well-being with our tailored Spa and Fitness Membership Program.

Details