Relax and recharge with our in-house and visiting wellness experts through our events and daily offerings, allowing you to have the opportunity to explore new health frontiers.
Programs
Embark on a journey of wellness and healing with results-driven wellness programs that incorporate proven healing modalities, spa rituals, mindfulness practices and nutrition, tailored to address some of the most common challenges brought about by our modern lifestyles.
This program is designed to help you achieve a fresh start by aligning body and mind. Shinrin-Yoku, the Japanese art of forest bathing, has many health benefits, including reduction of stress hormones, activation of the parasympathetic nerves and improvement of immunity.

Trainer: Resident Trainer Alexander Wood
Duration: 60–80 minutes
Rate: JPY 12,650 per person

This program is designed to relieve muscle tension and foster a deep sense of relaxation. Balance your mind and body with this familiar and easy exercise that you can do any time, anywhere, and without special equipment or clothes.

Trainer: Resident Trainer Sota Sasauchi
Duration: 30 or 60 minutes
Rate: JPY 7,590 / JPY 12,650 per person

This program is only available in Japanese.

This 30-minute circuit training session is perfect for starting the day. Train various parts in a short time with a method that interposes aerobic exercise and performing high-intensity workouts such as muscle training. Simulataneously practice endurance, muscle strength, instantaneous power and physical balance.

Trainer: Resident Trainer Alexander Wood or Sota Sasauchi
Duration: 30 minutes
Rate: JPY 7,590 per person

High-Intensity Interval Training (HIIT) repeats high-intensity exercise and short breaks. One set of two minutes, 20 seconds of exercise and 10 seconds of rest are repeated few times, and by doing few sets, you maintain a state where body fat is easily burned and muscle mass is increased.

Trainer: Resident Trainer Alexander Wood or Sota Sasauchi
Duration: 15 minutes
Rate: JPY 5,060 per person

Stone therapy provides deep relaxation and promotes a reset of the mind and body. Stones in various sizes are warmed or cooled to the appropriate temperature and placed or spread on various parts of the body to stimulate acupuncture points and relax muscles.

Practitioner: Stone Therapist Sayaka Marumine
Duration: 75, 100 or 120 minutes
Rate: JPY 31,625 / JPY 40,353 / JPY 48,070 per person

This yoga class is tailored to your personal needs based on your yoga experience and physical condition. Through sharing yoga asana (poses), pranayama (breathing techniques) and mindfulness practice, feel lighter and more energized by the end of the session.

Practitioner: Yoga Instructor Sandra Fang
Duration: 60 minutes
Rate: JPY 15,180 per person; JPY 7,590 per additional person
All programs are available upon request. Apart from these programs, you can also book private, couples, semi-private and group sessions for meditation and other training programs. Programs are available as singles and in bundles.
Fitness
Alexander Wood
Resident Trainer
Alexander Wood began his journey into fitness in the United Kingdom in 2006, where he spent three years studying Sport Science and Coaching Development and eventually earned Level 2 Gym Instructor qualifications. He then worked at a sports centre, where he continued his learning and earned his Level 3 Personal Training and Nutrition qualifications. After moving to Japan, he took an interest in the mental aspect of wellness and regularly began practicing Shinrin-Yoku (Japanese forest bathing). Wood would be pleased to offer his knowledge on the mountains of Higashiyama.
Wood's areas of expertise

Personal Training, HIIT, Circuit Training, Boot Camp, TRX Flexibility Stretching, PNF Stretching and Shinrin-Yoku
Sota Sasauchi
Resident Trainer
After graduating from a sports trainer vocational school, Sota Sasauchi began working in a fitness gym with his newly acquired Fitness Instructor and Personal Training qualifications. Teaching machine instruction and studio lessons, he also worked with professional youth soccer club infrastructure and American football teams as a student trainer. He then moved on to a major hot yoga company, where he was in charge of personal training and yoga lessons, then operations and instructor assessments.
Sasauchi's areas of expertise

Personal Training, Personal Stretching, Sports Massage, HIIT, Yoga and Barbell Training
Stone Therapy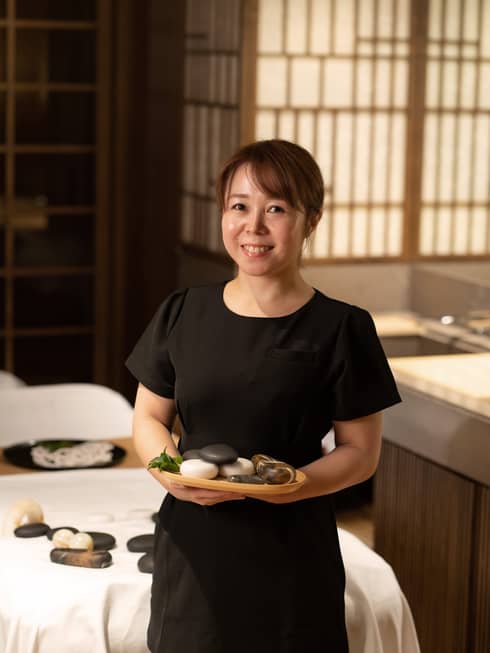 Sayaka Marumine
Stone Therapist
After being hospitalized herself and receiving alternative natural remedies, Sayaka Marumine became interested in learning more about therapy. She left her natural remedy school and worked in body and beauty salons for a decade before moving in 2018 to Kyoto and arriving at our Hotel. Since her arrival, she has been learning about Rustone Therapy and specializes in freelance stone therapy and candle working.
Marumine's area of expertise

Stone therapy
Yoga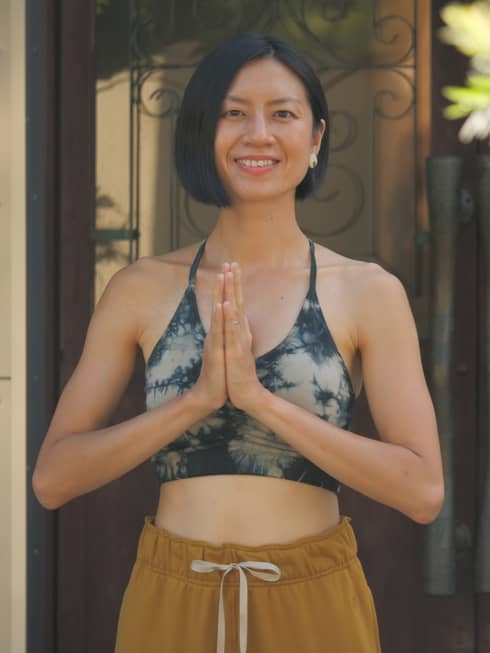 Sandra Fang
Yoga Instructor
Sandra Fang first discovered yoga as a college student in Vancouver when she noticed how it was helping her with her physical and emotional health. After graduating with a degree in kinesiology, she moved to Japan in 2009 to fulfill her curiosity of living in a new country. She took her first yoga teacher training in Osaka, and continued to travel and study vinyasa yoga, yin yoga and prenatal yoga with instructors from around the world. Throughout her career, yoga has inspired her to live her life to the fullest. Fang is a proud Chinese-Canadian and moved to Japan in 2009. She currently lives in Kyoto with her husband and son.
Fang's areas of expertise

Vinyasa, yin and prenatal yoga