All Food and Drink
Authentic Thai

KOH Thai Kitchen

Southern Thai cuisine gets a fresh look at this breezy spot perched on a palm-fringed hilltop. Gaze out to sea while sampling slow-cooked curries and superb local seafood.

Wine, cocktails and spirits

KOH Bar

Sink into an oversized sofa and take in the fresh island breezes with a pre-dinner selection from our curated wine list, or try a unique pairing of Thai wines and canapes.

Seafood and grilled meats

Pla Pla

Laid-back by day and stylish by night, our oceanside grill provides the best location for savouring fresh seafood and prime cuts of meat.

Cocktails and spirits

CoCoRum

A chic poolside lounge with decadent cocktails, CoCoRum emphasizes artisanal spirits and is home to Asia's only rum vault.

Meet around the tasting table to sample flights and compare labels in our intimate Rum Vault, Asia's first and only library of rums from across the world.

In-Villa Dining

Whether it's chilled Champagne at midnight or pad thai at noon, our In-Villa Dining menu takes room service to a new level. Or host a private barbecue, with our chef manning the grill.
Great food, great company – there's no better way to spend your days on Samui. From our creative Chefs, to our expert Mixologists, uncover the most remarkable culinary experiences with Four Seasons.
Featured Culinary Experience
Picture an elegant table for two, sheltered by palm trees and serenaded by gentle ocean waves. Our team of chefs will prepare a special menu, paired with fine wines and served by your own private attendant. Toes in the sand, glimmering candles and tiki torches make for an incredibly romantic evening.

Learn More
Meet the Team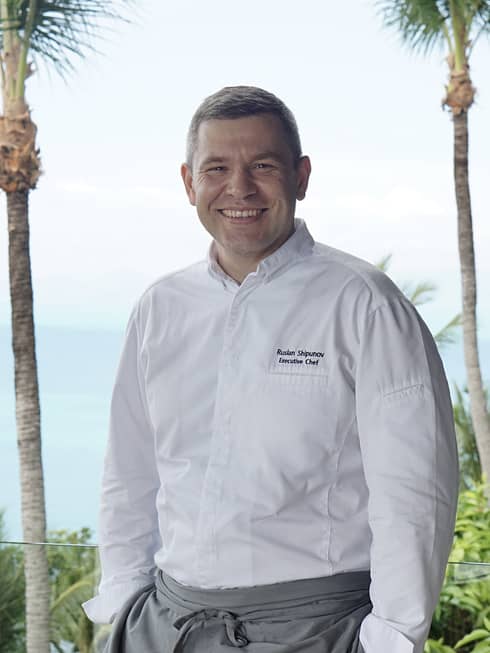 RUSLAN SHIPUNOV
Executive Chef
20 years of passion to prepare dishes that instantly put a smile on people's faces has catapulted Ruslan Shipunov's career, which has now taken a dramatic turn, as he takes on the role of Executive Chef at Four Seasons Resort Koh Samui. After entering a professional kitchen for the first time at age 17, he went on to spend a decade of his professional life honing his skills in Russian gastronomy. Known for his commitment and courage, many well-wishers of Shipunov admire him for the way he has achieved what he had planned.
"I have always loved the activities involved in a professional kitchen. I love fusing ingredients together, smelling the scent of fresh food, preparing it with devotion, and finally watching people savour every spoon."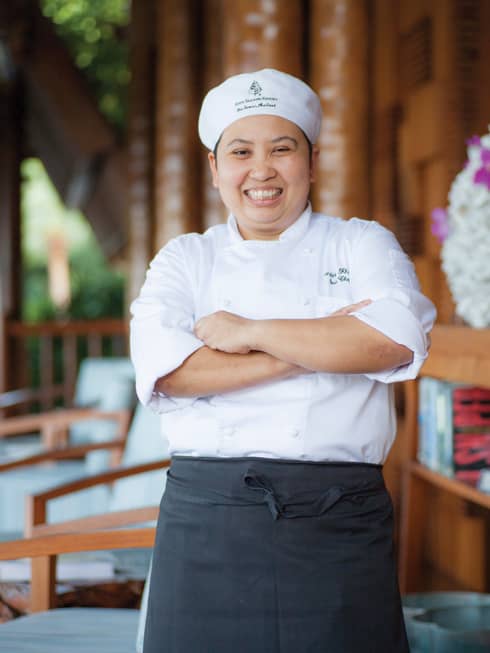 Sumalee Khunpet
Chef de Cuisine
Inspired by her sister, Chef Sumalee Khunpet began her professional journey as a kitchen assistant at a hotel in Koh Samui in 1991. Over the past 25 years, she has mastered French- and Thai-fusion cuisine. Her family and friends are big fans of her food, particularly her famous southern dry chicken curry, which you can sample at KOH Thai Kitchen and Bar.
"I put my heart into every dish I make and, believe it or not, the results seem to be amazing every time."
SHANMUGA RAJA RAVI
Executive Sous-Chef
Raised in the Southern Indian coastal city of Chennai, Chef Raja developed a passion for food at an early age. His team-first attitude has earned him a multitude of awards over the years. Bringing his winning formula with him wherever he goes, he now oversees a range of functions as Executive Sous-Chef and has earned the role of kitchen guru.
"I am committed to creating memorable dining experiences for our guests."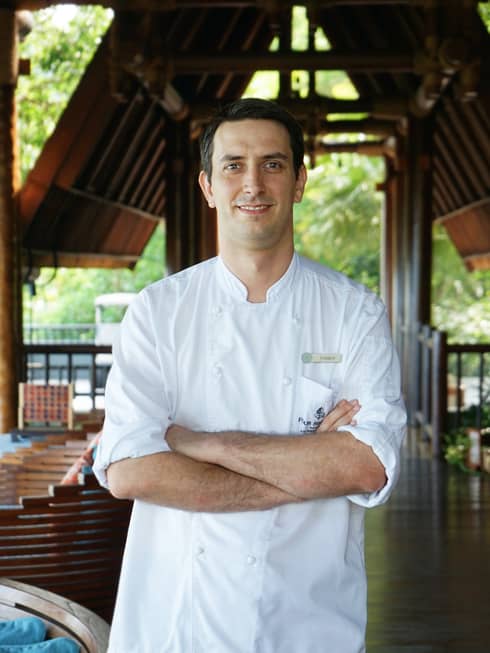 FABIEN CASALINO
Pastry Chef
Fabien Casalino's commitment to innovation and desire to improve makes him a key team member at our Resort. A member of the culinary industry since age 16, Casalino now creates a repertoire of tropical treats inspired by the exotic fresh produce and the cool island life.
"I am focused on creating good pastries and lasting impressions."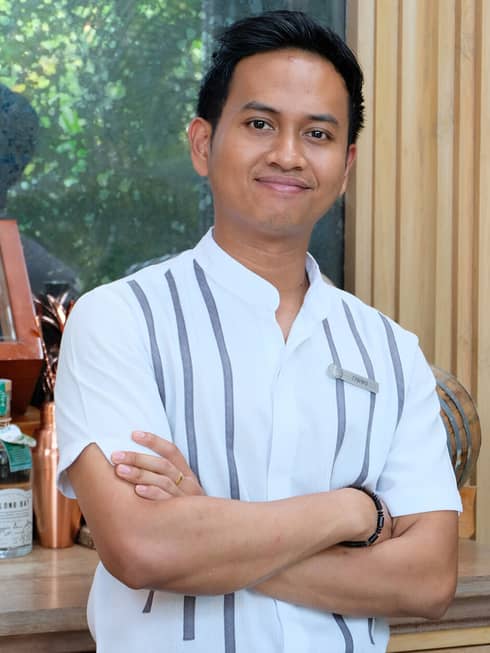 I MADE DWIKI PRAYOGA
Bar manager
Hailing from Tabanan, Bali, Bar Manager I Made Dwiki Prayoga believes that creativity, passion and knowledge are the key factors in successful bartending. He has had a successful career in bartending and working at various bars in Bali, the Maldives, Dubai and Koh Samui. Prayoga is also passionate about charity work for people with special needs.
"Mixing beverages is a craft that helps elevate the spirit."
Events
TUESDAYS, 7:00 PM – 10:00 PM at KOH Thai Kitchen

Tam Rab Thai

Take in stunning views while savouring the culinary treasures of Thailand, highlighted by live cooking stations, specialties from across the country and cultural entertainment. THB 3,900 per person (taxes and service charges not included).

Wednesday – Monday AT THE KITCHEN STUDIO

Chef's Table

During this private experience for up to eight guests, our chef will prepare a seven-course tasting menu and share kitchen secrets and preparation methods. Our team also will be on hand to present a selection of wines to accompany each course. This experience is subject to availability.

Thursdays, 7:00 pm – 10:00 pm on the Main Beach

Fisherman's Night

Join us for a barbecue experience on the beach. Savour an array of fresh seafood and premium steaks grilled to perfection, accompanied by an array of flavours of the coconut island. An acoustic band and fire spinners set the perfect mood for the evening. THB 4,200 per person (taxes and service charges not included).
#FSKOHSAMUI
Visit @fskohsamui and #fskohsamui to discover unforgettable guest experiences at Four Seasons Resort Koh Samui.
@vivawaratah

@ty.sapp

@janeprawravee

@emilyliewhooinee