Home to some of the most reliable snow conditions, there is so much opportunity for adventure packed into Whistler Blackcomb's sprawling 8,171 acres (3,307 hectares). And what you've heard about the warmer months is also true: Come May, you can ski Whistler Blackcomb in the morning, then golf in Vancouver that afternoon.
The youthful, energetic vibe and fun-loving attitude make Whistler an ideal family vacation destination – fresh and outdoorsy at its core, with its own distinct sense of style and self. Of course, the scenery is breathtaking, with the surrounding hemlock-, fir- and spruce-dotted mountains, plus the bustling Euro-style village below. A casual and down-to-earth spot, it is easy for kids to fit right in.
At the foot of Blackcomb Mountain, Four Seasons Resort and Residences Whistler is just minutes from the slopes, complete with a heated pool perfect for après-ski lounging.
Why go
Nature's playground. Winter or summer, Whistler is an ideal place for families to be active and play together outside.
Epic proportions. The scale of Whistler is monumental and dazzles with its vast acreage and huge amounts of snowfall.
Well-rounded. While the skiing and snowboarding is legendary, there's plenty more – consider biking, hiking, sledding, and exploring the local art galleries, First Nations culture and Whistler's foodie scene as well.
Heli-skiing. What better way to see the scenery? Take advantage of à la carte options for small groups with Whistler Heli-skiing.
Whistler Village. This walkable, pedestrian-only village is easy to navigate with kids. Enjoy boutiques, galleries and museums, including the wonderful Squamish Lil'wat Cultural Centre just across from the Resort.
The drive. Even the trip up from Vancouver along the fjords of the Sea to Sky Highway is memorable. Look for the boats on Howe Sound, forested islands in the mist, waterfalls and thousand-foot high granite walls.
What the kids will love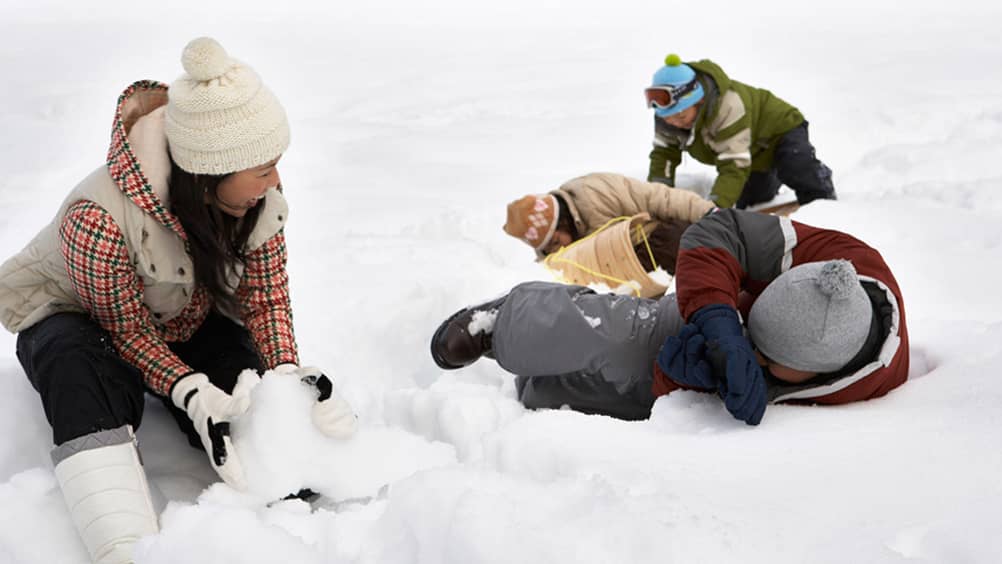 Photography Radius Images / Alamy Stock Photo
Outdoor fun. Build a snowman, make snow caves, tube, ski, snowboard and attend outdoor concerts in the village. A favourite is ice skating; Olympic Plaza turns into a Winter Wonderland ice rink, where kids can skate under the stars.
The pool. Heated and steamy, the 75-foot (23 metre), free-form outdoor pool has views of Whistler and Blackcomb mountains. Hang out at the bar or soak in one of three hot spring-style whirlpools. And for the kids, the staff hands out goodies such as chocolate-dipped marshmallows.
Toasting marshmallows for s'mores at the Resort's outside fire pit. Pure magic! In the lobby, enjoy hot chocolate plus all the fixings.
Escape! Whistler. This is a place where families can have a real life gaming experience where groups are presented with puzzles, riddles and clues which you must work together to solve within 45 minutes in order to "Escape" from the situation you are in. Escape! Whistler is an excellent indoor activity for people of all ages looking for an exciting way to spend an hour. All themes are family friendly and non weather dependent. Call before visiting to check availability.
Whistler Core. Indoor rock climbing has been referred to as active socializing and has become a popular Whistler activity. Find your own challenges, then conquer them. From easy kid-friendly routes to crack climbing, steep overhangs or
tricky slab climbing, this is the place to learn and get stronger for the outdoors. The heart of The Core is an amazing 5500 square-foot indoor rock climbing wall. Equipment rentals, belay lessons and retail sales available.
What you will love
The Ski Concierge . This service saves the day, preventing meltdowns and equipment hassles. The Ski Concierge whisks your skis, boots and poles from the Resort so you arrive at the mountain to boots that are warm and dry. You can also rent equipment, buy tickets, meet your ski instructor, and get more information, news and recommendations. When the day is done, leave your gear overnight. The Ski Concierge is just a three-minute complimentary shuttle ride or five-minute walk from the Resort.
Whistler's buzzing night scene. Book a Resort sitter for date night, and hit the town.
Nature, art and community. You'll find lots of wood and low-hewn buildings designed to blend in with the environment in this eco-minded locale. Even the kids' playground is made of driftwood. There's an emphasis on combining physical wellness with local art.
Grown-up fun. Indulge in a cocktail at the Resort's SIDECUT Bar, yoga classes in the gym or couple's massages at the Spa .
Knowing where your kids skied. All children in the Whistler Blackcomb ski school get a GPS tracker. This way instructors know exactly where they are at all times, and you can review where they skied and how many runs they accomplished.
Shopping. Whistler Village has more than 200 shoppes and 90 restaurants.
Wildlife in Whistler
If you visit between December and February, look for bald eagles. For a peaceful day away, book an eagle raft float down the Cheakamus River in Squamish. You probably won't see one when you visit, but Whistler is named after the hoary marmot, North America's largest ground squirrel. It's known as the "whistler" for its shrill call.
Dining in Whistler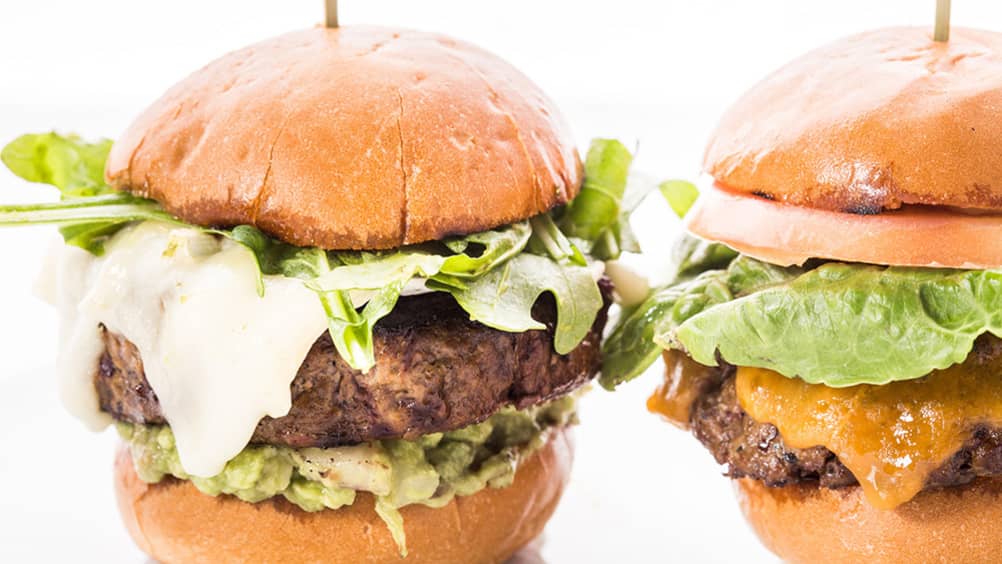 Photography courtesy Four Seasons Hotels and Resorts
For breakfast, the SIDECUT Modern Steak + Bar dining room features opulent buffet, including a special kids' buffet set at child-height. Highlights: French toast with dulce de leche, oatmeal with berries, and waffles. Adults should try the Backpacker's Corned Beef Hash, served with fluffy poached eggs and smoked paprika hollandaise, and delivered in a cast iron pot.
Come dinnertime, family-style SIDECUT takes the traditional steakhouse concept and turns it on its head – playfully and adeptly. If you like beef, try the flavourful, aged Canadian Prime sizzled over an 1,800-degree F (982-degrees C) infrared grill. (If you don't eat meat, there's plenty to choose from.
If you're on the mountain, sit down for lunch at Christine's on Blackcomb to enjoy a great view and menu. Crystal Hut serves excellent Belgian waffles with real whipped cream and fruit piled high. On Whistler Mountain, half way down an easy run, Chic Pea bakes cinnamon buns on-site and serves them hot from the oven, plus hearty stews and paninis (dine inside or out). You don't even have to take your skis off if you grab a hot dog or waffle from Euro Kiosk. Served on a stick, the wieners have the ketchup and mustard in the middle. Same for the waffles: Syrup granules are melted inside.
If you just need a quick bite in Whistler Village, consider sandwiches from Lift Coffee Company at Nesters Market, or stop at Ingrid's Village Café. About 15 minutes south of Whistler in Creekside is family-friendly Creekbread, known for its original pizzas (try the Pemberton Potato Pie) and salads. Pizzas are made in a huge round oven in the middle of the room.
For an adult's-only evening, opt for a table at Bearfoot Bistro. Celebrated chef Melissa Craig's seasonal creations are as elaborate as they are surprising. Splurge on the stand-out, five-course sommelier wine pairing menu. There are also 20,000 wines in the cellar to choose from.
5 family to-dos
1. Dog sledding. If you are a dog lover, this quintessential Canadian adventure is a must. You'll be amazed at the speed of the pack during your exhilarating journey through the woods.
2. Snowshoe Cookout. Canadian Wilderness Adventures also offers a family campfire dinner and snowshoe hike, the Callaghan Snowshoe Cookout, that departs at 5:00 pm after ski school lets out, plus snowmobiling, ATVing, canoeing, jeep tours and other guided adventures.
3. Ski lessons. Whistler Blackcomb Ski Resort has terrific ski and snowboarding lessons (private or group) and camps for kids. If everyone has a similar ability level, sharing a private ski lesson with the family is the way to go. Otherwise, send the kids to ski school while you take a private lesson to hone your skills and see the best of the mountain with a pro.
4. Snowmobiling. Either try a snowmobiling adventure with the kids and Mother Nature – bookended with a Yukon breakfast and cabin fondue dinner – or go the mini-snowmobile route, where children drive mini versions around a track.
If that's too much for your kids, try ziplining – good in any weather, but especially captivating in winter. High up in a cathedral of frosted trees, you will zip Tarzan-style between tree platforms way above the canyon.
5. Fire & Ice Show. Every Sunday at 7:30 pm in the Village, Whistler Blackcomb builds up a track for snowboarders and skiers who somersault and fly through burning rings of fire, pulling off incredible stunts. Little jaws will drop.
Four Seasons Resort and Residences Whistler