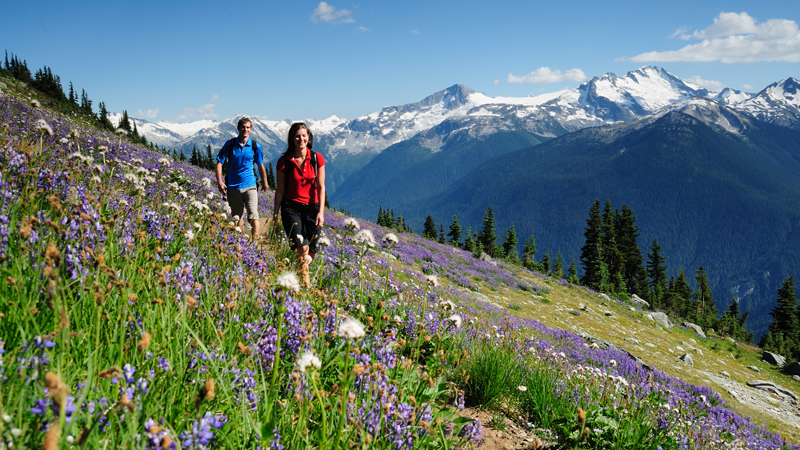 General Information
The year-round charms of Whistler, BC, range past its two majestic mountains. With hundreds of shops and museums to explore and off-slope adventures to enjoy, winter presents the opportunity to shred through deep snow and powder, snowboard, cross country ski and dog sledd for all skill levels. Spring and summer allow visitors to try their hand at fly fishing, river rafting, horseback riding, golfing, tennis and hiking. Take advantage of the warm weather when exploring the beautiful scenery, and soak up the atmosphere at many of our fun and unique summer festivals.
2018 Seasonal Highlights
MAY
May 18–20 | Bici Gusti Gourmet Ride
May 18–21 | GO Fest – Whistler's Great Outdoors Festival
May 31–June 3 | ThinkBike Whistler
JUNE
June 2 | The North Face Whistler Half Marathon
June 30 | Vancouver Symphony Orchestra in Whistler
JULY
July 1 | Vancouver Symphony Orchestra in Whistler
July 6–8 | Whistler Children's Festival
July 13 | BC Bike Race
July 14 | Red Bull 400
July 29 | Subaru IRONMAN ® Canada – Whistler
AUGUST
August 2–5 | Wanderlust Whistler
August 3–5 | Bulleit Bourbon Canadian National BBQ Championships
August 10–19 | Crankworx Whistler
August 19 | Pemberton Slow Food Cycle Sunday
From local public holidays to highlights throughout the season, we'll help you plan your perfect Whistler experience.
Quick Reference
Time zone
GMT -8 hours
Pacific Standard Time
Language(s) spoken
English
Electrical system
Local voltage is 110 to 120 volts AC. Adapters available; please request through the Concierge.

Shopping hours
Hours of operation vary by store and range from 8:00 am to 10:00 pm. Please see the Concierge for details