The Wellness Kitchen
Healthy Cooking Classes
at California Health & Longevity Institute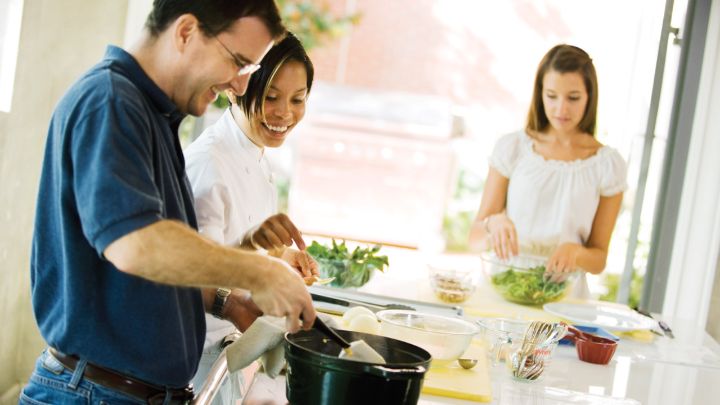 Experienced and novice cooks alike will be inspired by the delicious, healthy, whole foods prepared in our elegant, state-of-the-art demonstration kitchen and organic vegetable garden. The Wellness Kitchen at California Health & Longevity Institute offers Hotel and local guests a transformative dining experience that emphasizes a healthy lifestyle and gourmet cooking while incorporating the latest medical evidence in nutrition.
Led by a Registered Dietitian-Chef, a variety of interactive cooking classes, demonstrations and special dining events offer practical strategies for preparing and enjoying simple yet fabulous meals that can improve health and increase longevity. At the end of the program, guests will sit down to enjoy this extraordinary meal.
A rotating schedule of cooking classes and events features a variety of seasonal, local ingredients. Menu themes include Summer Grilling, 30-Minute Meals and Holiday Favourites. Wine enthusiasts will enjoy the perfect pairings with our quarterly Wine Wednesday events, featuring different local winemakers and tasting rooms in each three-part series.
Try some of our most popular Wellness Kitchen recipes on Pinterest!
Step into the Kitchen
Our made-for-television demonstration kitchen is furnished with the most top-of-the-line equipment available, including a custom-designed Bonnet range. Guests can step outside onto the Wellness Patio, where seasonal vegetables such as heirloom tomatoes, Swiss chard, squash and zucchini are grown and incorporated into Wellness Kitchen menus at every opportunity. Herbs such as rosemary, tarragon and fennel are freshly cut before class to add an additional dimension of flavour to the day's recipes.
Programs for Groups
In addition to our hands-on classes, registered dietitians are available to lead group team-building workshops or presentations for corporate gatherings. These cooking classes make for an exciting, interactive experience for groups of up to 16, or 50 for a demonstration. For a healthy start to a morning's agenda, a Breakfast for Performance class includes a demonstration of how to make simple, fast, nutrition-packed meals. Participants also learn how the most important meal of the day can impact weight, mood and performance before the class concludes with a healthy breakfast. Registered dietitians are also available to give informative and inspiring presentations in a ballroom setting for larger audiences.
For more information or to reserve a Wellness Kitchen experience, please call the Hotel toll-free +1 (888) 575-1114 or the Institute directly at +1 (818) 575-1114, or visit http://www.chli.com.