Food with a History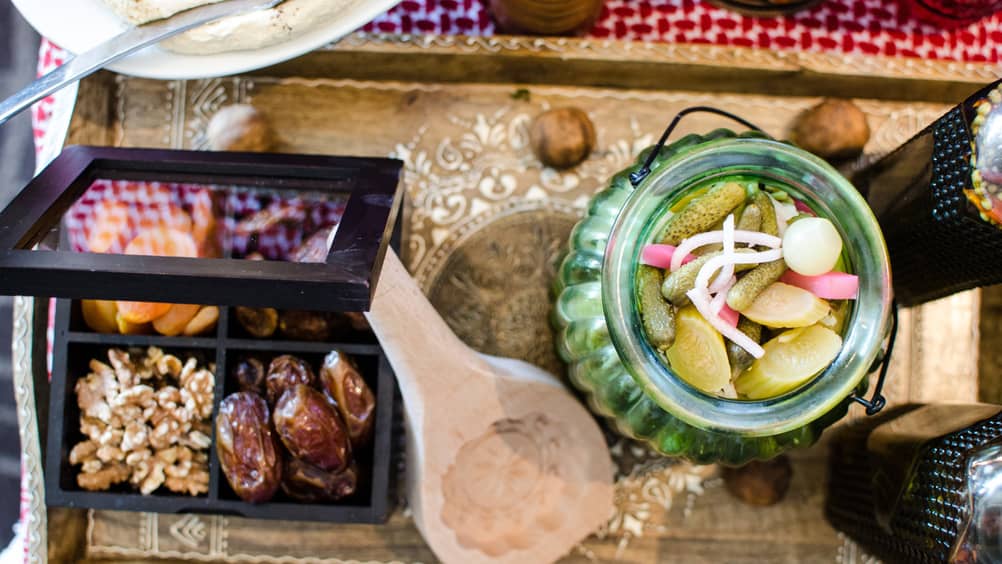 Middle Eastern cuisine is a crossroads of many cultures, comprised of ancient foods and spices from Arab, Asian, Persian, African, European and Mediterranean countries. Although the preparation can be diverse, the fundamentals of traditional Middle Eastern cuisine remain consistent.
Saadeh and Wshah have selected traditional dishes that stay true to these principles for their Sunday Brunch station. The recipes and ingredients have been passed on for generations, and the overall menu focuses on complete sources of heart healthy proteins and fresh, high quality ingredients. Traditional spices such as cardamom, turmeric, cinnamon and cloves flavour the dishes, and provide an array of health benefits. According to the chefs, these essentials are often compromised in westernised Middle Eastern food.
"Unlike a lot of Middle Eastern food found in DC, we have prepared these dishes the way we make them back home," says Wshah. 'We make everything from scratch, and we try to use as many ingredients from the Middle East as possible. Even the presentation of the station is styled to look like something you would find at Four Seasons in Amman or Damascus. On one of my days off, I spent hours searching Middle Eastern and Persian shops in Northern Virginia to find just the right items to make it feel like home!"
The Way Mom Made It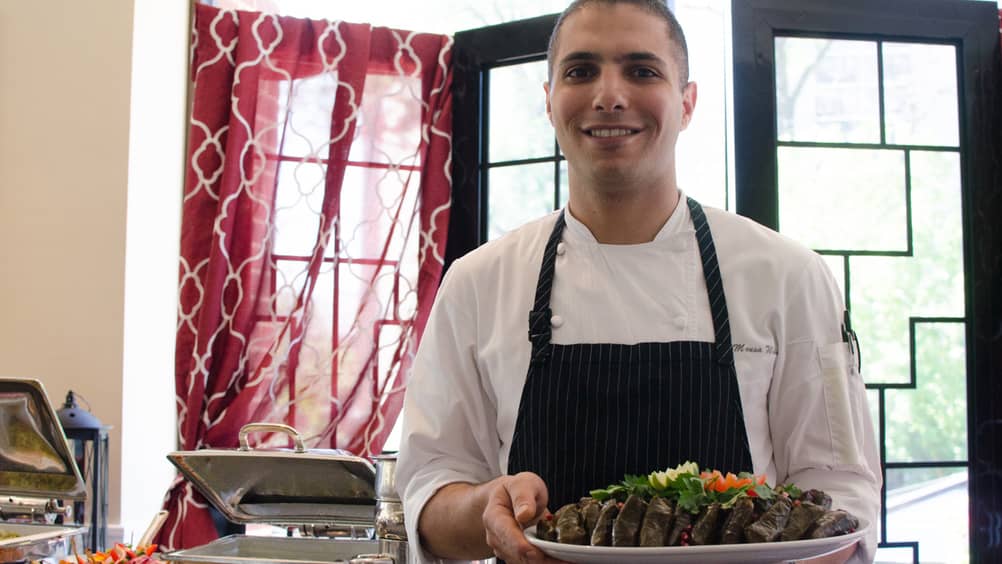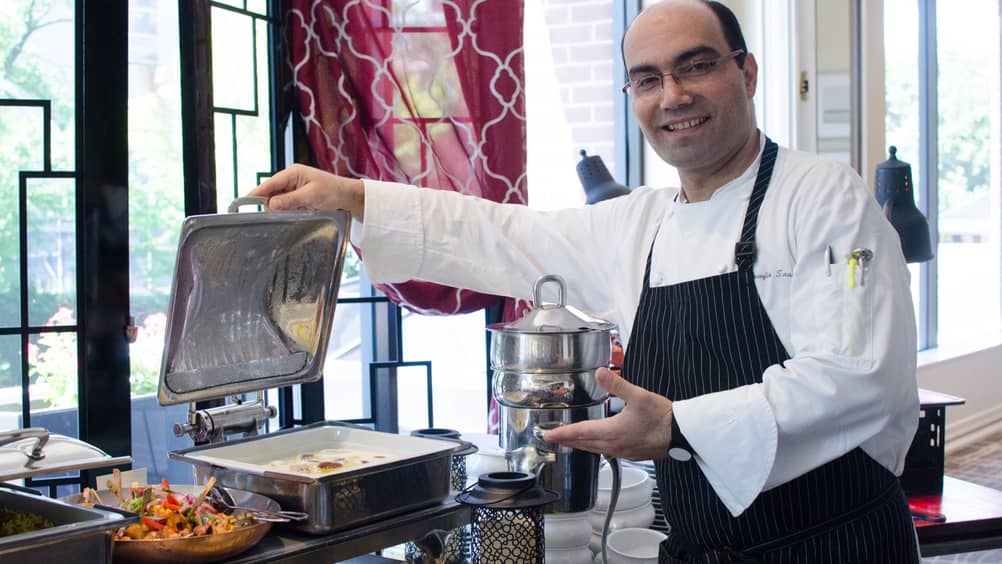 The station features three hot dishes, three cold dishes, a soup, a salad and a dessert. The selection will change occasionally, but the inaugural dishes are ones that are close to the Chef's hearts.
For example, Saadeh has an especially fond memory with one of the station's dishes known as kibbeh, a ball shaped dumpling made with bulgar, minced lamb, onion, tarragon, ghee and garlic and served with a yogurt sauce.
"The dish is difficult to prepare properly, and when I was a child - before mixers, grinders, etc - it required a lot of work to make. My mom would pound the lamb by hand," says Saadeh. "I used to steal little pieces of the mixture to play with, and I remember my mother and my grandmother would get angry with me! I learned how to make kibbeh at a restaurant near my house, and it was a big deal when I was finally allowed to make it for my family."
Weshah shares a similarly fond memory with the stuffed grape leaves that are currently on the station.
"Stuffed grape leaves, or dolma, is a dish I grew up eating. It is made with rice, ground beef and traditional Middle Eastern spices such as cardamom and cumin. You only cook the rice halfway before you stuff the grape leaves, and I remember snacking on the half-cooked rice as my mom was stuffing the leaves. I would get a stomachache, of course, but I still did it!"
Sharing Cultures and Traditions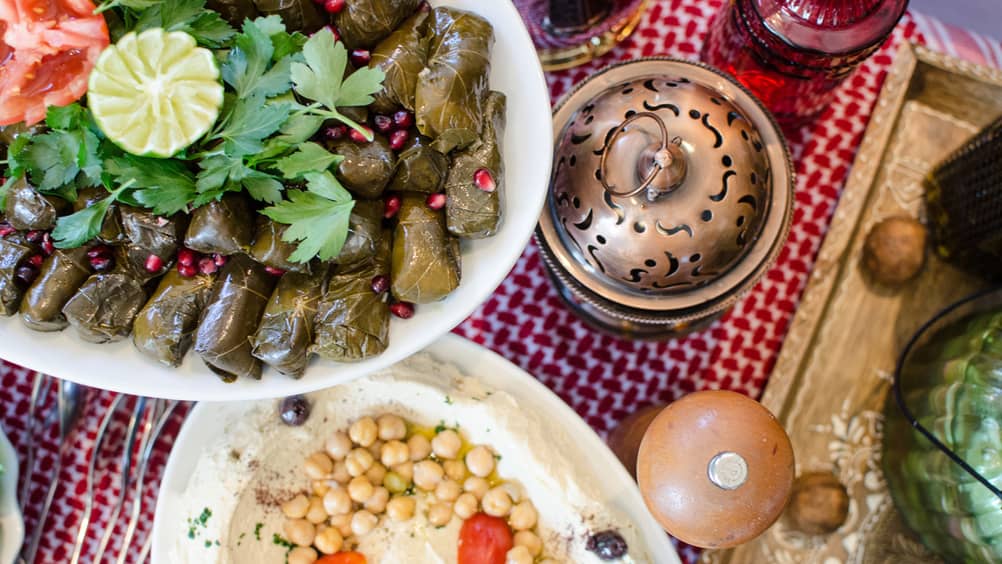 With their new station, Chef Saadeh and Chef Wshah hope to share their heritage, culture and culinary talent with visitors from their home region, lovers of Middle Eastern foods and perhaps even patrons who are experiencing the dishes for the very first time. Other dishes currently on the station include kasbeh, a basmati rice dish with traditional spices, vegetables and raisins; and semolina, a sweet dish made with white ground corn, coconut, pistachios, ghee, yogurt and sugar.