Function Rooms
Corcoran Ballroom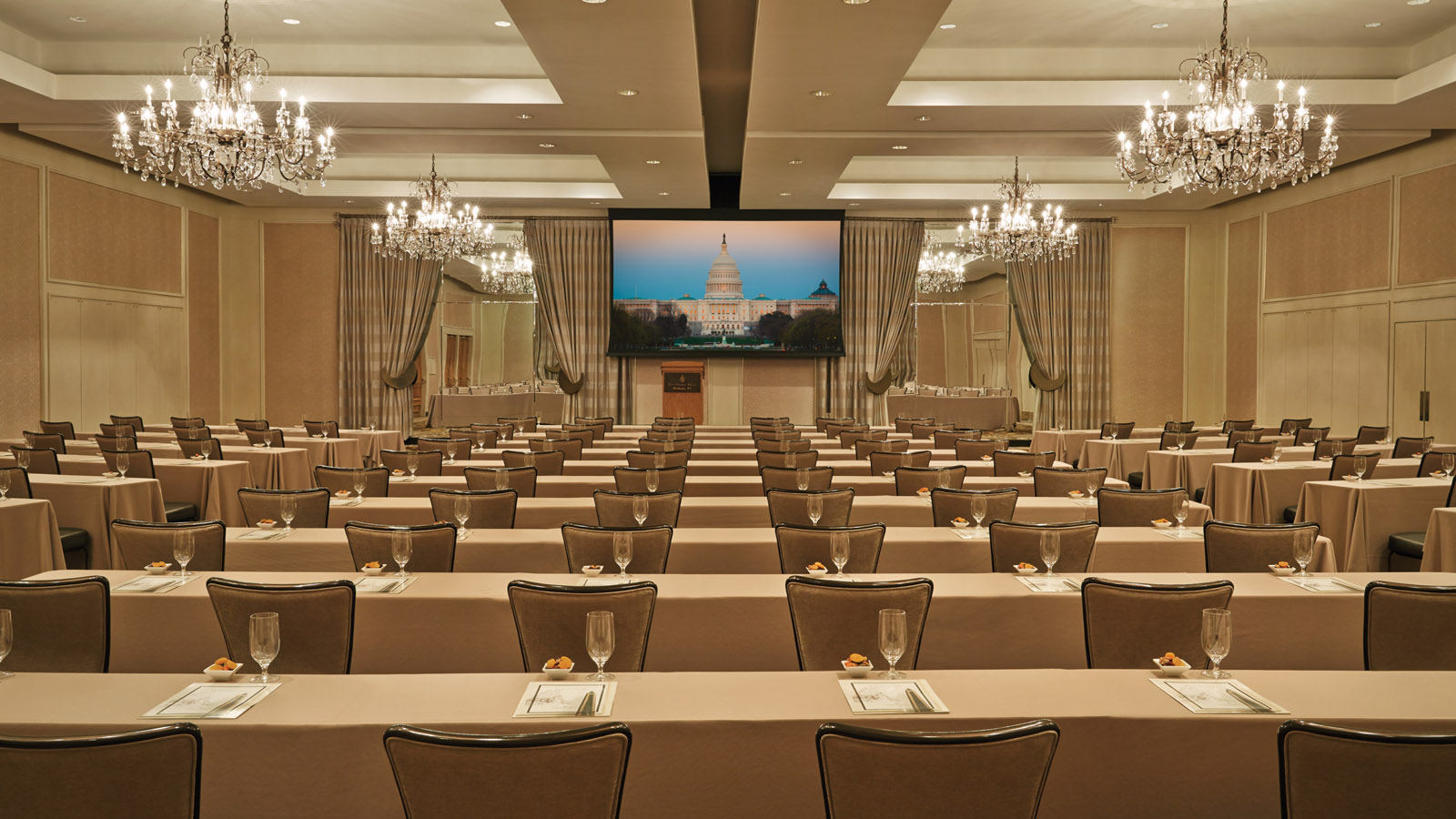 The Corcoran Ballroom is a large, elegant venue that may also be divided into two intimate salons. The room includes no pillars – ensuring a clear line of vision for all guests.
Understatedly Elegant
A rich palette of gold, yellows and taupe
Luxurious draperies and honey-toned moldings
Graceful chandeliers casting a soft light
Welcomingly Spacious
Accommodating receptions of up to 500 guests
Airiness of high 14.3-foot (4.4-metre) ceilings
Pleasingly Convenient
Adjacent Corcoran Ballroom Foyer provides a generous space for mingling and a pre-function area for cocktail and dessert receptions
Internet
Wired or wireless, high-speed Internet access via our Internet service provider, designed to meet the needs or large groups
Redundant high-speed access with up to 500 MBPS of bandwidth/speed
Separate, dedicated network access with up to 350 MBPS of bandwidth/speed
Public IP addresses
Customised wireless network names (SSID) and passwords
On-site IT support
Staging
Drop-down ceiling screen: 13.5' W x 7.5' H
Projection
5,500 & 7500 lumen 1080p projectors
Rear and front projection options
Tripod and fast-fold dress screens
ClickShare content routers for multiple laptops
Seamless video switching devices
Video IMAG and recording capabilities
Lighting
Ceiling mounted lighting options including stage wash and pin-spots
iPad touch-panel lighting controls
Wired and wireless up lighting
Gobo and logo projection
Capability for video mapping and moving lights
Sound
Installed sound system with house patch to the Hotel's Playlist Generation
Wireless lavaliere and hand-held microphones
Wired and wireless push-to-talk microphones
CatchBox audience interaction microphones with optional custom box covers
Audio recording capabilities
Tele-Conference & Video-Conference Services
Audio and full video-conference options
Live-Stream options internally and externally from the Hotel
Seating
Classroom
Theatre
Reception
Banquet rounds
Conference/Boardroom
U-shape
Hollow Square

294
500
500
420
72
90
114

Room Features
Breakout rooms and pre-function space

Location
CONFERENCE LEVEL
Size
Area
Dimensions
Height

427 m2 (4602 sq.ft.)
18 x 24 m (59 x 79 ft.)
4.4 m (14.3 ft.)

Bathrooms
Accessible
Please note: Seated dinner capacity is 300 if there is a dance floor.