Premier Suite - East Wing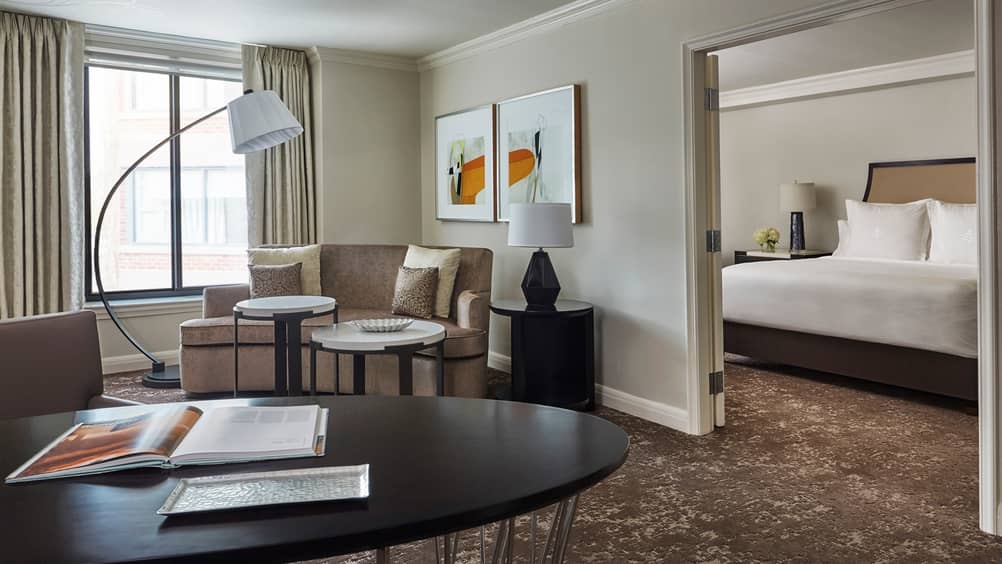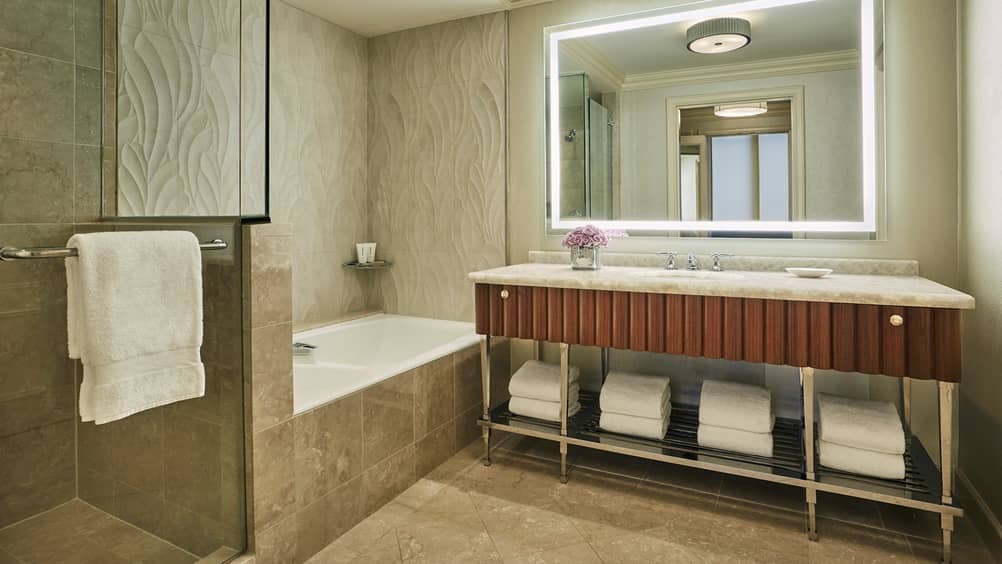 Spread out in a contemporary, residential-style suite offering 600 square feet (56 square metres) of space with views of the Hotel's garden courtyard.
Unique Features: Courtyard Views; French Doors that divide the living and sleeping spaces
Best Benefits: Ability to add a connecting guestoom; an extra bathroom for guests; suitable for in-room business meetings
Most Appreciated By: Families enjoying a long weekend in the nation's capital; holiday travelers; business travelers that are accompanied by their spouse
Premier Suite - West Wing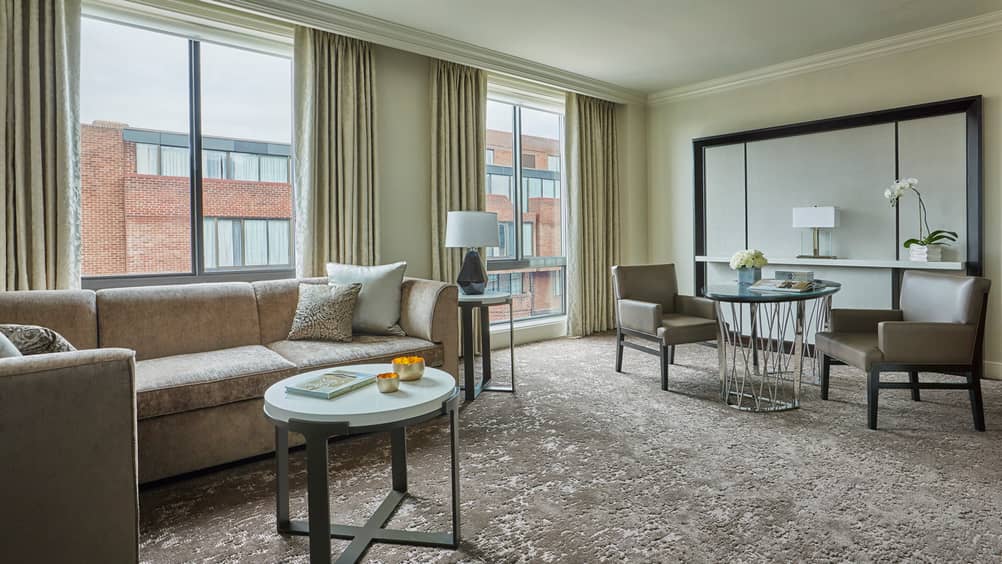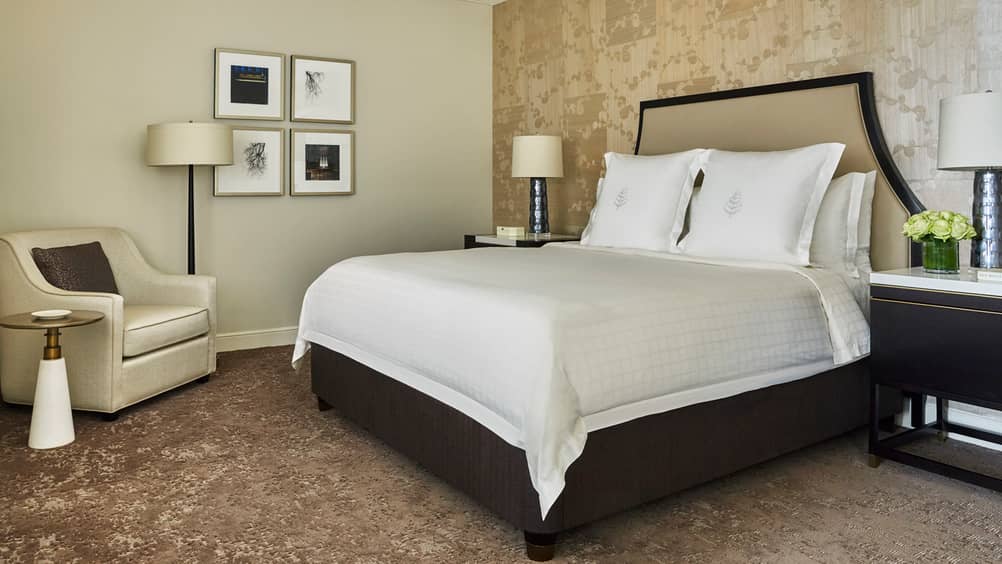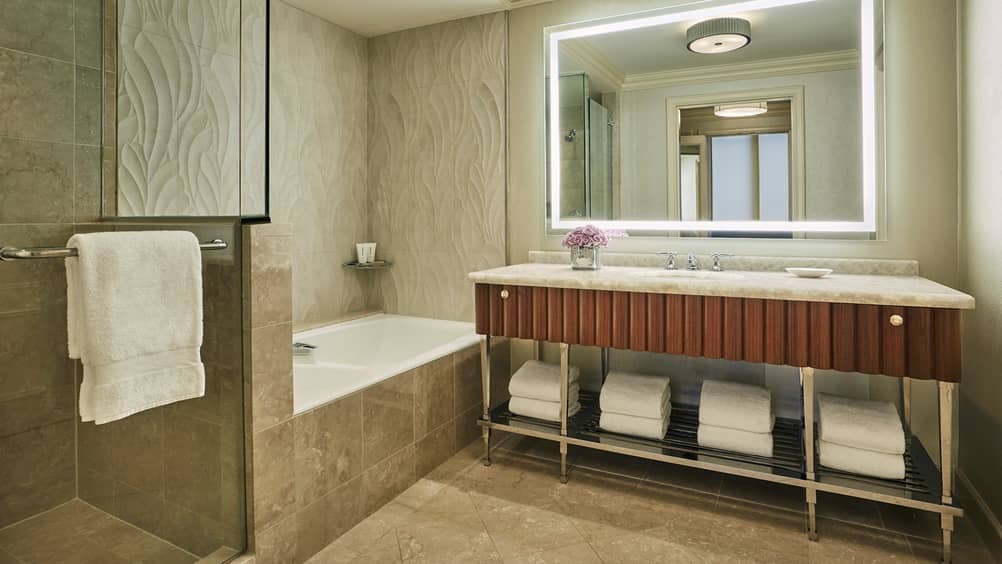 Host informal meetings or entertain guests: these spacious suites offer a bedroom and semi-private sitting/working area.
Unique Features: Four Seasons Washington's only studio-style suite, featuring a completely open floorplan
Best Benefits: Double sized sofa bed
Most Appreciated By: Couples traveling for a romantic weekend or staycation; short-stay travelers; families with young children
Georgetown One Bedroom Suite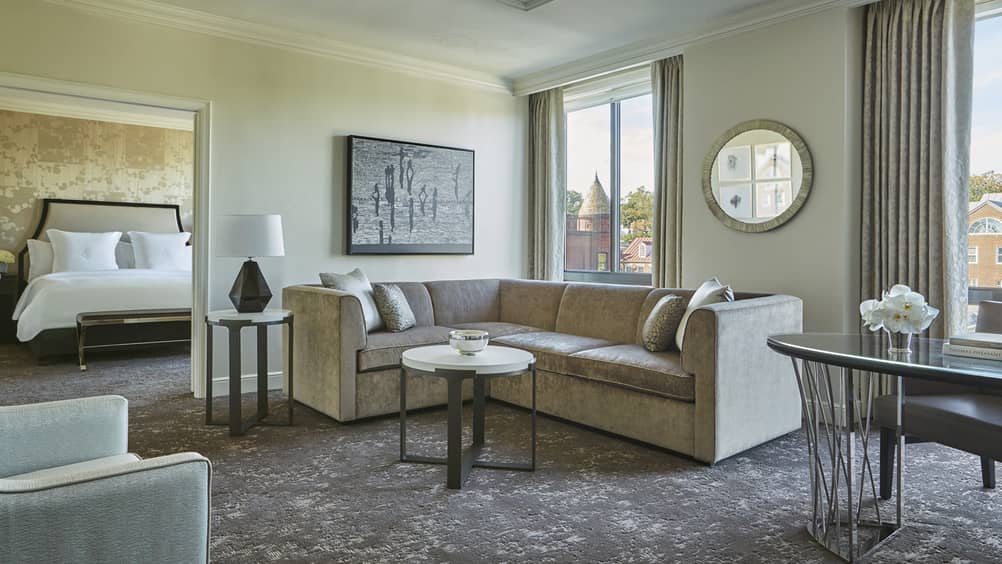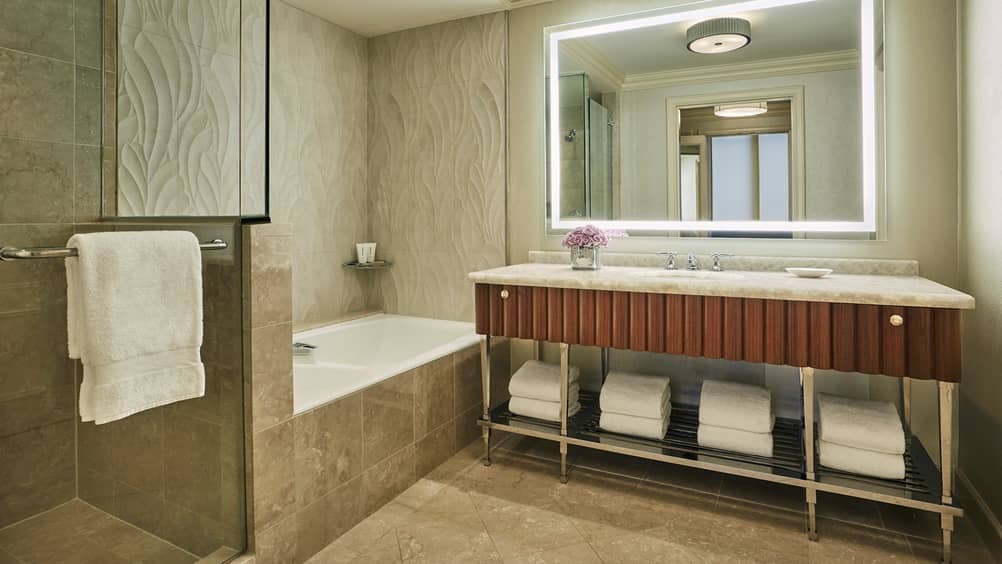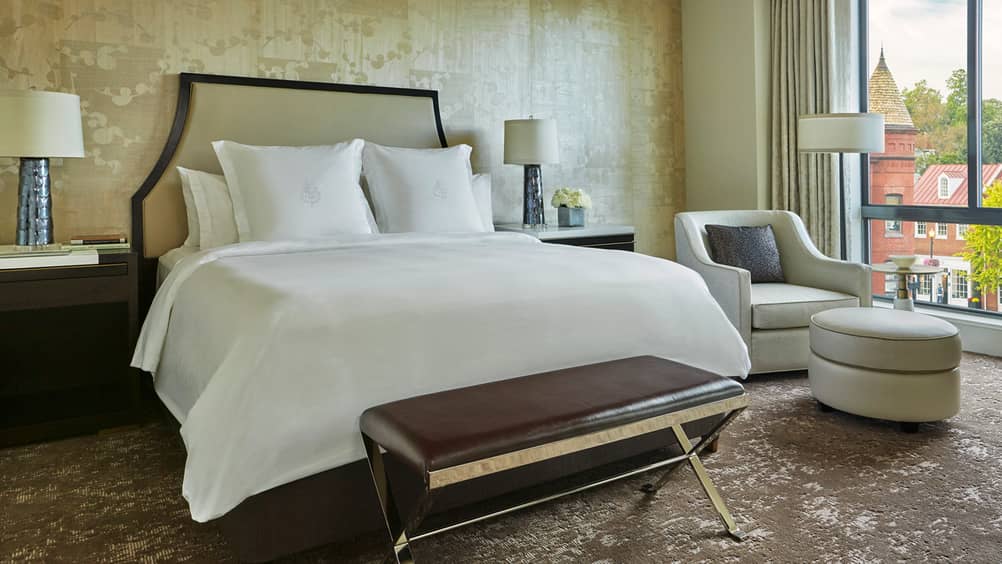 With separate areas for sleep, work and relaxation, Georgetown One-Bedroom Suites are eminently spacious and elegantly appointed.
Unique Features: Unbeatable views of historic Georgetown
Best Benefits: Ample privacy with French Doors separating sleeping and living spaces
Most Appreciated By: Single travelers seeking a residential-style space; parents traveling with older children to visit nearby universities
Capital Suite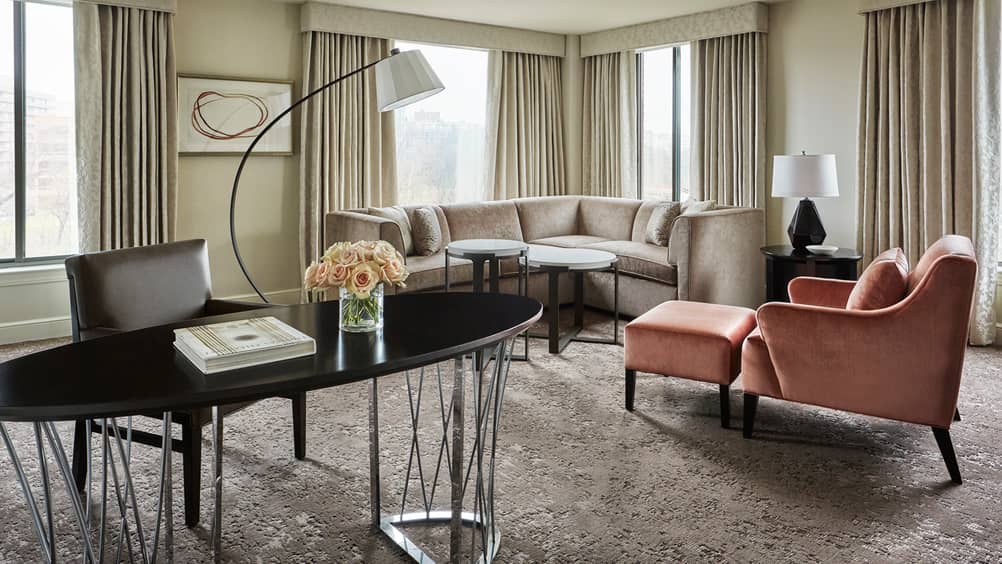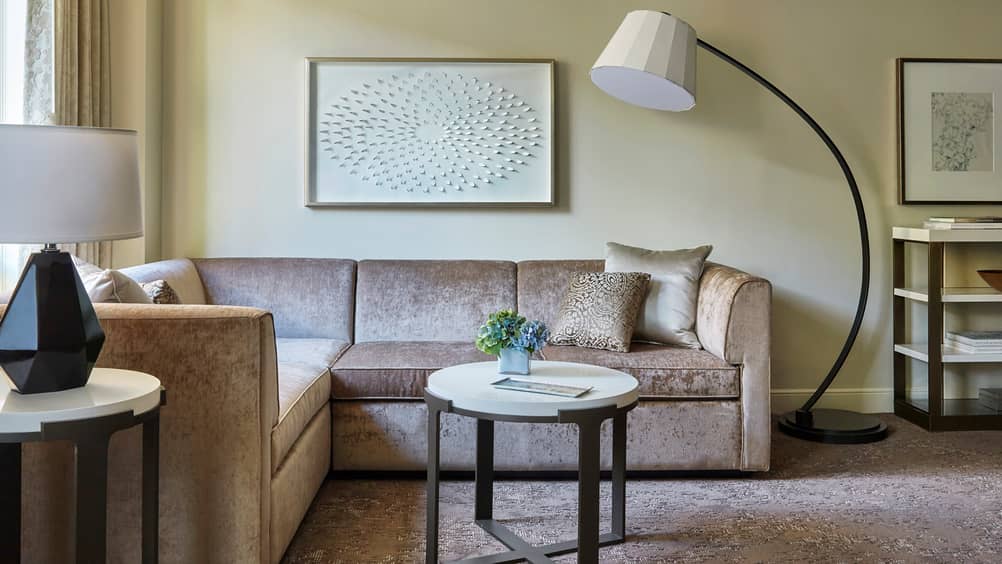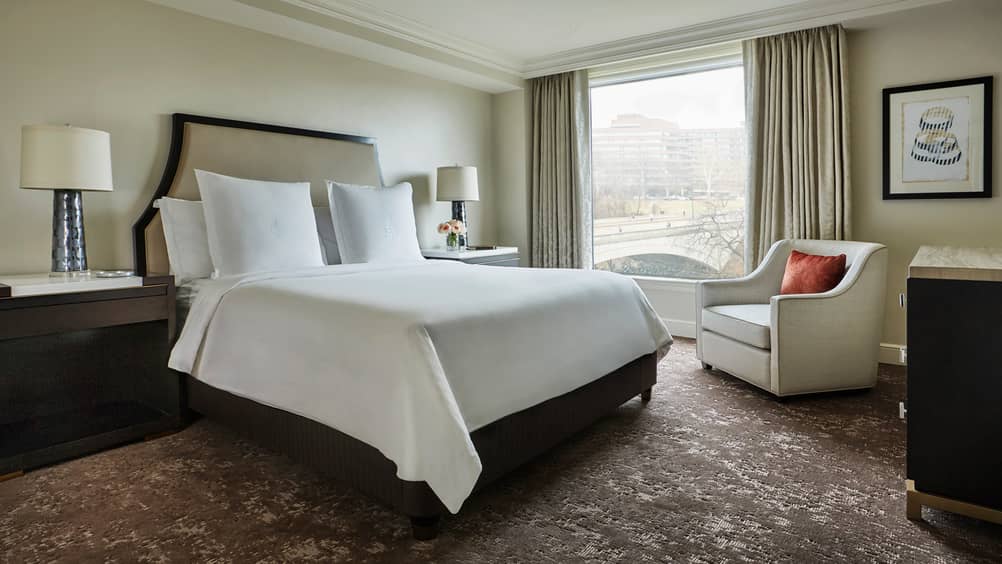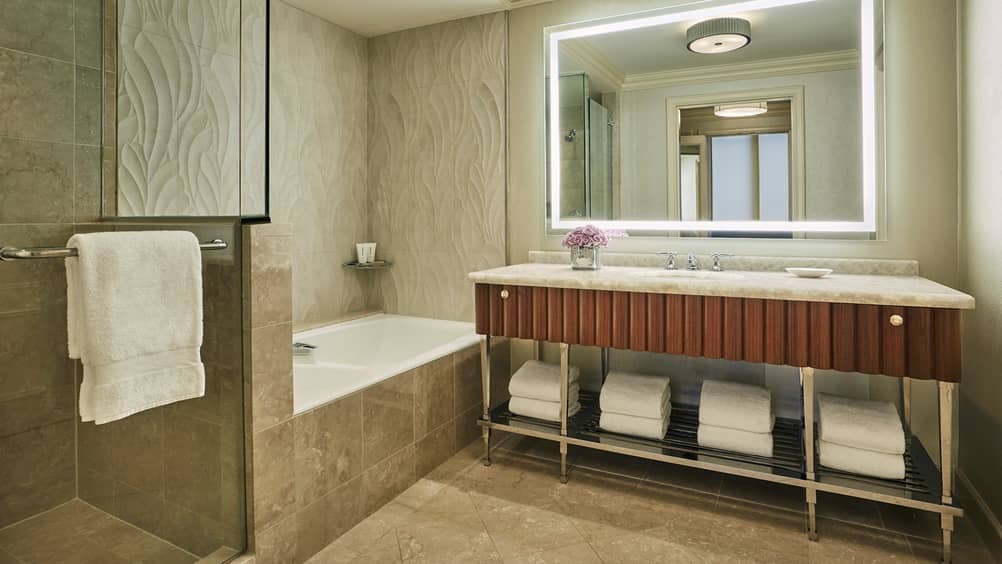 In the Hotel's West and East wings, the spacious Capital Suites are richly appointed and fully equipped for business or leisure.
Unique Features: Furnished in a traditional residential style with an abundance of seating with plush sofas and armchairs; sweeping city, couryard or historic Georgetown views
Best Benefits: Separate sleeping and living spaces; at least one full marble bath and powder room, with some suites having two full marble bathrooms; a double sofa bed that is perfect for families or groups; suitable for conducting business
Most Appreciated By: Families seeking extra space; leisure guests travelling in a group; VIPs not looking to entertain in the suite
Imperial Suite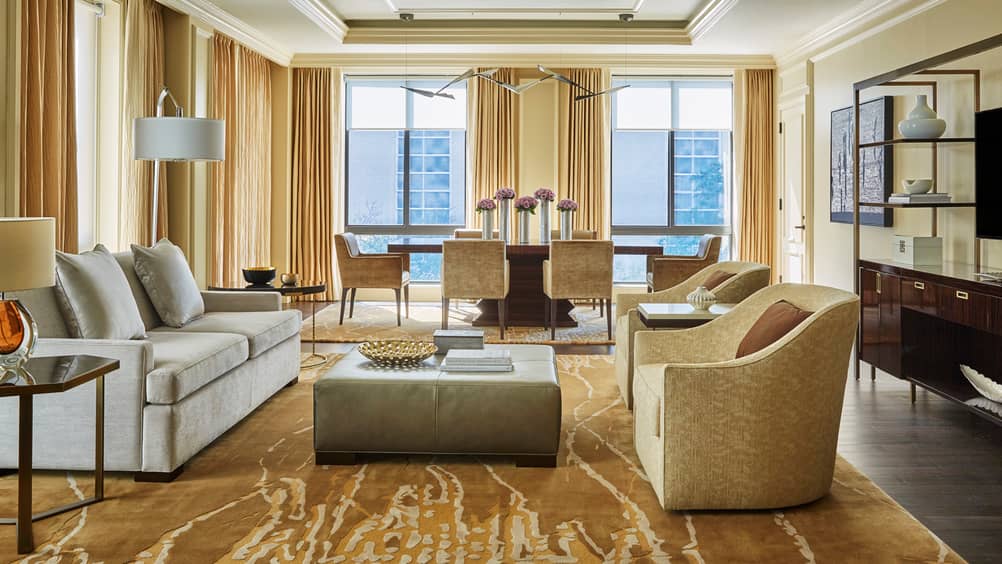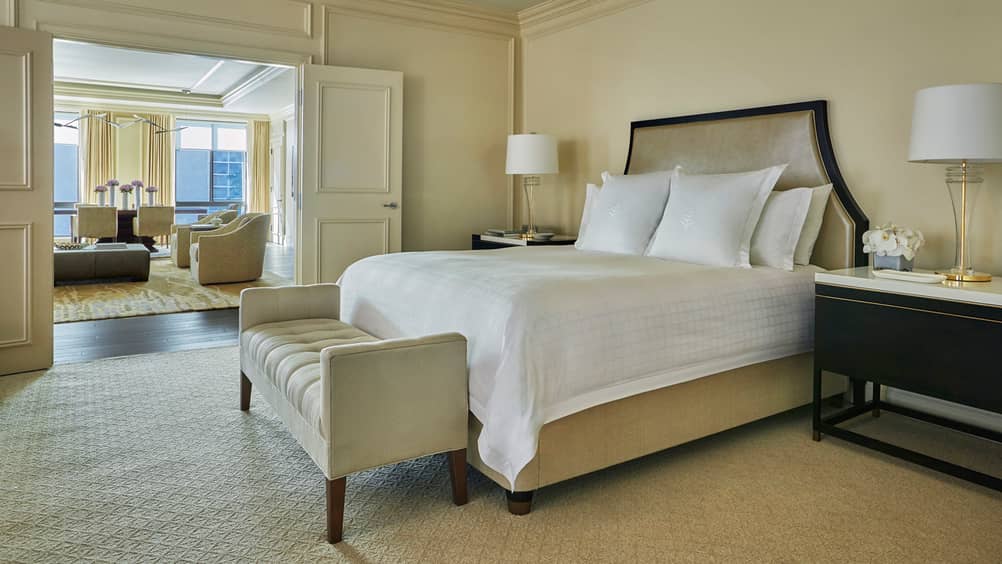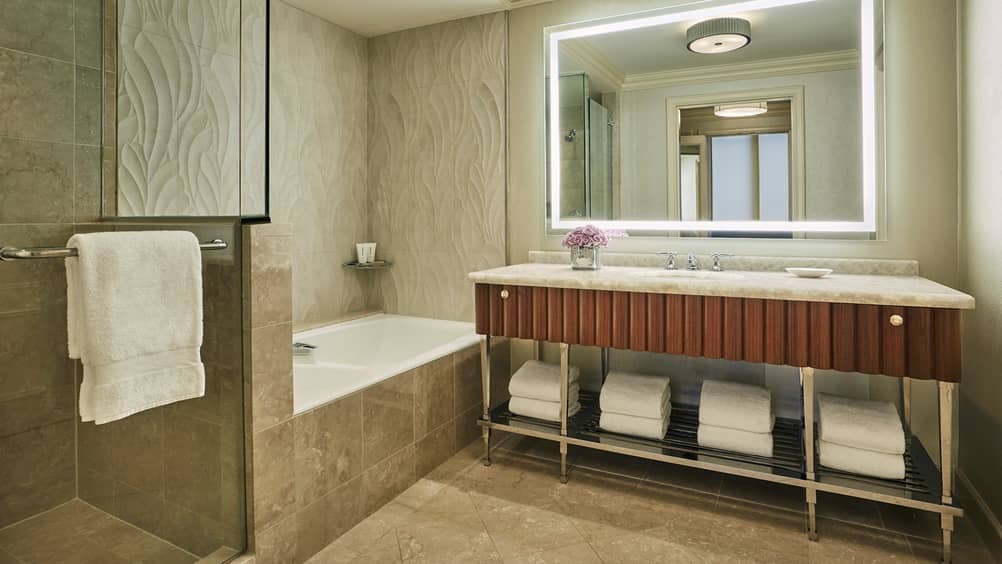 With lovely views of the canal and courtyard, the Imperial Suite provides the ultimate in luxury and well-defined space.
Unique Features: Newest suite at Four Seasons Washington; hardwood floors; an open floor-plan with a stately and presidential feel
Best Benefits: Especially tranquil and relaxing with its darker color scheme; allergy-friendly; large dining table that is ideal for entertaining
Most Appreciated By: Large families; Heads of State; Fortune 500 CEOs
Presidential Suite - East Wing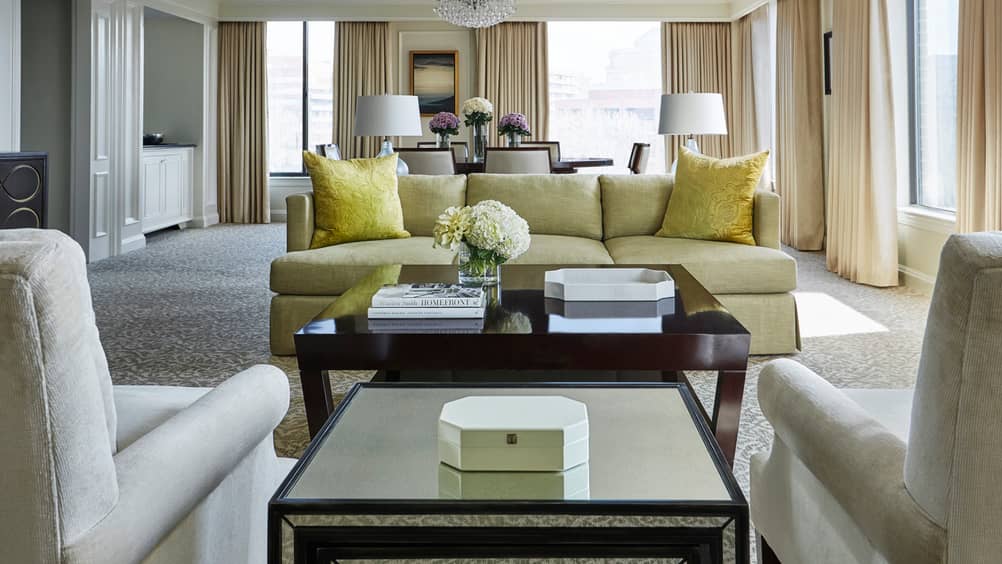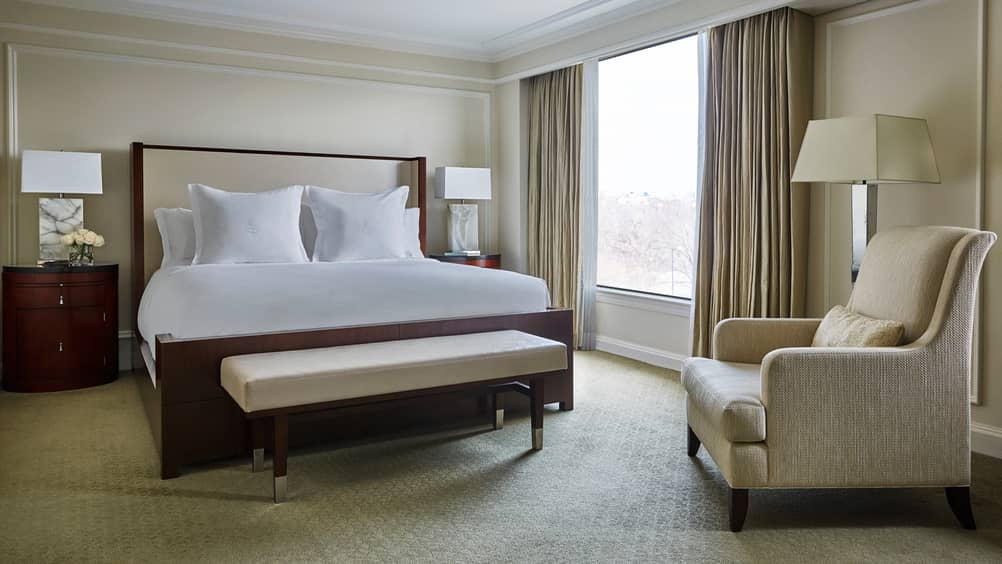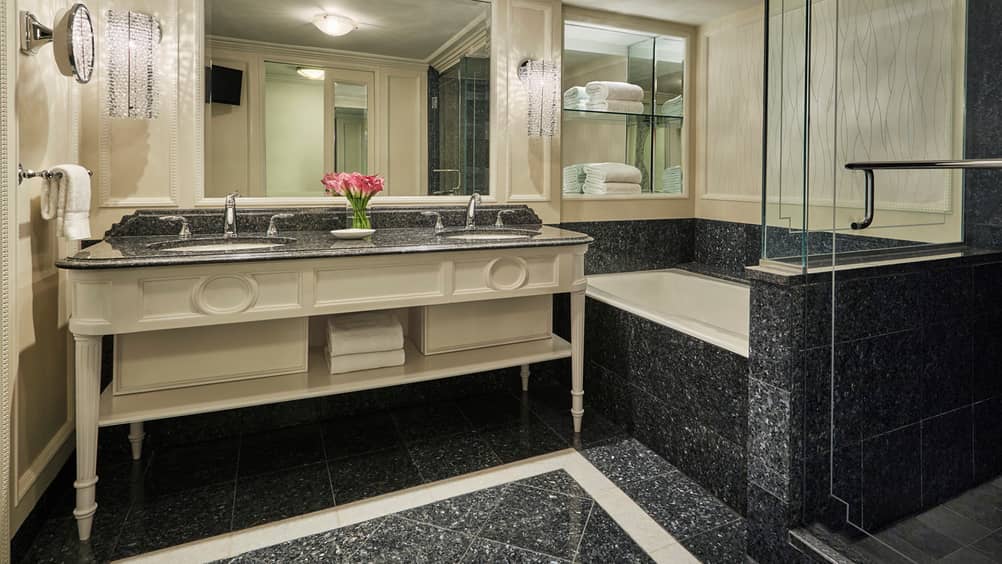 Revel in an abundance of sunlight streaming through floor-to-ceiling windows in the East Wing Presidential Suites.
Unique Features: Corner suites; vibrantly lit with natural light; city views; located on the highest floors of the Hotel
Best Benefits: Windows on three sides of the suite; an abundance of space; privacy on top floors of hotel; option to add an extra guestroom
Most Appreciated By: High ranking business travelers; families; guests seeking spacious, private acommodation rather than a multifunctional space for meetings or entertaining
Presidential Suite - West Wing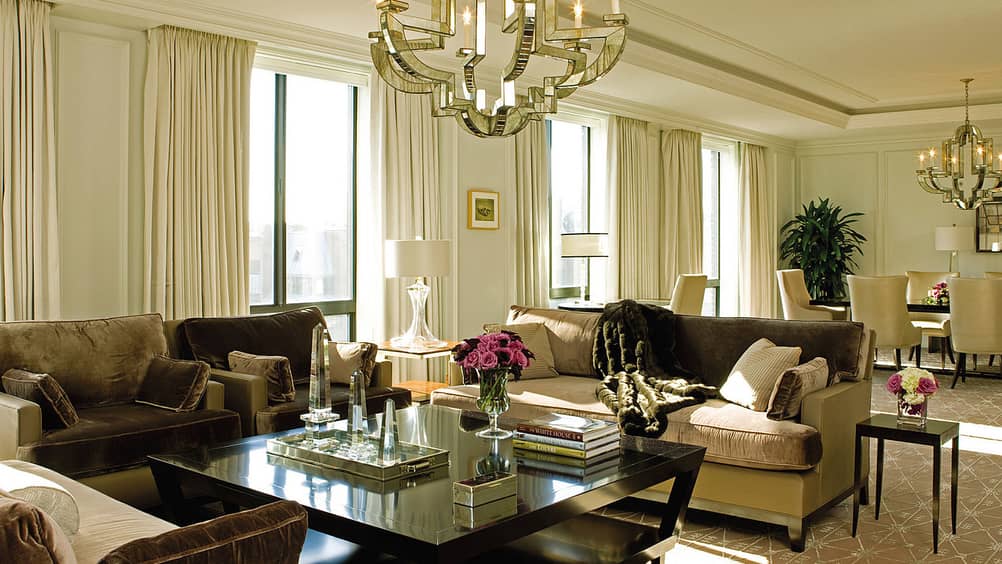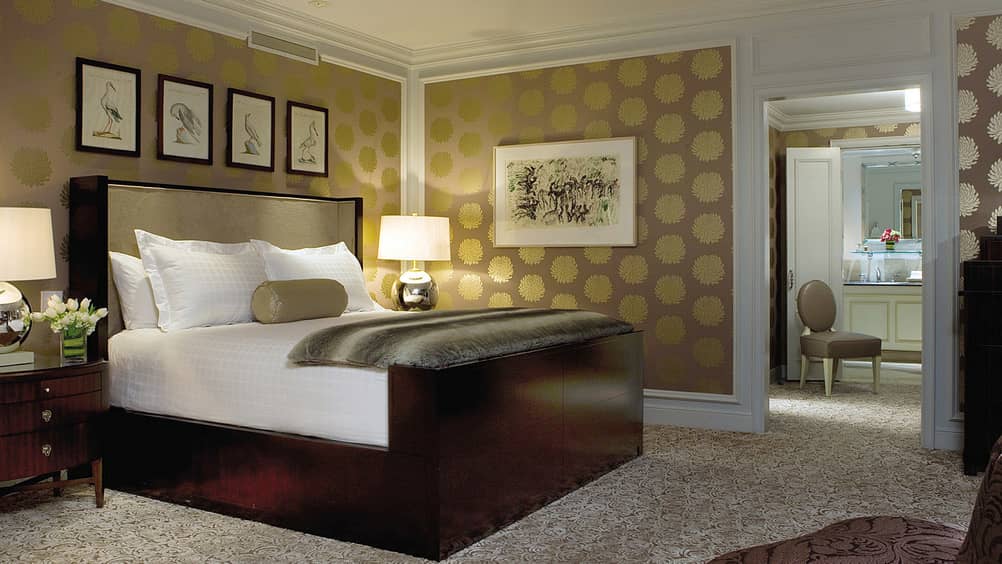 With lovely views of the canal or garden courtyard, the West Wing Presidential Suites provide oversized, inviting spaces.
Unique Features: Bright, floor to ceiling windows; apartment-style accommodations; chic elegance with a relaxing color scheme of mauve, gold and green; private Butler's entrance and pantry
Best Benefits: Ideal for entertaining and private meetings with a large conference style table; oversized dining and living spaces; option to add up to two additional guestrooms for a total of three bedrooms
Most Appreciated By: Business travelers conducting business within the suite; large families; guests with plans to host
Royal Suite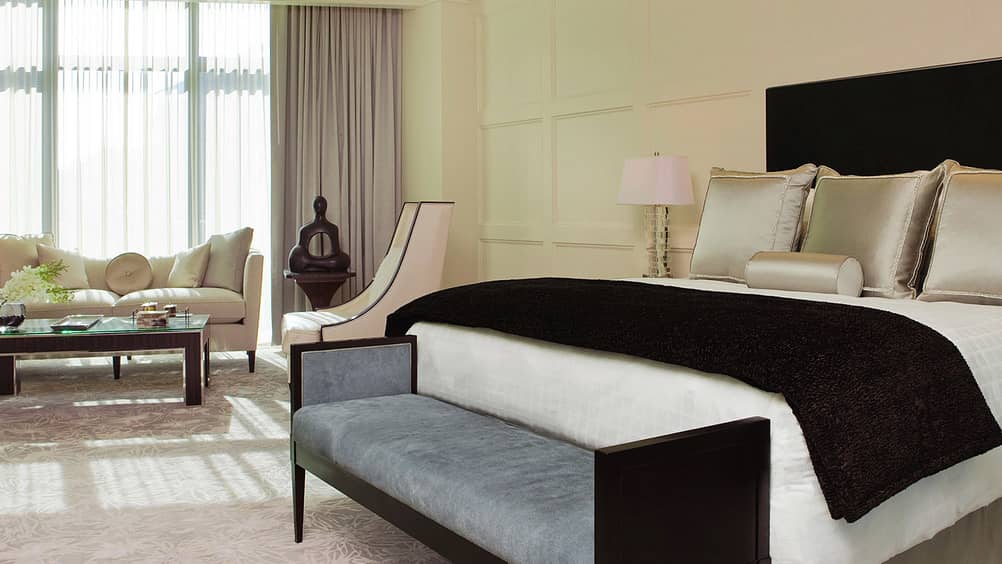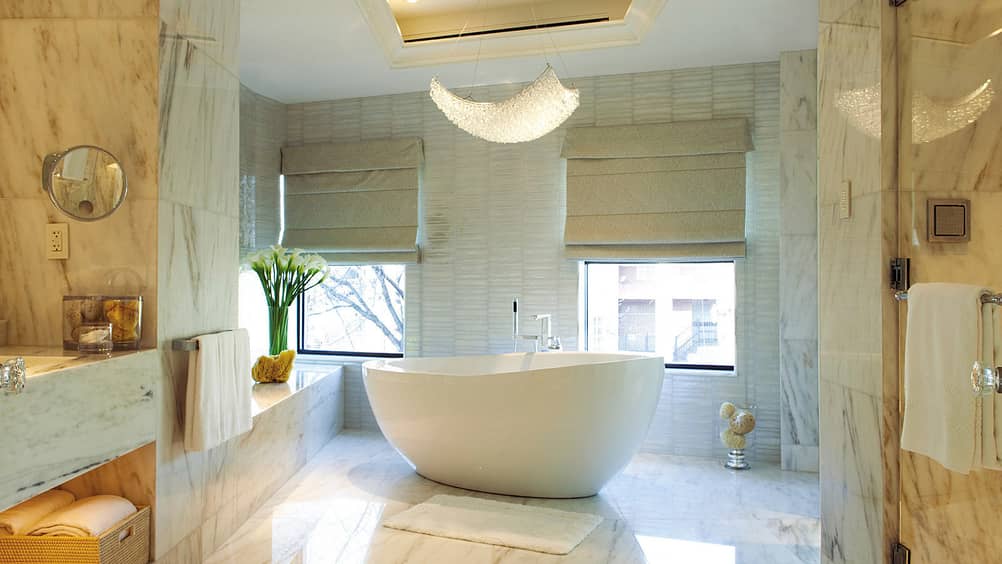 Behind bullet-resistant glass, a private entrance and a closed-captioned security system, the Royal Suite is as beautiful as it is functional.
Unique Features: The largest and most private suite at Four Seasons Washington; a large outdoor terrace with a fire pit and abundant seating; private entrance monitored by closed circuit security; additional services ranging from butlers to personal chefs available upon request
Best Benefits: Completely self-contained with a gym, office, dining area and four seating areas; supreme privacy; ability to expand from two additional bedrooms to the entire wing (eight bedrooms); on a lower floor of the hotel; views that can include westward facing city views, Courtyard and the C & O Canal
Most Appreciated By: Guests seeking the best of the best; privacy conscious guests; high profile guests; extended or multi-generational families; guests travelling with a large entourage; tobacco enthusiasts; lovers of fine art, furnishings and finishes