Vancouver, Western Canada's largest urban sprawl, is an exciting metropolis boasting delicious restaurants, renowned museums and can't-miss shopping. But the city's location—surrounded by rivers, forests and mountains—makes it a paradise for lovers of the outdoors, too. And with some of the mildest year-round weather in Canada, it's easy to plan adventures in the great outdoors no matter the season. Here are a few essential things to do in Vancouver that outdoors enthusiasts shouldn't miss.
Explore Stanley Park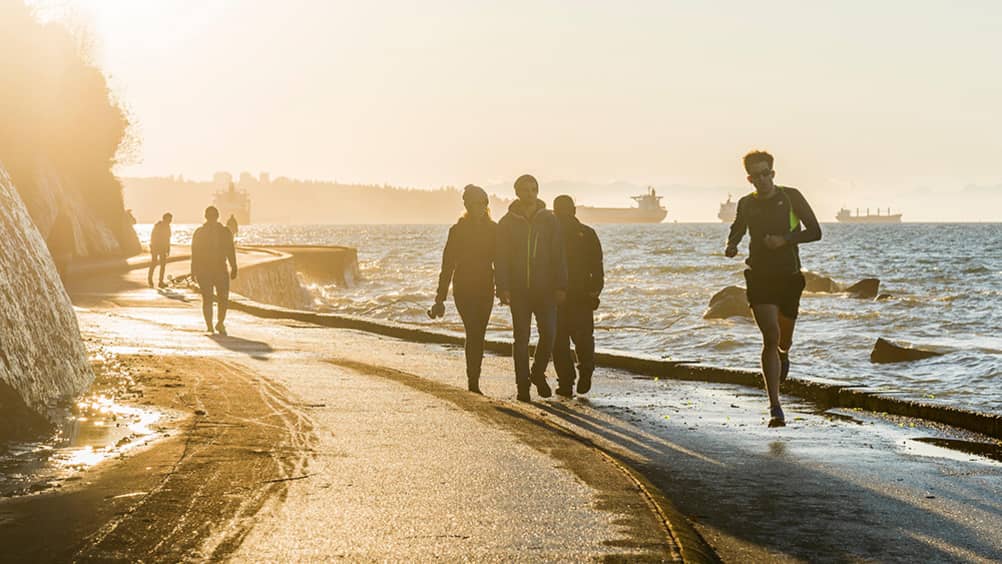 Photography Michael Wheatley / Alamy Stock Photo
This 1,000-acre (400-hectare) public park borders downtown Vancouver and is one of the planet's most beloved urban green spaces. Home to half a million trees (most of them cedar, fir or hemlock), plenty of beaches, hiking and biking trails, lighthouses, lagoons, and much more, the park earns its reputation. Colourful and dramatic First Nations totem poles dot its terrain. Exploring on two wheels is the best way to see as much as possible—and get a legitimate workout as well. On August 13, 2016, the SeaWheeze half-marathon will include a run all over the city (along the beach and past the skyscrapers) followed by a post-marathon yoga class and dance party in Stanley Park.
Before you go: There are plenty of ways to bike around the park, but partnering with Josh Bloomfield—founder of City Cycle Tours—might be the best way to go about it. Bloomfield has cycled his way through many countries (Cambodia and China among them), so he's an expert when it comes to travelling by bike. His educational, three-hour Stanley Park tour moves at a leisurely pace on dedicated paths, to ensure that anyone can participate and make it to the finish line.
Try aquatic yoga
In Vancouver, yoga enthusiasts will find plenty of studios to keep their regimen on schedule. Try Moksha Yoga for standard studio classes or Dharma Yoga for more intimate, small-group gatherings. Take your yoga poses to the next level with one of the city's more unusual programs: Stand Up Paddle Vancouver offers paddleboard yoga, where practitioners balance on the water, working their core muscles on the gentle waters of English Bay. Take one of their introductory lessons (with board rental and paddling instruction) or reach nirvana solo on your own excursion. You can access English Bay from Hadden Park.
Before you go: Did you know that fitness outfitter Lululemon is based in Vancouver? The biggest name in workout duds has locations all over town, which means plenty of opportunities to pick up a new pair of yoga pants.
Kayak Indian Arm
An hour north from downtown Vancouver, this fjord is a truly magnificent site, where sharp granite cliffs share the limelight with densely forested banks. Navigating its still waters during the day, you'll see waterfalls, beaches, offshore islands and even harbour seals—and the atmosphere magically changes when the fog rolls in. But while visibility might be much lower at night, evening kayaking excursions here are some of the most sought-after by travellers and locals alike. There is something unforgettable about doing the tour under glowing moonlight.
Before you go: Take a trip to Arc'teryx, the Coast Mountains sportswear brand that stocks some of the best moisture-wicking, tissue-thin layering garb on the market. For example, the entire Phase collection for both men and women is perfect for handling cool breezes and splashes.
Conquer the Grouse Grind
Commonly referred to as "Mother Nature's Stairmaster," the Grouse Grind is a nearly 2-mile (3.2-kilometre) hike up the face of Grouse Mountain. The gruelling 90-minute march to a 2,800-foot/853-metre summit features an average grade of about 30 degrees, which makes this uphill challenge a bigger accomplishment than most of your regular morning hikes. (Your legs are likely to feel it the following day, so book a massage at the Spa at Four Seasons Hotel Vancouver ahead of time.) Once you've made it to the top, all of Vancouver sprawls before you, with flawless views of the city skyline.
Before you go: A demanding hike requires ample physical preparation. To guarantee that you're fortified in every way, pay an early morning visit to The Juice Truck  for a pre-workout cold-pressed boost. The Juice Truck began as just that: a truck that carried green potions to Vancouver juicers. It has since opened a brick-and-mortar location on West Fifth Avenue. Pick up—among many healthy meals and snacks—a bottle of The Aloe Green: a combination of pineapple, orange, spinach, mint and lemon plus coconut water and aloe vera to keep you focused throughout the journey.
Mountain bike the North Shore
Photography Jeremy J Saunders
Mountain biking might sound like too extreme to try while on vacation, but for locals, it's just another way to take advantage of all of Vancouver's outdoor opportunities. The North Shore has some of the most thrilling trails around, through they do generally favour experienced cyclists who can manage log rides, stone ramps, wooden ladders, cross-country tracks and downhill rides while avoiding a whole lot of trees.
Before you go: Intermediate cyclists can find plenty of bike outfitters in North Shore, but neophytes can enjoy some mountain biking, too. Sign up on a tour with Endless Biking, which has been navigating these paths since 2004. You can sample easier trails while learning the ins and outs of handling a mountain bike with the 90-minute introductory course, which showcases the natural beauty of the area.
Four Seasons Hotel Vancouver