Vancouver's dramatic natural setting and sophisticated urban pleasures make for a diverse range of experiences – from outdoor adventures to fine dining and culinary tours. To help plan your next trip, we asked Bertine Hage, Chef Concierge at Four Seasons Hotel Vancouver, to share tips for exploring the city's best.
A wok around Chinatown
A colourful destination for exotic discoveries, Vancouver's Chinatown is a favourite among locals and visitors. Explore the area's culinary delights and learn about its history and culture on A Wok Around Chinatown. Led by epicure Robert Sung, this unique tour begins at a classical Chinese garden; passes through fascinating specialty shops, food markets and a Taoist temple; and ends with a dim sum lunch.
Outdoor activities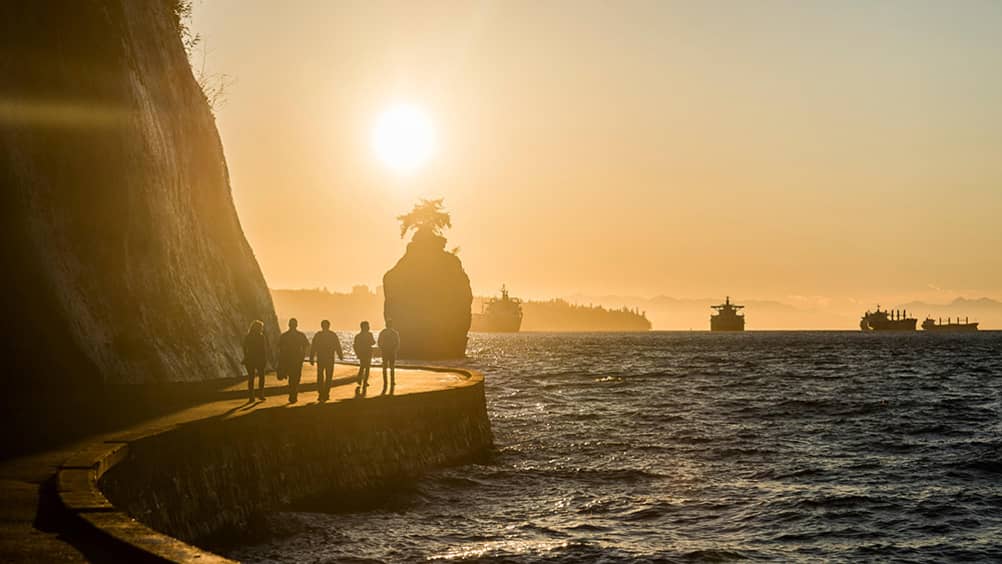 Photography Michael Wheatley / Alamy Stock Photo
From the Hotel, it's a quick seven-minute drive down Georgia Street to arrive in Stanley Park. Created by the city more than 125 years ago, the park boasts a vast acreage of gardens, woodlands, trails and beaches. A water park, swimming pool and miniature train cater to children, while adults can marvel at the totem poles, sea wall and rose gardens.
Vancouver aquarium
Photography courtesy Four Seasons Hotels and Resorts
Located in Stanley Park, the innovative Vancouver Aquarium is a conservation and education centre dedicated to preserving aquatic life. A variety of shows and interactive exhibits offer glimpses into the sea, but the aquarium's true highlight is a behind-the-scenes tour where visitors get up close and personal with marine animals, including beluga whales, dolphins, sea turtles, sea lions and sea otters. In addition to helping feed animals, tour participants visit the research area, where they can watch trainers at work and ask them questions.
Yaletown restaurants
Once the city's warehouse district, Yaletown is now home to hip boutiques, performance spaces, cafés, bars and restaurants. Among our favourite dining spots in this exciting neighbourhood are Glowbal Grill; Cioppino's Mediterranean Grill & Enoteca, for its classic regional cuisine; and Blue Water Cafe + Raw Bar, where you can tuck into excellent seafood, for which Vancouver is famous.
Granville Island
One of North America's most successful urban redevelopments, Granville Island has been transformed from a run-down industrial park into a lively collection of renovated warehouses that today host restaurants, theatres, artists' studios and craft shops. Sample fine handcrafted beers from Canada's first microbrewery, Granville Island Brewing, where daily tours are available. More exotic brews can be found at Artisan Sake Maker, the country's only producer of fresh premium sake. While adults browse the huge public market for handmade products and local fare, kids can explore a special market just for them where jugglers, magic shows and a water park provide endless fun.
Discover local history
Vancouver is a city defined by its vivid culture and vibrant past. See a rich collection of indigenous objects – including totem poles, carved doors and utilitarian items – at Vancouver's Museum of Anthropology, located in a spectacular building overlooking mountains and sea on the campus of the University of British Columbia. After a visit to the museum, pass by the Bill Reid Gallery of Northwest Coast Art in downtown Vancouver, which displays work and sculptures by contemporary aboriginal artists from the northwest coast of North America.
Private dining
Photography courtesy Four Seasons Hotels and Resorts
The Hotel's YEW seafood + bar is one of the city's premier seafood restaurants, delivering exceptional cuisine balanced by great wines and innovative cocktails. Fresh local seafood is showcased in the delicious selections at the raw bar and the flavourful entrées on the restaurant's seasonal menu, all crafted by Executive Chef Weimar Gomez. Enjoy your meal in any of a variety of settings, from a group-friendly communal table to an exclusive glass-enclosed private dining room to intimate dining booths.
Conquer Grouse Mountain
It's the best workout in the city, it's free and there's a stunning payoff at the end. Each year, more than 150,000 hikers take the challenging trail up Grouse Mountain, a 2.9-kilometre (1.8-mile), two-hour climb known by locals as "Mother Nature's Stairmaster." Take a 25-minute taxi ride from the Hotel to the trail's start in North Vancouver, do the "Grind," and be rewarded with a panoramic view of the city and the Pacific Ocean as you reach the peak's plateau. Yogi tip: On most summer weekends, Saturday morning "grinders" are treated to a free noon yoga class at the top.
Gastown
Discover Vancouver's roots with a trip to Gastown, the city's oldest neighbourhood, located within a 15-minute walk from the Hotel. Designated a National Historic Site in 2009, the district has risen from its saloon past to become one of the area's most vibrant urban scenes. Designer stores, art galleries, and hip bars and clubs fill the period buildings, but it's the award-winning dining options that make this a can't-miss area, with cutting-edge establishments offering European, Italian and seafood cuisine.
Four Seasons Hotel Vancouver