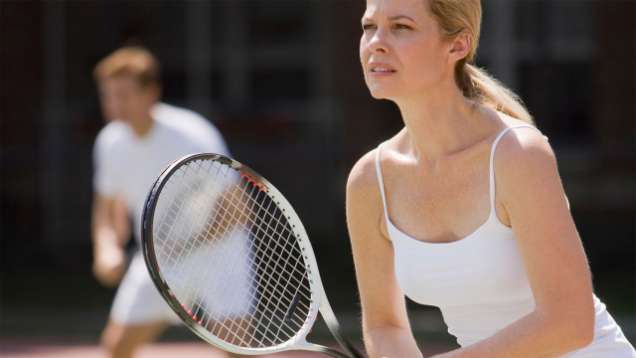 Vancouver is home to a variety of tennis clubs, several just minutes away from the Hotel. Ask our Concierge to reserve court time and arrange transportation.

Sports Massage Anyone?
After a few hours of swinging, lunging, and slamming a ball past your opponent, consider a sports massage to help relieve any muscle soreness.
UBC Tennis Centre

Featuring four indoor courts available year-round, the UBC Tennis Centre offers professional tennis instruction and services for people of all ages and skill levels. For additional information or to reserve a court, call 1 (604) 822-2505.

Details
Estimated travel time 18 minutes' drive
Estimated distance from Hotel 12.5 kilometres/7.7 miles
Kitsilano Beach Park

At this popular destination for locals, with scenic views spanning the open bay to the North Shore mountains to Stanley Park, you can play on one of 10 public courts, complete with a hitting wall for practice.

Details
Estimated travel time 5 minutes' drive
Estimated distance from Hotel 3.5 kilometres/2.2 miles
Stanley Park Tennis Centre

With the ocean and mountains as your backdrop, enjoy playing tennis in Vancouver's crown jewel, Stanley Park. Six of the park's 17 tennis courts are available to be rented during the summer season (from late April to early September). Tennis courts may be reserved in advance by calling 1 (604) 605-8224.

Details
Estimated travel time 7 minutes' drive
Estimated distance from Hotel 4.2 kilometres/2.6 miles


Hours
Every day 9:00 am – 9:00 pm
Queen Elizabeth Park

Queen Elizabeth Park, home to some of the city's most beautiful gardens, features 18 complimentary tennis courts and a practice wall, which are available on a first-come, first-served basis. During the spring and summer months, tennis lessons may be reserved through the Riley Park Community Centre at 1 (604) 257-8545.

Details
Estimated travel time 7 minutes' drive
Estimated distance from Hotel 4.2 kilometres/2.6 miles
Grant Connell Tennis Centre

This indoor facility is an official Tennis Canada high-performance tennis development centre. It features six indoor tennis courts, an observation lounge and change rooms with showers. You may reserve a court by calling 1 (604) 822-2505.

Details
Estimated travel time 10 minutes' drive
Estimated distance from Hotel 8.1 kilometres/5 miles