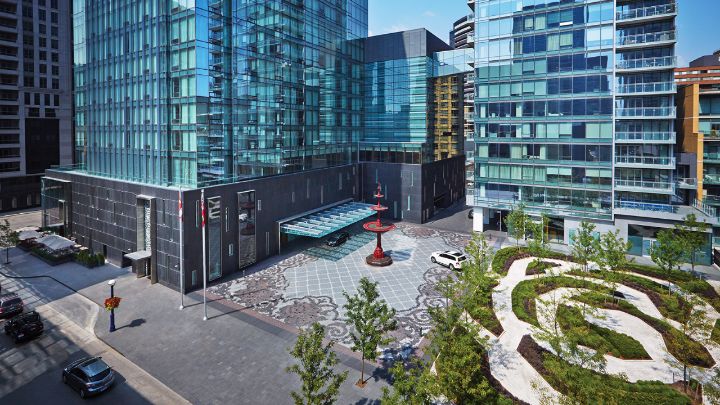 Four Seasons Hotel Toronto is in the hub of Yorkville, in the heart of downtown Toronto. Yorkville's tree-lined streets and charming Victorian façades are alive with tony boutiques, galleries, cafés and restaurants. Just around the corner from the Hotel, Bloor Street – Canada's answer to Rodeo Drive or Faubourg St-Honoré – offers high-end fashion stores, including famed Holt Renfrew, Burberry, Prada, Chanel, 
Escada, Louis Vuitton, Hermes, Cartier, and Tiffany & Co. Four Seasons offers discreet breathing space mere blocks from the city's business district, which is just down Bay Street.
Public holidays
New Year's Day
January 1, 2016
Family Day
February 15, 2016
Good Friday

March 25, 2016
Easter Monday
March 28, 2016
Victoria Day
May 23, 2016
Canada Day
July 1, 2016
Civic Holiday

August 1, 2016
Labour Day
September 5, 2016
Thanksgiving Day
October 10, 2016

Christmas Day
December 25, 2016
Boxing Day

December 26, 2016
*Holidays falling on Saturday or Sunday are taken on the following Monday.
Seasonal highlights
April
Images Festival, Toronto Spring Classic Car Auction, the Travel and Leisure Show


May
Contact Photography Festival, Victoria Day, Doors Open Toronto (featuring Toronto's historical and architecturally interesting buildings), Milk International Children's Festival


June
Downtown Jazz Festival, North American Cup, North by Northeast Music Festival, Queen's Plate, Toronto International Festival Caravan, Toronto Pride Festival, Toronto International Dragon Boat Race Festival


July
Canada Day celebrations (fireworks and festivities at the Harbourfront), Toronto Street Festival, Toronto Outdoor Art Exhibition, Molson Indy, Beaches International Jazz Festival, Canadian International Tennis Championships, the Fringe (Toronto's Theatre Festival), Fringe Festival of Independent Dance Artists, Great Canadian Blues Festival, BBQ Festival


August
Taste of the Danforth (offering fantastic Greek cuisine), Toronto's Festival of Beer, Summerworks Theatre Festival, The Canadian National Exhibition (CNE), Caribana Parade (North America's largest cultural festival, featuring Caribbean culture)


September
Toronto International Film Festival


November
Annual Santa Claus Parade, Hockey and Basketball seasons begin, National Ballet of Canada season begins


December
First Night Toronto Celebration of the Arts
Quick Reference
Time zone
GMT -5 hours
Eastern Standard Time
Language(s) spoken
English
Electrical system
Local voltage is 110 to 120 volts AC. Adapters available; please request through the Concierge.
Shopping hours
Boutiques in Yorkville and surrounding Bloor Street area:

Monday to Wednesday 10:00 am to 6:00 pm
Thursday and Friday 10:00 am to 9:00 pm
Saturday 10:00 am to 6:00 pm
Sunday 12:00 pm to 5:00 pm
Most stores in downtown Toronto:

Monday to Friday 10:00 am to 9:00 pm

Saturday 10:00 am to 6:00 pm

Sunday 12:00 noon to 5:00 pm
Working hours
Monday to Friday 9:00 am to 5:00 pm

Time and distance to city centre
The Hotel is conveniently located in downtown Toronto.