The Four Seasons Bed
Now you can purchase a Four Seasons bed. Explore the options on the Retail page, or check out the Signature Sleep experience.
Tokyo by Four Seasons
Cool & Fun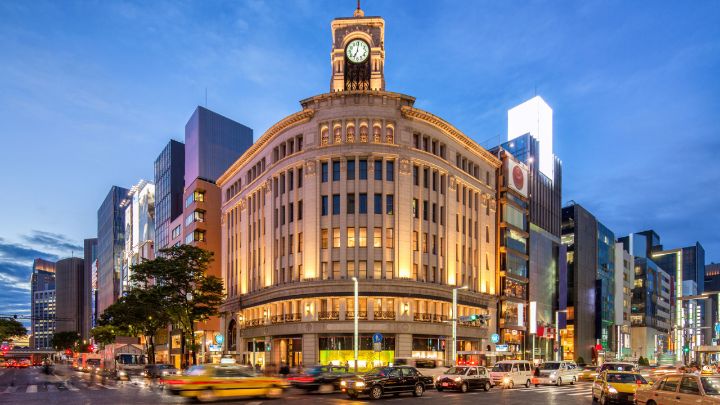 Kitchenware Shopping on Kappabashi Street

Famed Kappabashi street and its surroundings are a magnet for professional and budding chefs alike on the hunt for everything needed for cooking. At the top of their list features an unparalleled selection of knives (both Japanese and internationally made), but also ceramics, Japanese lacquer tableware, an unimaginable array of cookery and specialized items, replica foods and so much more. It's a shopping mecca which also means a great place to grab a few souvenirs and if not; it will at least offer further discovery into the Japanese world of food and great people watching.
Make your own food display models

The perfect complement to an excursion on Kappabashi Street is a class at one of the specialized studios that have been handcrafting food display models and perfecting the art for centuries. Your one-hour lesson will start with a demonstration by one of their experts allowing you to admire the technique and skillfulness that goes into each piece. Next, you will execute your very own model with the helpful guidance of staff. On your way out, be sure to stop by the boutique where you can purchase a wide array of fake food items or even "take away" kits if you want to endeavor the process again upon your return home.
Kidzania

Looking for a fun, entertaining and educational excursion sure to please little ones and parents too? Kidzania is an international chain of themed environments welcoming children ages 4 to 14 with a very popular outpost in the city. Offering an educationally-driven environment, each child is immersed in the Kidzania "city-world" and experiences living autonomously during their time spent there. Children are encouraged to visit various stations where they experience first-hand the workings of real life but in a fashion that is approachable and fun. For more information, please visit their website.

Entrance to Kidzania can be high-demand and therefore limited on occasion. Also to note, dedicated English activities are arranged on specific days, weekly. If you are interested in experiencing Kidzania, please contact our concierge whom will be able to provide assistance and make arrangements as necessary.
Miraikan, The National Museum of Emerging Science and Innovation

Featuring participation-based permanent and temporary exhibitions, Miraikan offers an educative yet stimulating discovery of everything science and innovation in Japan. Although appealing to all age groups, the museum is especially popular with teens and makes for worthwhile time spent among those seeking a dynamic and interactive experience. In addition to the exhibitions, look forward to a trial of the UNI-CUB – a balance controlled robot vehicle – and don't miss the ASIMO robot demonstrations held at scheduled times throughout the day. The Dome Theatre is also a favorite!

More information is available through our concierge or at the Miraikan website.
Shopping in Ginza with your personal consultant

Tokyo has undeniable style and Ginza, the city's most celebrated shopping district located close to the Hotel, is the best place for a healthy dose of retail therapy. For the ultimate indulgence, make your shopping excursion one to remember with the assistance of a personal shopper. Start with a one-on-one consultation ahead of your appointment to identify any special needs or style preferences. Then sit back and revel in the moment while options are presented to you, each suited to your taste and aesthetics. A personal shopping experience in Ginza is the best way to take home some irresistible items sure to evoke memories beyond your time in the Japanese capital.

Bookings: Must be made 24 hours in advance and subject to availability. For more details, please inquire with the concierge.
An introduction to the world of Japanese skincare

From the prestigious and technologically-advanced potions to "tried-and-true" household essentials inexpensively snatched at drugstores, Japan has perfected the art of skincare and cosmetics in its very own way. With such an array of options to choose from and seemingly unfamiliar products, let the Four Seasons beauty concierge act as your invaluable guide to making sense of it all and let them provide recommendations on the right places to go hunting.

Bookings: Must be made one week in advance and subject to availability. For more details, please inquire with the concierge.
Discover the museums and art scene of Tokyo

As a city built on a profound respect for its past and traditions yet immersed in technology and displaying a definitive modern edge, it's only natural that Tokyo is replete with a thriving art scene and museums. Whilst the list we present is in no way exhaustive, here are our top recommendations:

Should you be interested in a specific genre, please do let us know and our concierge team will make appropriate recommendations suited to your taste.

NEZU MUSEUM

An art and design fanatics favorite, NEZU Museum is famed for its stunning setting and architecture by Kengo Kuma as much as it is for the private collection of pre-modern Japanese and East Asian art of over 7,400 works that were passionately acquired by its originator, businessman Nezu Kaichiro. The impressive collection includes seven National Treasures, 87 Important Cultural Properties, and 94 Important Art Objects.

THE NATIONAL MUSEUM OF WESTERN ART

Consisting predominantly of the Matsuka Collection, highlights from the permanent works include paintings from pre-18th century old masters, such as Veroneze and Rubens; artworks from 20th century French Modern icons including Picasso and Miro and sculptures by Rodin and Maillol. Inquire with our concierge for noteworthy visiting exhibitions currently showing.

YAMATANE MUSEUM OF ART

An intimate gallery displaying Nihonga, ancient Japanese-style paintings, from the impressive private collection of Taneji Yamazaki. Due to the delicate nature of the artworks, the museum curates five to six exhibitions throughout the year displaying only a selection of pieces pulled from the entire collection, meaning the art on display is ever changing.
Informal Art Galleries

If you are looking to take in the aesthetics and the vibe of the moment, a visit to any of these galleries should do the trick.

Okubo Building

With its origin as a 1930s luxury flat complex for the rich, Okubo remains one of the oldest buildings in Tokyo. Don't be thrown off by the aged façade, as it now houses 20 to 50 galleries and artist studios. The manually-operated antique elevator is a nice addition to the experience of connecting with up-and-coming artists on their creations.

National Art Center Tokyo

Presenting high-calibre visiting exhibitions only, this museum is very popular for featuring some of the world's most stimulating pieces of art. Located in Rappongi, the building's airiness recalls the fluid nature of its temporary contents.

Watari Museum of Contemporary Art

Contemporary visual arts take centre stage at this little museum built in 1990 and designed by Mario Botta. Don't miss the superb ground floor gift shop or the art book shop which sets up every Sundays only.

Shiseido Gallery

Located in the basement of the Shiseido building in nearby Ginza, the cavernous exhibition space offers a dynamic diversion and contrast from the retail riches that permeate the area.

Ginza Graphic Gallery (GGG)

Also located in nearby Ginza, the small space focuses on everything graphic design. With Japan having a long tradition and track record for being at the forefront of the discipline worldwide it's a definite must for anyone who has an interest in the field.