Mei Ume offers traditional Chinese and Japanese dishes with a modern approach. Showcasing two of the greatest Asian cuisines under one roof, the restaurant presents a colourful selection of sushi, sashimi and Chinese main course dishes.
HOURS
Lunch

MONDAY – SATURDAY

12:00 NOON – 2:00 PM

DINNER

MONDAY – SATURDAY

6:00 PM – 10:00 PM

BAR

MONDAY – SATURDAY

12:00 NOON – 3:30 PM; 5:30 PM – 11:30 PM

Closed all day Sunday
Signature Dishes
Szechuan crispy king prawns with chilli and peppercorn

Served according to tradition across two courses with pancakes, leeks and cucumber, followed by a crispy duck salad with cherry tomatoes and tonkatsu dressing

Truffle karashi and parmesan flake
EVENTS
EVERY SATURDAY, 12:00 noon – 2:15 pm

Saturday lunch

Available every Saturday afternoon, the set lunch menu is created by Mei Ume Head chef Tony Truong and Sushi Chef Kyle Lee and showcases a delicious array of our signature dishes. Your weekend lunch experience will include miso soup, your choice of two starters from the set menu, sushi, traditional Chinese appetizers and a main course of your choice accompanied with rice. Finish your meal with a refreshing scoop of homemade ice cream or sorbet.
The Team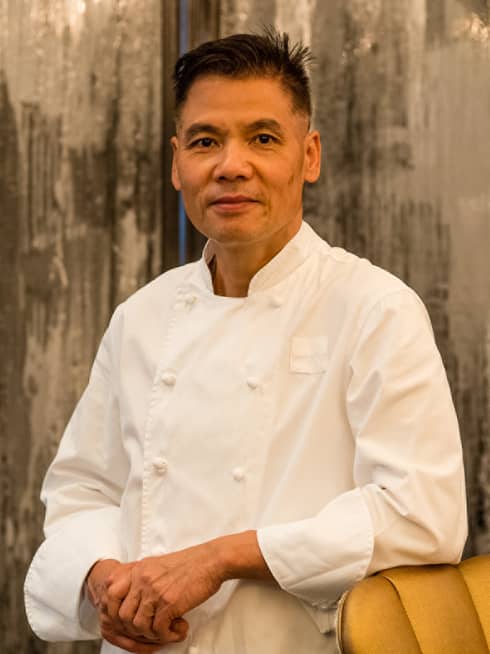 Tony Truong
Head Chef
Originally from Vietnam, Tony arrived in the UK almost 30 years ago. He joined Mei Ume as Head Chef with the aim of putting his stamp on the new restaurant, showcasing his traditional Cantonese style of cooking learned through years working in Guangzhou. Away from the kitchen, Tony is either at the gym keeping fit or exploring the world with his wife. He hopes his three children will give him grandchildren soon.