Claim a seat by the double-sided fireplace in our library-style bar named for Tsar Alexander I. Enjoy seasonal cocktails prepared by Assistant Bar Manager Taras Zavalnyuk and inspired by St. Petersburg urban legends.
HOURS
Monday — Saturday

5:30 pm — 12:00 midnight
Signature Cocktails
KORYUSHKA

Beluga Noble Vodka, Elderflower, Honey, Lime, Cucumber, Coconut Oil

PINE & APPLE

Sipsmith Gin, Pine Cones, Rosemary, Apple, Cinnamon, Lemon

RED OCTOBER

Brugal 1888 Rum, Cognac, Pomegranate, Byrrh

OSTOROJNO SOSULI

Angostura Reserva Rum, White Cocoa, Orange, Peppermint
The Team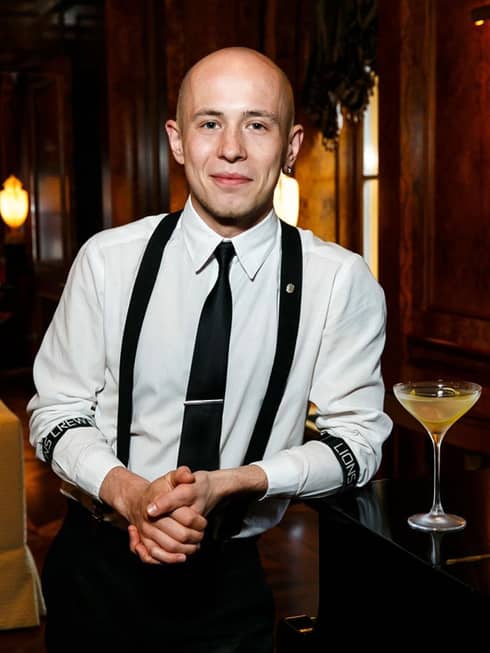 Taras Zavalnyuk
Assistant Bar Manager
Zavalnyuk's culinary career began at age 15, and 13 years later, he continues to give his undivided dedication and passion to the art and magic of bartending. With deep respect to the cocktail alchemy, he prefers to create an individual drink following the guest's taste and mood. A familiar face in the local and international bar community, Zavalnyuk has won multiple prestigious awards. At Four Seasons Hotel Lion Palace, he is driving, leading and developing Xander Bar – a place with a legendary past and present.
"My first focus is always on the smallest details: glass temperature, the flawless technique, the uniqueness of flavours. When I feel confident about all the nuances, the best part begins. With my cocktails, I tell people stories about our culture and history, while introducing traditions and rituals. In Xander Bar, we do not just do drinks, we share emotions and memories."