Destination
Directions & Maps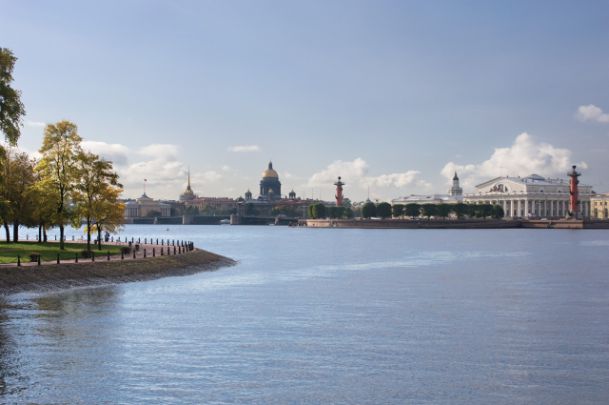 Pulkovo International Airport (LED) has two terminals and offers both domestic and international flights. The airport serves most major airlines, including Air Baltic, Air Berlin, Air France, Air Malta, Alitalia, Austrian Airlines, British Airways, Emirates, Finnair, KLM, Korean Airlines, Lufthansa and SAS.

Limousine service can be arranged by the Hotel for an additional charge.

| | |
| --- | --- |
| Travel time | 45–60 minutes |
| Distance | 15.3 kilometres/9.5 miles |
Instructions
From Pulkovo Airport, turn left onto Pulkovskoe Shosse.

At the roundabout, take Exit 3d onto Moskovski Avenue.


Cross Moskovskie Vorota Square and continue on Moskovski Avenue.

Cross Obvodny Channel and Fontanka River.

Cross Sadovaya Street.

Proceed onto Grivtsova (a side street).

Cross Griboedova Channel.

Turn left onto the Moika River Embankment.

After 100 metres, turn right onto Siniy Bridge and follow it to St. Isaac's Square.

At the square, turn right onto Voznesensky Prospect.


Cross the first junction to arrive at the Hotel.
Quick Reference
Time and distance to city centre
5-minute drive/3 kilometres/1.8 miles

Time and distance to shopping
3-minute drive/1.3 kilometres/0.6 miles

Time and distance to financial district
2-minute drive/1 kilometre/0.4 miles