Destination
Summer Activities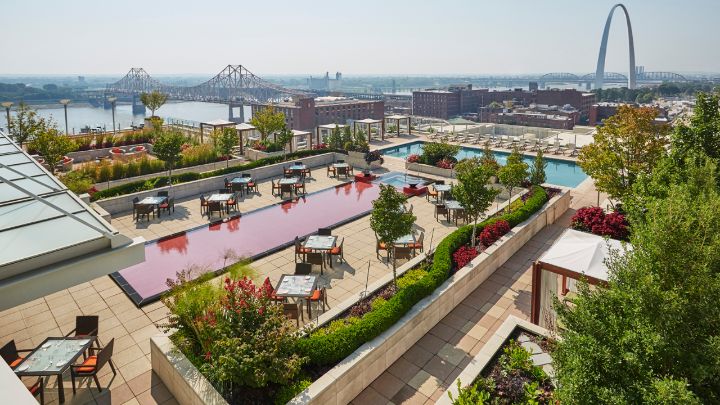 As the weather warms up, Four Seasons Hotel St. Louis transforms into a true urban oasis, with Resort-inspired activities for couples and families alike.
Pizza-Making

Enjoy back-of-house pizza-making with our talented culinary team. Our young chefs will learn how to roll their own dough, select their favourite toppings and cook their pie in our brick pizza oven.

Pizza-making is available Monday through Saturday from 3:00 pm to 5:00 pm, by reservation only. Contact Cielo at +1 (314) 881-2105 for details.
Gelato-Making

Enjoy rare access to our pastry kitchen for authentic Italian gelato-making with our pastry team. Children will learn tips on making the perfect gelato and enjoy selecting their favourite flavours.

Gelato-making is available from 3:00 pm to 5:00 pm, Monday through Saturday. Contact Cielo at +1 (314) 881-2105 for details.
Sunday Brunch

Upgrade your Sunday and enjoy an incredible brunch buffet that features one of the best views in town.
Warm donuts made to order, fresh juices, a raw seafood bar and a sliders station are some of the highlights.

Price:

USD 69 per person for buffet with bottomless bloody marys and mimosas
USD 45 per person for buffet only
USD 35 per person for beverages only
USD 25 for children aged 5 - 12

Reservations required. Call 314-881-5759

Complimentary valet parking
Picnic in the Park

Dine with ease as Four Seasons prepares a gourmet basket to-go. Enjoy freshly baked bread, local cheese, fresh fruit and a house-made charcuterie board. Select a nice bottle of red, white or sangria to further enhance your dining experience.

USD 85 for two, USD 45 for one, USD 20 per child
Orders can be made by calling 314-881-5759.
60 minutes' notice is required.
Available daily from 10:00 am to 4:00 pm
Memorial Day Grill + Chill

Summer in St. Louis just got sweeter with a Memorial Day weekend celebration on the Sky Terrace. On Sunday, May 27, from 5:00 pm to 10:00 pm, enjoy a raw seafood bar, whole roasted pig, ceviche and multiple grill stations. Stay cool with made-to-order mojitos, daiquiris and St. Louis craft beers. A liquid nitrogen gelato bar will also keep guests cool as they move their feet and jive to live music from a DJ. The evening will conclude with a fireworks show under the stars.

USD 65 per person, USD 35 for beverages, USD 25 for children aged 5–12. Call (314) 881-5759 for reservations.
Sky Terrace Sunrise Yoga

Start your Sunday off on the right foot! Instructor Debby Siegel leads this all-levels class, which emphasizes breath, movement, strength and conscious living yoga. Make the most of your morning as we build heat while balancing the body, mind and spirit. The class will conclude with a healthy snack from Cielo Restaurant to refuel and energize.

Available every Sunday on the Sky Terrace from 8:30 am to 9:30 am. Beginning on June 16.
USD 18 per guest, plus tax.

Reservations can be made by calling (314) 881-5759.