Singapore
Top 10 Couples' Must Do's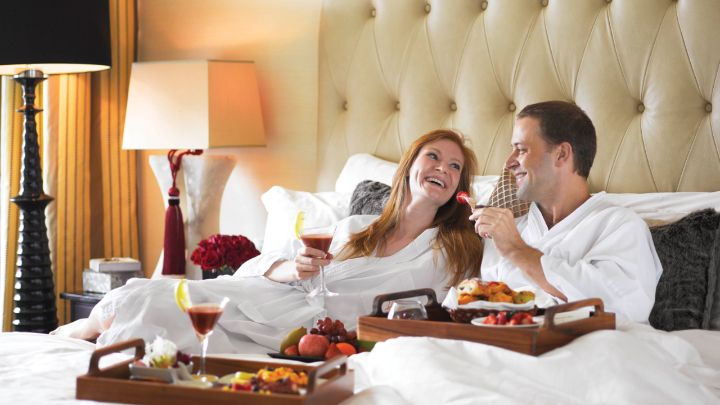 Let your love blossom in our "City in a Garden." We've created a list of romantic things to do with your sweetheart in Singapore.

1. Picnic for two at Singapore Botanic Gardens

Let us plan the details for your romantic evening together at a serene hideaway spot in the Singapore Botanic Gardens. Lay out the picnic mat and indulge each other with sweet nothings and delectable treats specially prepared by our culinary team. The sunset makes the perfect backdrop for your date as you savour a bubbly toast!
2. Supercars at The Ultimate Drive

For an unforgettable weekend drive in the city, couples with a need for speed will want to take on a supercar at the Ultimate Drive. Experience the thrill of driving the Rossa Corsa red Ferrari or the eye-catching Gallo Midas yellow Lamborghini Gallardo Spyder around an official F1 course.

3. Dinner for Two on a Sunset Cruise

Admire the glorious sunset while you cruise past the islands of Singapore with your loved one.
4. Sundowners

As night falls, Singapore offers a vibrant array of nightlife and entertainment. Raise your cocktail glasses to each other as you enjoy a night out soaking up the city's sights and sounds.

5. Date night at the shows

Dress up for a much-deserved date night, then take a front-row seat and find yourselves blown away by the city's spectacular entertainment.
6. Dining with the Animals at the Singapore Zoo

Have you ever had breakfast with an orang-utan? The Singapore Zoo is the only place in the world where you can have breakfast with not one but an entire family of orang-utans. Talk about a unique breakfast experience!
7. TreeTop Walk

For nature-loving couples, we suggest a slow climb on the TreeTop Walk. Get close to forest birds, colugos (flying lemurs) and long-tailed macaques (monkeys), and enjoy a panoramic view of Upper Peirce Reservoir. This is a great place to enjoy some quiet time spent appreciating nature and each other's company.

8. Dinner with a view

Make it a night to remember with a romantic dinner at one of the city's rooftop restaurants. Savour a delightful dinner and be captivated by breathtaking views of the city alongside your special someone.
9. Visit the art galleries

Our concierge team can provide you with an art lover's guide to Singapore. From classical to contemporary art, discover the best of Singapore's galleries with your sweetheart.

10. Stay–In Movie Night

Visit our Concierge to pick out a movie from our extensive list of movie titles available then nestle into your private sanctuary and indulge, reconnect and reignite your romance.
Singapore

Breakfast and More – 12% Off

Enjoy a staycation in our lush sanctuary, including daily breakfast, when you stay two or more nights.

Check Rates & Availability

Singapore

Healthcare Heroes

We're celebrating healthcare workers with a getaway designed to help them relax and recharge. Enjoy daily breakfast, signature cocktails, and more.

Call +65 6831 7305 for assistance in booking this package. Learn more

Singapore

Take Your Time and Experience More

Enjoy 30% of your room rate as a daily credit towards Hotel dining and spa treatments.

Check Rates & Availability

Singapore

Suite Gourmet Sojourn

Stay in a suite and enjoy a six-course dinner and signature cocktails for five as well as daily breakfast for two.

Call +65 6831 7305 for assistance in booking this package. Learn more

Singapore

Daycation Escape

Make time for yourself with a daycation. Enjoy day use of a guest room or suite, along with parking and access to the Hotel's services and amenities.

Call +65 6831 7305 for assistance in booking this package. Learn more

Singapore

Make Time to Connect – 20% Off

Enjoy 20% off our Room Rate with the ability to move your stay date, at no charge, should your plans change. Book by December 31, 2020.

Check Rates & Availability
We're sorry, Singapore does not support online booking at this time. Please call (65) 6734-1110 for assistance.