Choose an intimate and sophisticated site minutes from Palo Alto for your special day. Imagine your wedding tailored exclusively to your expectations. Enjoy Four Seasons cuisine complemented by flawless service designed to make every moment perfect. Every detail contributes to unforgettable weddings at this enchanting venue offering the Bay Area's most stylish ballroom, luxurious bridal quarters and pampering in the spa's special couples' suite.

Sophisticated Charm
Elegance meets relaxed California charm – offering a unique and memorable wedding site, just minutes from Stanford University.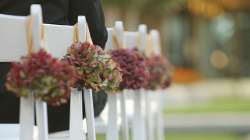 Natural Beauty
You'll never forget our beautifully landscaped outdoor locations, overlooking sparkling fountains or lush tropical gardens.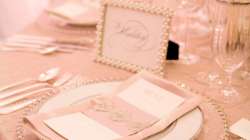 Vintage Glamour
Our versatile indoor venues impress with sleek, modernist styling, and a glamour that recalls the elegance of the silver screen.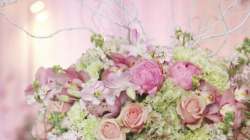 Exquisite Service
Innovative catering and personalized Four Seasons service create an impeccable reception and memories that last a lifetime, with all the special touches to make your big day perfect.
Real Wedding
A Palo Alto Wedding With
a Ballroom in Bloom
Flowers woven throughout every detail set a romantic tone for Emmeline and Paul's reception at Four Seasons Hotel Silicon Valley at East Palo Alto.