My Four Seasons
Giant Squirrels, Masked Butterflies, and Rusty Parrots:
Fishspotting in The Red Sea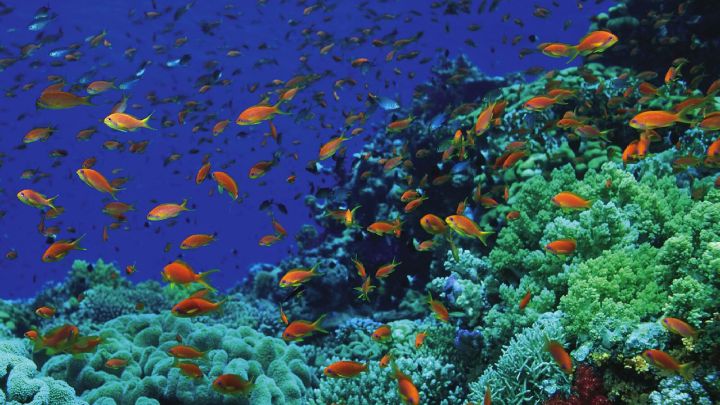 Those who've gone snorkelling in the Red Sea will tell you it's a bit like being on an underwater roller coaster: an exhilarating rush to the senses, with colourful plant and animal life coming at you from all sides.

While the coral is beautiful and the shells are exquisite, it's the fish who are the real stars. The Red Sea is home to thousands of species, its diversity helped along by gentle, regular currents and warm, stable temperatures.

Here are a few of our favourite (and most uniquely named) types:

Giant Squirrelfish
Also known as the sabre squirrelfish, it feeds on crabs and only comes out at night. Its red colour makes it easy for humans to spot, but not so for its scaly friends. This is because long red light wavelengths don't penetrate water as well as shorter, blue and ultraviolet light wavelengths. Put more simply, most fish are slightly colour-blind and the squirrelfish's colour gives it a unique advantage against predators.

Masked Butterfly Fish
This fish is one of the most beautiful and recognizable in the Red Sea. It has a blue spot (or "mask") near its eye and short, bristle-like teeth. They eat mostly coral polyps (sounds delicious) and sponges and are active during the day, relaxing near rocks and coral at night. If there's such a thing as a fish being romantic, look no further than the masked butterfly. It will find and stay with a mate for years, sometimes until the end of its life.

Rusty Parrotfish
Its teeth are the reason for this colourful fish's name. They're arranged in a hinged formation that looks somewhat like a bird's beak. Like parrots, parrotfish are prolific chewers, and have been known to bite through the hardest of coral, though they prefer algae. This fish congregate in groups of females with a single male. However, if the male disappears, a female parrotfish may change sex and adopt the role of leader.

To see these fish and others, you'll want to go on one of Four Seasons Resort Sharm El Sheikh's snorkelling, scuba or diving expeditions. Most leave from the Resort's main beach and are organized by the Sinai Blues Dive Centre. No need to fear if you're a first-timer. You'll be lead by licensed instructors and multilingual certified divers. Rental equipment and lessons are available, so no matter level of experience you have you'll want to give it try. The water is warm and the fish can't wait to make your acquaintance.