Pronounced "chin," qin means to "affect deeply." Qin The Spa is a contemporary urban sanctuary in Shanghai's Puxi district. In our nine treatment rooms, including two couple's rooms, our skilled spa therapists deliver soothing massages, a range of salon services, treatments incorporating traditional Chinese medicine, and much more.

Hours
| | |
| --- | --- |
| Every day | 10:00 am – 11:00 pm |
Qin The Spa
Retreat from the bustling city into this calming enclave offering discreet, personalized service. Choose from a menu of over 37 spa treatments and beauty therapies inspired by the ancient rites and healing methods of traditional Chinese medicine. Qin The Spa also provides a private manicure and pedicure room, a consultation space for acupuncture and a separate area for foot reflexology – a staple of Chinese wellness practices – as well as separate men's and women's saunas, steam rooms, hot whirlpools and a hair salon on the fourth floor.
The main entrance, located on the sixth floor of the Hotel, welcomes you with its wall-to-wall, floor-to-ceiling lacquered door of aged elm wood, reminiscent of the enormous imperial palace doors common in the early Chinese dynasties. Within is a quiet, stylish haven of textured black granite flooring, contemporary Chinese furniture and beautiful objects distinctive to the destination. Each treatment room takes on a unique character, distinguished by richly ornate interiors and trigrams based on the I Ching – eight symbols arranged in a hexagonal shape, which signify the universe's eight defining phenomena: sky, earth, thunder, wind, water (moon), fire (sun), mountain and lake.
Qin The Spa encompasses 762 square metres (8,200 square feet), and the retail area offers specially blended Qin The Spa products. These products are designed to pair with each of the spa's signature therapies. Products include body scrub, face and body mist, body balm, essential oils and skin and beauty care. All products are made using all-natural fruit and herbs, with no artificial colourings.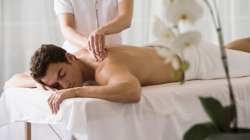 GENTS
Exclusively for men are specifically tailored to your skin type, each one designed specifically to ensure you experience the best physical and therapeutic benefits depending on your needs.
BODY & BATHING
Offering relaxing and cleansing vath and bathing options like the Skin Hydrator body wrap, the Aroma bath and the Lemongrass and Lime Body Scrub, these treatments will leave you feeling fresh and new.
Note: Children 12 years of age and older are welcome to experience massage and facial treatments. Children between 12 and 17 must be accompanied by an adult unless signed parental consent is given in person at the Spa.