Divided by the mighty Huangpu River, Shanghai is a city of two halves. On its western bank runs the elegant early 20th-century esplanade known as the Bund, now home to upscale shops and restaurants. On the eastern bank lies Pudong, a business district full of eye-catching skyscrapers. And on either side of the river, the streets of Shanghai offer seamless transitions between ancient traditions and futuristic trends. To help navigate your next trip, we asked Mr. Billy Yin, Chief Concierge at Four Seasons Hotel Shanghai, to share his tips for seeing the very best of Shanghai.
Dance the night away
At M1nt Club enjoy incomparable views of Pudong from its 24th-floor location in a building just off the Bund. Another highlight of the popular night spot are the 15 black- and white-tip sharks that greet you from a 17-metre (56-foot) mirrored aquarium.
Cutting-edge transportation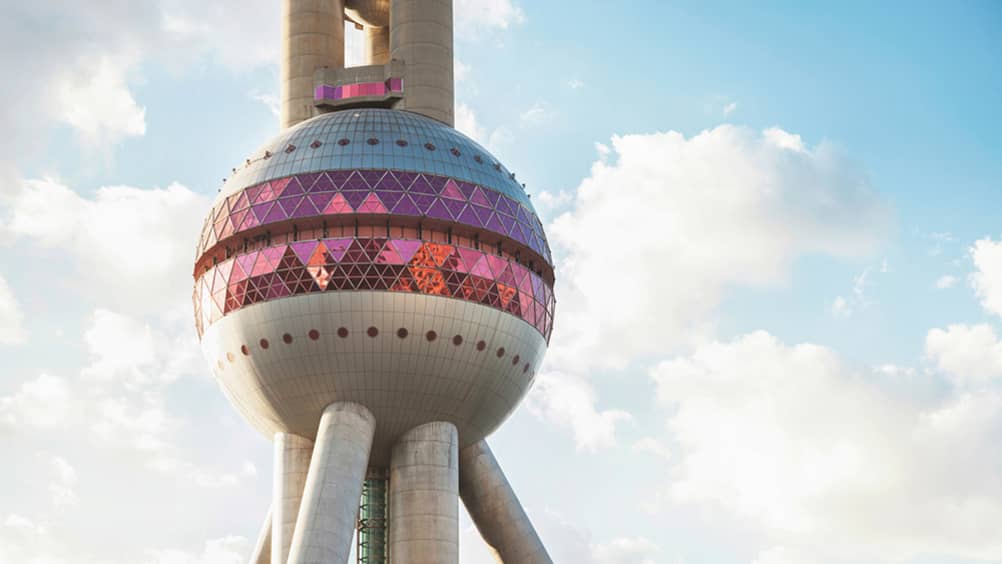 Among the fastest, and certainly most surreal, ways to reach Pudong is via the Bund Sightseeing Tunnel that runs beneath the Huangpu River. This 647-metre (2,122-foot) rail link carries a procession of glass capsule-like carriages that zip through an underwater light show. Once you reach the business district, landmarks include the Oriental Pearl Tower and the 101-storey, 492-metre-tall (1,614-foot-tall) Shanghai World Financial Center, which has observation platforms on the 94th, 97th and 100th floors.
A peaceful retreat
A scenic 30-minute walk from the Hotel, Jing'an Park is a tiny pocket of greenery among the high-rises. Early morning is the best time to visit: Soon after daybreak, many people gather to practise tai chi. Later in the day, you might witness ballroom dancing, fan dancing and even tap dancing.
Shopping textiles
Photography courtesy Suzhou Cobblers
For a custom-tailored suit, try the Shanghai South Bund Fabric Market, which sells an astounding range of competitively priced silks, cottons and worsted wools. Only a 20-minute drive from the Hotel, the market is also home to tailors and seamstresses offering quality workmanship. For footwear, Suzhou Cobblers is a small but extraordinary shop near the Bund waterfront that makes exquisitely beautiful, hand-sewn silk slippers. It's also worth visiting Shokay in the Jing'an district; the brand's high-end scarves, gloves, hats and clothes are made with yarn spun from wool directly sourced from Tibetan yak herders.
Where to eat in Shanghai
Shanghai is one of the world's greatest gourmet cities, but when in China, it would be a shame not to eat Chinese food. Shanghai cuisine, also known as Hu Cai, tends to feature more soy sauce than Cantonese or Sichuan food. Try it at YongFoo Élite, a fine-dining establishment in what was once the British Consulate, and Fu 1088, a 1930s mansion in the French Concession.
Photography courtesy Four Seasons Hotels and Resorts
For traditional Shanghainese and Cantonese fare, try Si Ji Xuan at the Hotel, which offers great dim sum – including famous Shanghai dumplings – at lunchtime and local specialties such as fresh codfish with tangy soy sauce for dinner. Sample cuisine from China's Yunnan province (as well as Myanmar and Tibet) at Lost Heaven, which occupies an elegant 1920s villa in the French Concession. Its food echoes Southeast Asian cuisine with ingredients such as lemon grass and coconut milk, though dishes also incorporate exotic mushrooms, smoked meats, cheeses and potatoes. There's a second branch on the Bund.
Authentic china
Photography Sergio Azenha / Alamy Stock Photo
Visit the Jingdezhen Porcelain Artware shop, where you can pick up authentic handmade porcelain china pieces from the Jingdezhen region, which has been producing exquisite vases, jewellery boxes and tableware for centuries. For traditional styles, check out the gift shop at the Shanghai Museum. Spin Ceramics, near Fumin Lu, carries a wonderful range of more contemporary pieces. Savvy travellers also explore Taikang Lu in the French Concession, a warren of alleys containing more than 50 craft shops as well as galleries and outdoor cafés.
Art, ancient and modern
Locally known as M50, the Moganshan Lu development of studios and galleries – in what were formerly textile mills and warehouses – continues to grow. Don't miss the excellent contemporary collection found at Art Scene Warehouse. There is also a burgeoning generation of philanthropically funded non-profit spaces, including The Museum of Contemporary Art (better known as MOCA). This modernist crystal palace is located in People's Park. For traditional Chinese art – including ancient ceramics, painting, calligraphy, sculpture, and Ming and Qing furniture – visit the Shanghai Museum in the heart of People's Square.
Market forces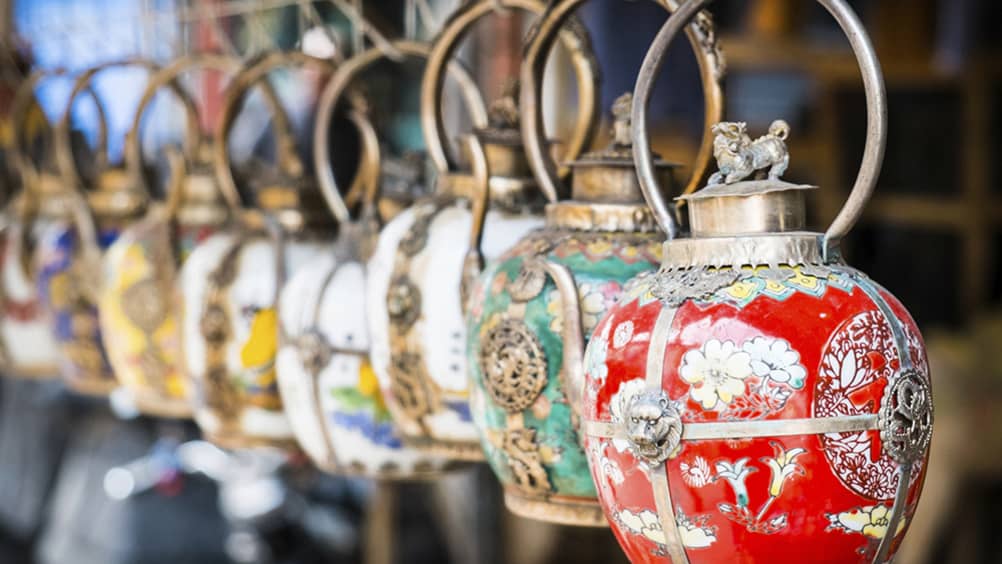 Markets abound in Shanghai, but none is more atmospheric than Dongtai Lu, a street where stallholders sell bric-a-brac – old mah-jong sets, lacquered jewellery boxes, porcelain, Mao memorabilia, birdcages, and antique posters and advertisements – in front of ramshackle two-storey houses. Not everything here is as old as it seems, but the atmosphere is unbeatable: Stallholders haggle over prices with passers-by while cyclists ride through the crowded alleys.
Tea time
The Huxinting Tea House, which has been immortalized on willow-pattern china, can be found in the picturesque Yuyuan Garden. Built during the Ming dynasty, it emerged as a tea house in the mid-19th century, and it remains an excellent place to sample top-quality Chinese teas. It can become very crowded, so it's best to visit early or late in the day. Don't miss the adjoining Yuyuan Garden Bazaar, where you'll find a wide range of pearls and jade.
Recharge at the Spa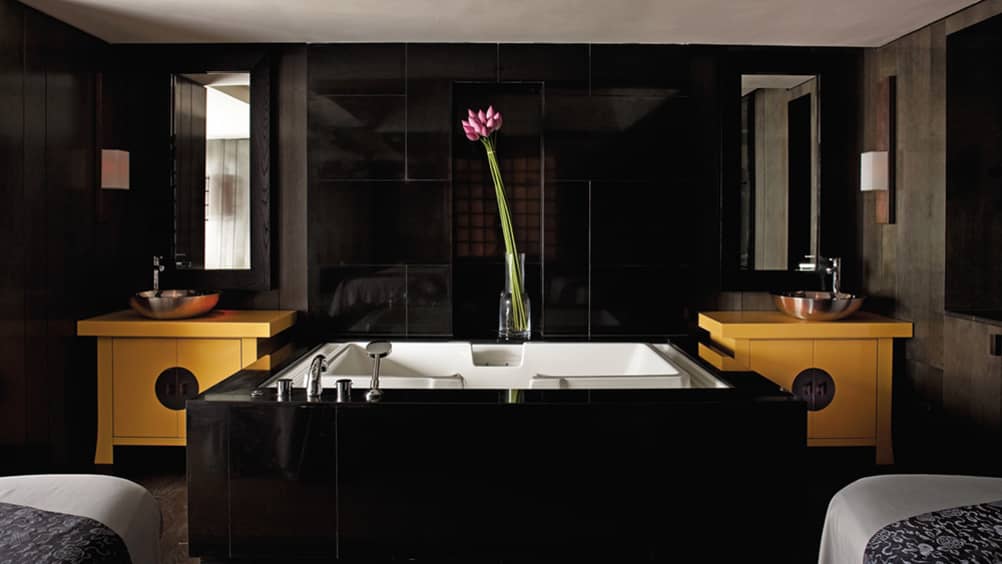 Photography courtesy Four Seasons Hotels and Resorts
Retreat from the city's bustling urban scene to the quiet sanctuary of Qin The Spa at the Hotel. Choose from more than 37 different treatments, all of which are inspired by traditional Chinese medicines and techniques. The "Chi" Balancing Massage begins with breathing exercises and gentle stretching movements to loosen your mind and body. Then you are massaged with the ancient techniques of Tui Na leaving you refreshed and ready to take on another exciting day in Shanghai.
Four Seasons Hotel Shanghai