My Four Seasons
To Build a Better Treehouse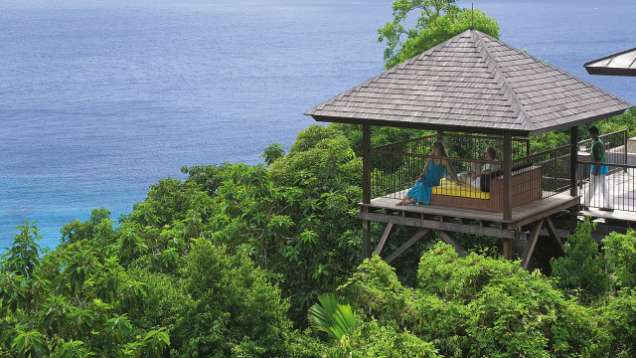 With its roof made of bark and floor comprised of tree roots, the dwelling depicted in The Swiss Family Robinson is a far cry from the Four Seasons Resort Seychelles' 67 luxe treetop villas. However, the two share certain commonalities, both in their remote locations and means of construction.

Just as the clever fictional family of castaways made use of every nearby resource to build their island home, so too are the Four Seasons Resort Seychelles's villas crafted in large part from locally sourced materials, including timber, brick and granite. The goal in the building of the Four Seasons Resort Seychelles's villas was to complement – but not compete – with their natural setting. Wherever possible, efforts were made to preserve surrounding trees. Those that were cut down saw their lumber repurposed into other parts of the resort, such as the restaurants.

Villa interiors draw their inspiration from the French Creole style: hand-planed wooden floors, white-washed timber slat walls, and a carefully curated collection of found objects, all offset by a wraparound verandah providing an unencumbered view of tropical greenery and azure waters. Waking up, one can easily imagine themselves doing as the Swiss Family Robinson did, and stepping out of bed to watch, as author Wyss put it, "the lovely hues of sunrise adorn the horizon."

Not only are the soaring hillside villas beautiful, they also provide travellers with the sort of "Lost World" feeling of blissful isolation and untouched nature similar to the environs described in the Wyss novel. This kind of privacy frees up guests to enjoy nearly any activity, whether it's exploring the white-sand beaches or enjoying an outdoor soak in their own private infinity pool. It's the treehouse with a modern-day twist and quite arguably the best of both worlds.