My Four Seasons
A Superb Octopus Salad, Plus a Royal Pedigree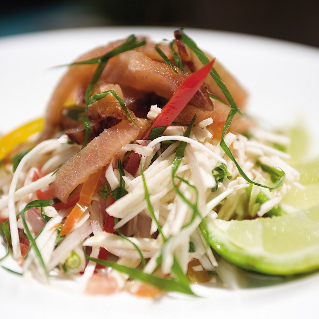 Four Seasons Chef Commis I Sherla Mathurin loves her job, where she does everything from cooking up signature dishes and mentoring new hotel school graduates to supervising guests as they try their hand at one of the Resort's most popular classes – Creole cooking. "It's a great way to be openly creative, but also to interact with the guests in a fun environment and gain further experience of different nationalities," says Mathurin.

It wasn't long ago that she was on a very different career path, one that involved cooking for the Royal Family in Bahrain. "It was an incredible and exciting experience," says Mathurin, who spent much of her time preparing her Highness Sheika Noura bin effa al khalifa's favourite Creole dishes, like fish soup and chicken curry.

Cooking expertise alone hasn't been enough to get Mathurin to where she is today. Those who know her credit her positive attitude as key to her impressive trajectory. Says Mathurin, "If you work hard and are always polite, you'll go far." Last year, she served up a four-course spread at the Seychelles Tourism Board's Singapore office, which included over 20 different dishes and a generous spread of chutneys and condiments.

Those wanting to experience Mathurin's cooking firsthand can book a meal at the Four Seasons Resort Seychelles's Kannel, a beach-side restaurant known for its open-air setting and informal but sophisticated fare.